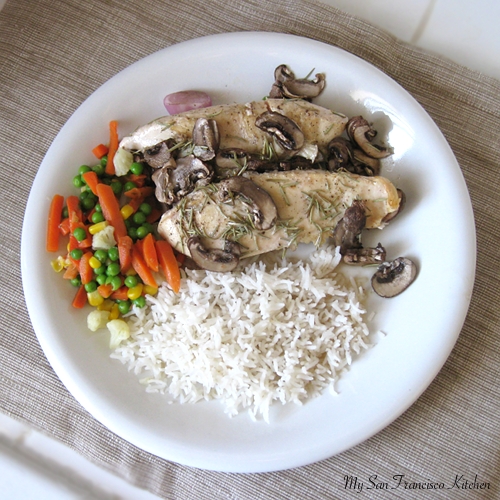 Today was the first time I used a cast iron pan! I bought one many months ago on Amazon.com because I decided to move away from using non-stick pans because of all of the health discussion going on. Cast iron pans are supposedly healthier than most non-stick cookware available today (and also more durable for that matter-those things last forever!), so I thought I would buy one and try it out. For reasons unknown (probably just scared of the thing after reading all of the "don'ts" that were written on the packaging) it has been sitting in my cupboard ever since it was delivered to me! So why all of a sudden today? Well, I was searching for a chicken and mushroom recipe since I have an excess of mushrooms in the refrigerator and I came across one from Tyler Florence that uses a cast iron pan! The only problem was that I didn't season mine yet, so I had to do that for an hour before I could start cooking dinner. I chose this recipe specifically to make for Fabi tonight, because he likes mushrooms. I can't stand them! I used to think they were one of the most disgusting things one could eat, and I just did not like their texture. I have been forcing myself to try them here and there with different recipes, and found that they aren't so bad afterall. They still aren't my favorite, but at least I can tolerate them now! I learned that you shouldn't wash them with water when preparing them for cooking because they absorb a lot of water. Instead, use a brush to scrub them clean over a paper towel, and cut off any "bad" parts. I was very pleased with this recipe, but would like to try and add some freshly minced garlic next time I make it…yumm!
Recipe adapted from Tyler Florence's Pan-Roasted Chicken with Mushrooms and Rosemary.

Roasted Chicken with Mushrooms
Ingredients
2 boneless chicken breasts, each sliced in half
Salt and black pepper for seasoning
2 tbsp olive oil
8 fresh white mushrooms, sliced
2 shallots, halved
3 tbsp fresh rosemary sprigs (can sub dry)
Sauce
¼ cup water
½ lemon, juiced
Instructions
Preheat the oven to 350 degrees F.
Brush mushrooms to clean and slice them (not too thin). Set aside.
Season the chicken on both sides with salt and pepper.
Place a cast-iron skillet on the stove over medium heat.
Add olive oil and once hot add the chicken breasts.
Cook for about 5 minutes, then toss in the mushrooms, shallots, and rosemary.
Place skillet in the hot oven and roast for 15-20 minutes, until the chicken is cooked (can remove at 15 minutes to check inside for doneness). Do not overcook or chicken will be dry. If you don't have a cast-iron skillet, use a regular skillet for stove-top part then transfer to oven-proof bakeware.
Remove everything from skillet and arrange on a serving tray. Keep warm while preparing the sauce (can place in a warm oven, 200 degrees F).
Pour out all but 1 tablespoon of the leftover juices from the skillet and return to stovetop over medium heat.
Stir in the water and lemon juice, scraping the skillet with a wooden spoon.
Cook about 5 minutes, then drizzle over the dish.
Serve with vegetables and rice or mashed/baked potatoes.
This post is sponsored by: