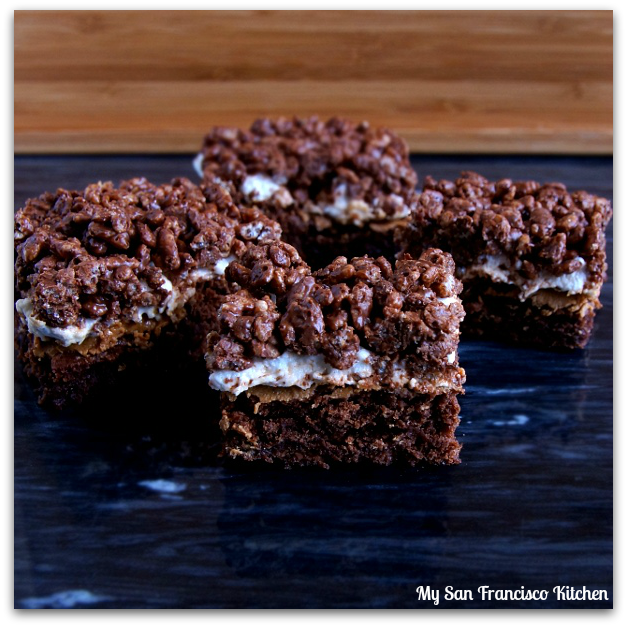 OK, before you judge me…I did not come up with the name for this recipe! I first heard about these crack brownies during my pediatrics rotation in the hospital, when one of the pharmacists brought them to work one day. These brownies were the talk of the day that day, and I later found out that this is one of her famous recipes. After I heard the 10th person raving about them, I just had to run downstairs and snag one. Luckily, there were a few left when I got to them. They. were. AMAZING. Fudgy brownies are layered with peanut butter, marshmallows and finally chocolately rice cereal. At first I laughed at the name, but it is true – they are incredibly addicting. Now whenever I make a batch, I can't stop eating them. I had them open in front of my husband and I when we were planning our vacation the other night, and we both kept eating and eating. I finally had to force myself to get up and put them away because we would have eaten the entire batch in one sitting! When I tried to find the source of this recipe, I found some variations use peanut butter cups instead of the layer of peanut butter, but my guilty conscience told me to skip the pb cups this time! They still turned out as addicting as I remembered 😉
I am excited to annouce that I will be participating in the annual Food Blogger Cookie Swap this year to support Cookies for Kids' Cancer. Look out for some cookie recipes coming your way, soon!
If you are interested, today is the last day to sign up.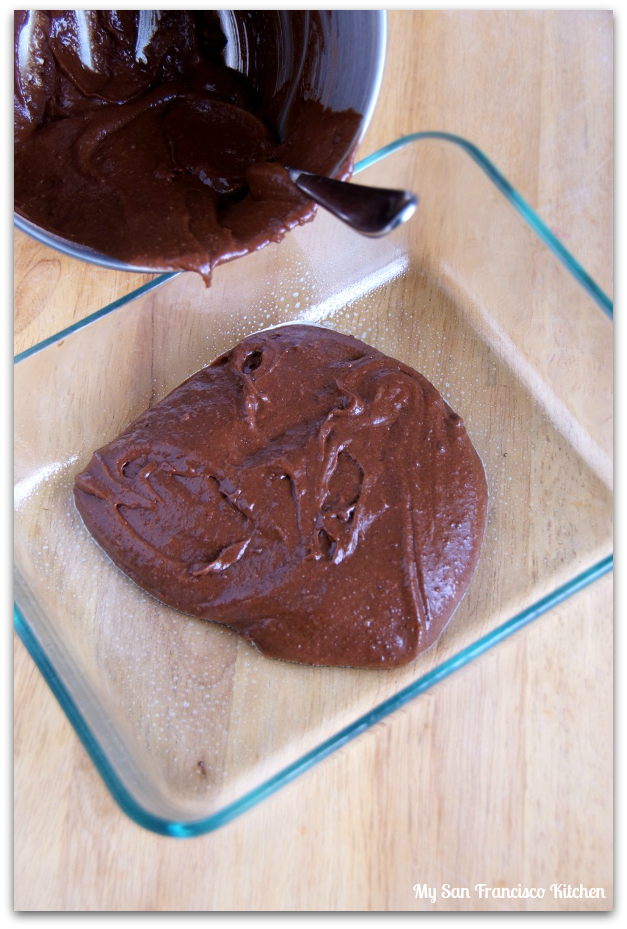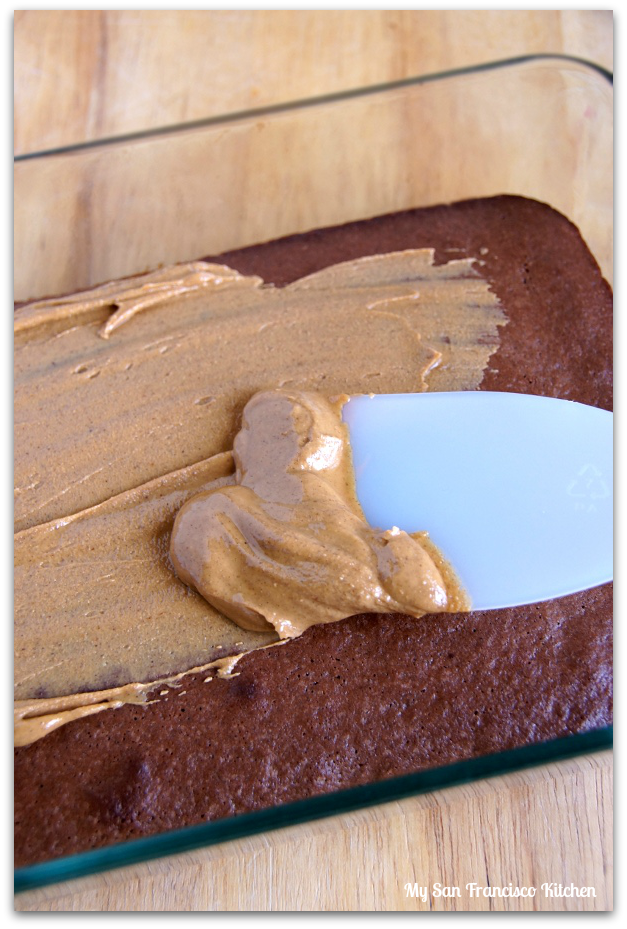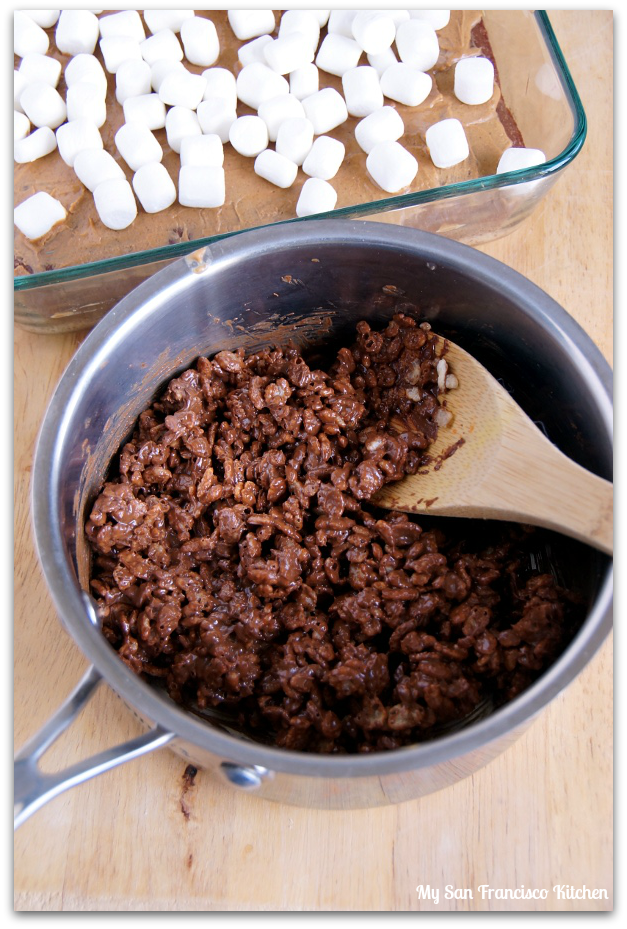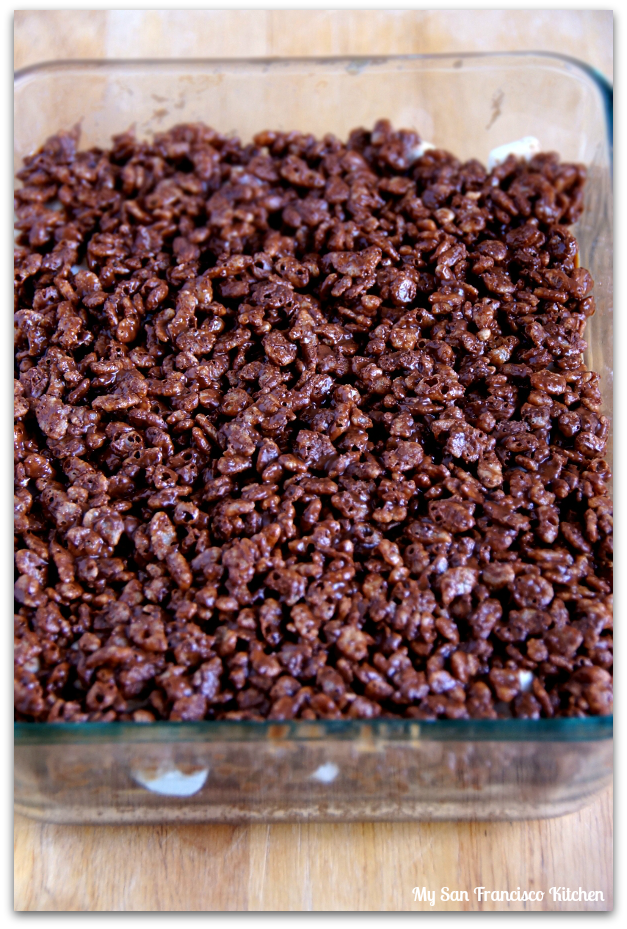 Crack Brownies
Ingredients
1 batch brownies (boxed or my fudge brownies recipe!)
1 cup mini marshmallows
2 tbsp butter
⅔ cup semi-sweet chocolate chips
1¼ cups creamy peanut butter, divided
1½ cups rice cereal
Instructions
Bake brownies in a greased 9x13-inch pan for 20-25 minutes.
Remove from oven and cool for 15 minutes.
Microwave ½ cup + 2 tbsp peanut butter in a small bowl, then evenly spread over the brownies in the pan.
Add mini marshmallows to top of the peanut butter layer (can also add peanut butter cups if desired!).
Add butter, chocolate chips and remaining peanut butter to a small sauce pan over low heat and melt. Stir frequently.
Once the peanut butter mixture is completely melted, add rice cereal and stir through.
Transfer rice cereal mixture over the peanut butter layer on the brownies and press down firmly using wax paper.
Refrigerate for 30 minutes before cutting.
Makes 12 bars