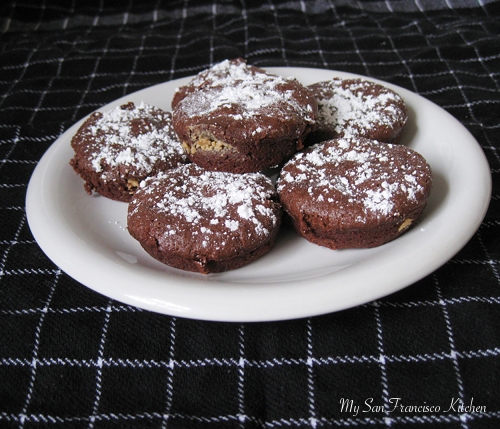 Yes, you read it correctly: peanut butter brownie cups! If you love the combination of chocolate and peanut butter like I do, this is going to be your new favorite recipe. When you take a bite of these soft, chocolately brownies you will discover a surprising creamy peanut butter center…YUM! They are really easy to make, and I use half applesauce to substitute for some of the butter to cut some guilt. You won't even notice the difference! These are great to share at work, or keep them all for yourself for dessert treat after a long day. What is everyone doing this weekend? I checked the weather forecast and it looks like rain for the next week here in San Francisco. That means the plan will be studying or snuggling up with a blanket on the couch + movies for me tomorrow. I am looking forward to a lazzzzy Sunday. XoXo

Peanut Butter Brownie Cups
Ingredients
3 tbsp unsalted butter
3 tbsp applesauce
¼ cup semi-sweet chocolate chips
½ cup white sugar
1 egg
¼ tsp vanilla extract
Pinch of salt
⅙ cup all-purpose flour
2 tbsp unsweetened cocoa powder
8 tbsp all-natural creamy peanut butter
Confectioners' sugar for garnish
Instructions
Preheat oven to 350 degrees F.
Lightly grease a muffin pan with non-stick spray.
Melt butter and chocolate in a heavy bottomed saucepan over low heat, stirring occasionally.
In a separate large bowl, beat applesauce, sugar, eggs, salt, and vanilla extract, cocoa, and flour with a fork until well combined.
Add chocolate mixture with a spatula once melted and stir in until well blended.
Add 1 to 2 tbsp batter to muffin pan, then add 1 tsp peanut butter in the center and top with 1 tbsp batter. The peanut butter should be sandwiched in between 2 layers of brownie batter.
Bake for 20 minutes (fork should come out clean). Do not overbake to keep them soft and chewy.
Remove from oven and let stand 10 minutes.
Loosen carefully with a butter knife and let cool on wire rack.
Sprinkle with confectioners' sugar to decorate.
Makes 8 cups
This post is sponsored by: