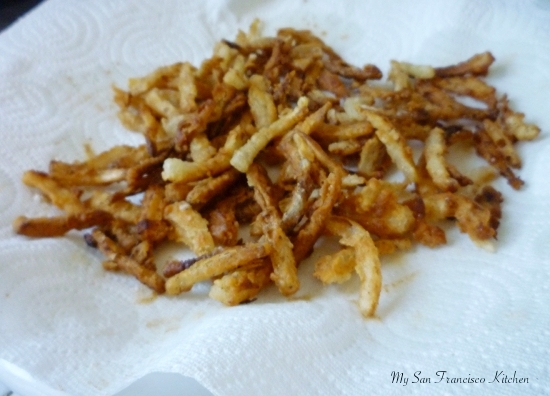 You'll be surprised at how easy this homemade french fried onion recipe is to do yourself. If you ever find yourself in need of a topping for a casserole, soup, vegetable side, etc., you can make your own fried onions in less than 20 minutes! I personally think they are even better than the kind you can buy at the store, and you have the freedom to season them how you like while you make them. Tip: Make double the batch to save some for a snack later.

French Fried Onions Recipe
Ingredients
½ onion, thinly sliced
½ cup milk
½ cup flour
¼ cup vegetable oil
salt
pepper
Instructions
Thinly slice onion to your desired thickness. I usually try to slice them pretty thin for toppings.
Allow onions to soak in milk 5-10 minutes.
In the mean time, mix ½ cup flour with desired amount of salt and pepper on a plate.
Heat oil in a large skillet on high.
Strain onions out of milk with a fork and roll in flour (I use my hands because its easier).
Once the oil is very hot, drop onions (with as little flour as possible besides the coating) into the skillet.
Shake the skillet to coat the onions in oil, and cook about 15-30 seconds.
Use a spatula to strain out golden brown onions and place onto a paper towel.
Note: The excess flour will burn in the skillet after about 2 changes of onions, so try to use a very large skillet or a deep frier is even better!