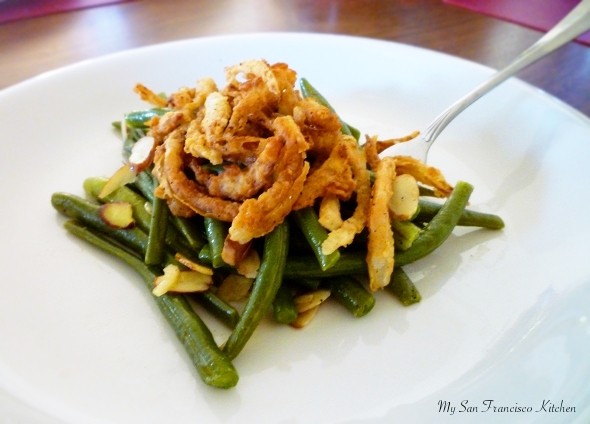 My typical diet during finals week consists of coffee, cereal, and chocolate. I know. Its terrible. You would think being in pharmacy school and all I would know how to eat more healthy. But come on, I have 7 finals in one week and every day goes like this: Wake up at 6am, study, take final, come home and study until late, next day do it all over again. Blahh. I don't even want to look at the dish pile in the kitchen sink right now…
Oh, I forgot to mention-I have been taking breaks to bake or cook for 1-2 hours every day for my own sanity. However, lately it has been things like lemon bars and cookies :/. Today I made this green bean dish with toasted almonds and french fried onions out of guilt about my horrible diet and lack of exercise this week. Granted, the fried onions don't necessarily make this dish "healthy," but at least its a veggie dish, right?!

Green Beans with Toasted Almonds and Fried Onions
Ingredients
4 cups fresh organic green beans
1 tbsp butter
¼ cup lemon juice
½ cup sliced almonds
1 cup french fried onions
¼ tsp pepper
Instructions
Wash green beans and strain.
Boil in a pot until a fork can easily pierce through (about 15 minutes).
Rinse with cool water and strain. Set aside.
Melt butter in a skillet and add sliced almonds.
Cook almonds over medium heat, stirring occasionally, until almonds turn a light brown color.
Add green beans into skillet and mix with almonds.
Add lemon juice and pepper and stir.
Serve green beans warm, topped with the fried onions.