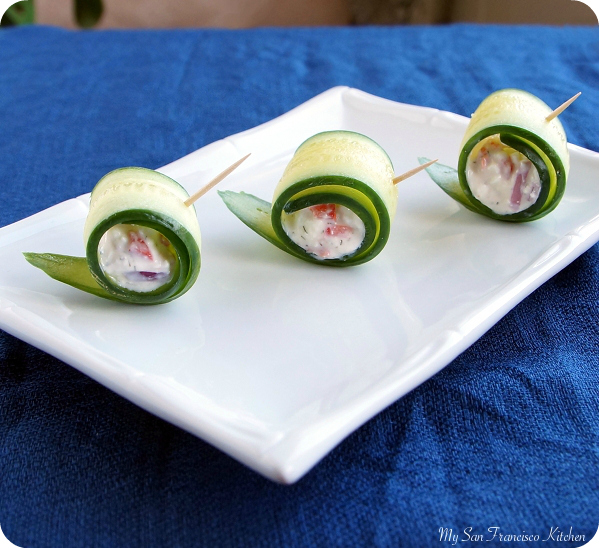 I am not a huge fan of football or anything, but it is exciting that the San Francisco 49ers are close to making it to the Super Bowl! The last time I watched a football game was in high school when I was a cheerleader…which was forever ago! I never do anything on Super Bowl Sunday except study. This year the Super Bowl lands on my half marathon, so I definitely won't be watching. I feel like it gives people the chance to eat a bunch of unhealthy snacks all day without feeling guilty because that's just what you do on Super Bowl Sunday. This is another reason why I avoid it >.< What does this have to do with cucumber rolls? Well, I thought they would be a great healthy appetizer to serve for Super Bowl Sunday if you are hosting/going to a party this year. After I thought about this, I pictured men who are used to eating chili, hot dogs, chips and nachos on Super Bowl Sunday being offered cucumber rolls and saying, "What is THAT?" but hey, you can try! I found them by searching around for at-home sushi rolls (I am dying to try these too!). They just sounded so fresh and delicious, I had to try to make them myself. I used feta cheese, yogurt, red bell pepper, red onion, lemon juice, dill and pepper to make the filling, but I can think of so many different possibilities for other fillings you can try. Next time I would add less red onion, because it can be pretty over-powering. If you have a mandoline slicer, slicing the cucumbers is very easy. I must admit, I haven't tried peeling the cucumber with a vegetable peeler, but it might work. Let me know!

Cucumber Rolls
Ingredients
1 organic cucumber
⅓ cup light feta cheese, crumbled
2 tbsp plain yogurt
1½ tbsp finely chopped red bell pepper
½ tsp finely chopped red onion
1 tsp fresh lemon juice
1 tsp fresh or dried dill
Pinch of pepper
Toothpicks
Instructions
In a small bowl, combine feta cheese and yogurt by smashing with a fork.
Stir in remaining ingredients and chill in the refrigerator while preparing the cucumber slices.
Use a mandolin slicer on ⅛" thickness (or less), or a vegetable peeler, and make thin slices from the cucumber. Place on a paper towel to absorb excess liquid.
Add 1 tbsp filling to the top ¼ of the cucumber and roll up.
Place a toothpick from top to bottom to hold in place.
Serve chilled.
Makes 8 rolls
This post is sponsored by: