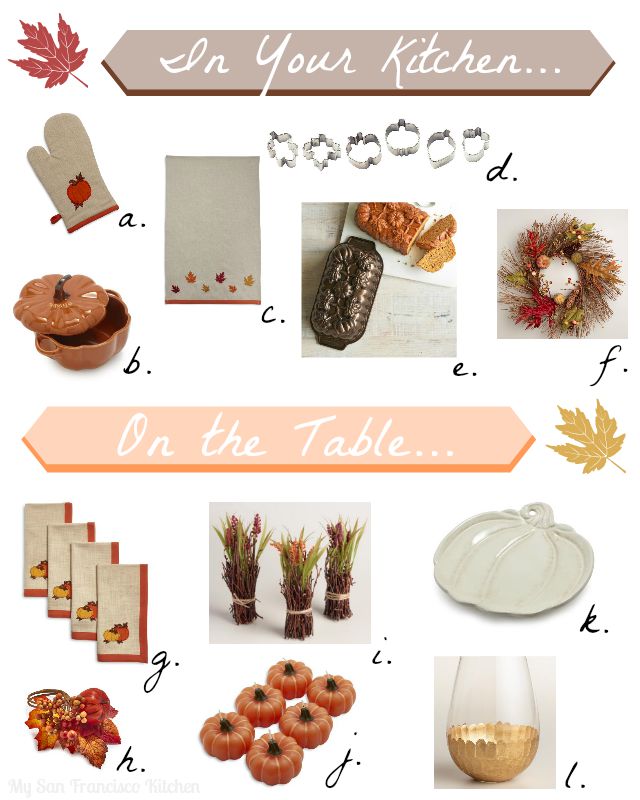 I am posting this week's Trendy Kitchen post early, because it is September 1st today and I am that excited about the Fall season beginning in just a few weeks. Some of my favorite kitchen stores have recently launched their Fall collections, so I wanted to share a few of my favorite Fall picks with you for this season. I found some nice deco for the kitchen, and the dinner table.
Let's start with some Fall decorations for inside the kitchen, followed by a few items you can add to your dinner table to make it more festive for the upcoming Fall season!
Decorating Your Kitchen for Fall
a. Pumpkin Oven Mitt – You know you need a new one anyway! Why not get a little festive this season?
b.The Staub Pumpkin Mini Cocotte – Use these adorable pumpkin cocottes to serve individual portions of soups, stews, or sides. You can also remove the lids and use them as table decor to serve candy or after dinner mints.
c. Leaf Towel – Toss this leaf towel over your oven or dish washer door to add a seasonal touch to your kitchen.
d. Wilton Harvest 6 Piece Mini Cookie Cutter Set – Because you just can't have enough cookie cutters, and these are fun fall shapes!
e. Nordic Ware Pumpkin Loaf Pan – This is my favorite item this Fall season. You can use this pumpkin loaf pan to make beautiful desserts for parties, or give them away as gifts!
f. Fall Wreath – Hang this wreath in your kitchen for a beautiful Fall decoration (use code SAVEBIG10 to save an additional 10% at checkout).
Decorating Your Dinner Table for Fall
g. Pumpkin Dinner Napkins – An easy way to decorate your table this Fall is using decorative napkins.
h. Pumpkin and Leaf Napkin Ring – These beautiful napkin rings can be added to almost any color napkins you may already own to add a little festive spirit to your table, or use them with the napkins above (g).
i. Fall Harvest Grass Bundles Table Decor – These grass bundles make gorgeous center pieces for your table, or place them in a corner of your kitchen on the countertop (use code SAVEBIG10 to save an additional 10% at checkout).
j. Pumpkin Candles – Place these candles around your dinner table to complete your Fall table look this season.
k. Pumpkin Plate – use this endearing pumpkin plate for serving appetizers, sides, or desserts, or buy a set and use them as dinner plates!
l. Gold Stemless Glasses – Add some gold to your Fall table with these shiny glasses (use code SAVEBIG10 to save an additional 10% at checkout).
FTC disclosure: Some links above may be affiliate links. If you choose to purchase these products, I will receive some of the profits. I have chosen to feature these products out of my own will, and all opinions on these products are my own. I am not being provided with compensation for featuring them in this post beyond the affiliate profits.