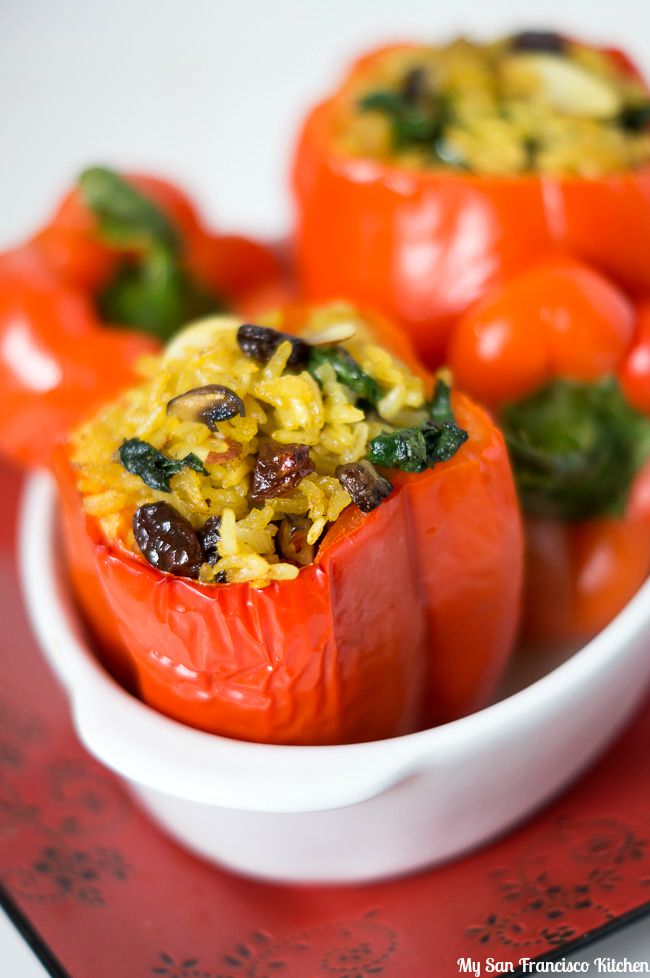 I just found my new favorite vegetarian stuffed pepper recipe: stuffed peppers, Thai-style!
Growing up, stuffed bell peppers were one of my favorite dishes made by my mom. To me, they are comfort food. I also love their presentation. Stuffed peppers are fun and easy to make for a gathering. After making those delicious ground beef stuffed peppers myself that my mom used to make us a few times after I moved away from home, I started to discover other stuffed pepper variations out there. There are a lot!
I love making vegetarian stuffed peppers, and I have been wanting to try Thai stuffed peppers since I saw a recipe for curried rice stuffed peppers in Food and Wine magazine. It sounded like a brilliant idea to combine curried rice with vegetables and stuff the filling into a flavorful bell pepper. I finally had all of the ingredients to make my own Thai stuffed peppers on hand today and made them for lunch.
For my Thai stuffed peppers, I use jasmine rice, yellow curry sauce you can buy at the grocery store, coconut milk, shallots, garlic, mushrooms, raisins, spinach, and sliced almonds. The filling is really easy to make, since it only requires one pot. You start by cooking the shallots, garlic, and mushrooms in a little oil, then you add the rice, coconut milk and curry sauce and simmer until the rice absorbs all of the liquid. After the rice is done, add in the spinach and cover so it wilts. By adding crushed red peppers, you can control the heat. I like mine a little on the spicy side, but not too much! 
The only time consuming part of this recipe is prepping the peppers. You have to scoop out the seeds, then boil them a few minutes before stuffing them with filling and baking them in the oven.
Last night I didn't sleep. It was a rough night for me and my baby girl. She was waking up every hour for various reasons, and this morning I felt like a zombie. No matter how exhausted I felt, looking into her big smiling face when she woke up early this morning made all of my tiredness melt away for that moment. I tried taking her to "mommy and baby" yoga today, but she did not like it very much! Only the first 10 minutes, and then she was done with it. The other babies seemed to be having a good time, but I think my baby girl just isn't the yoga type 😉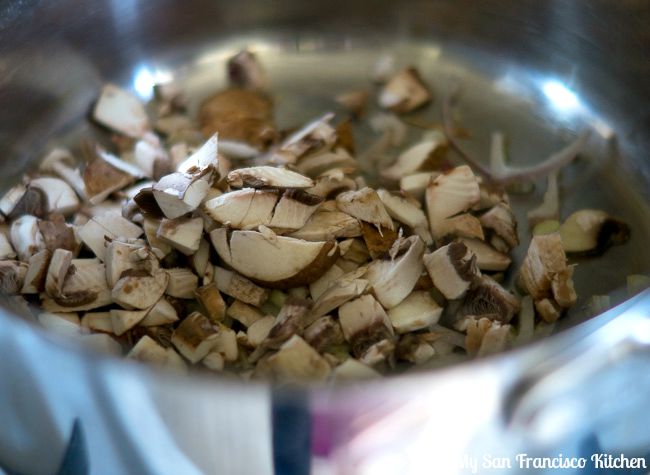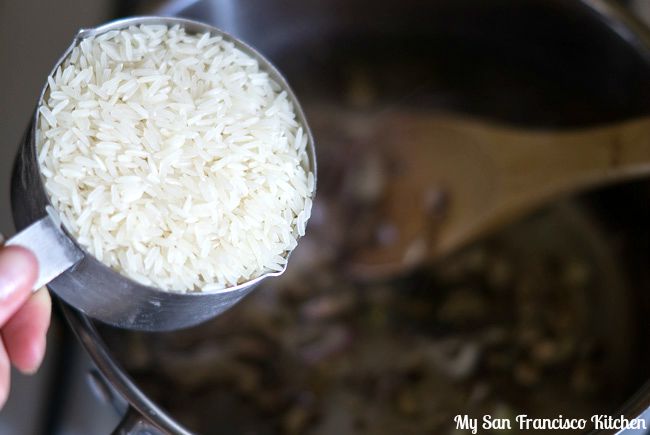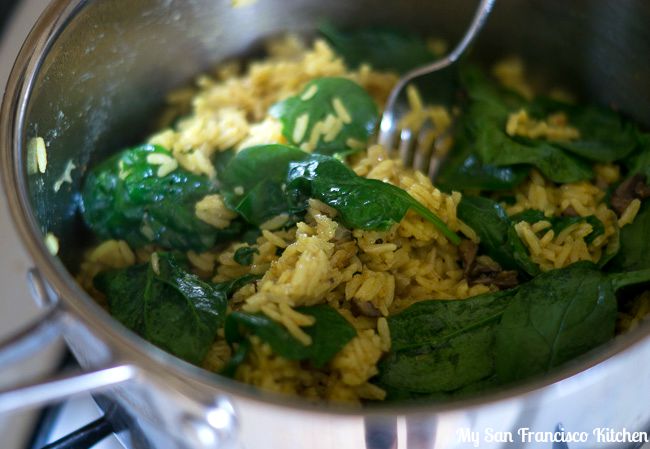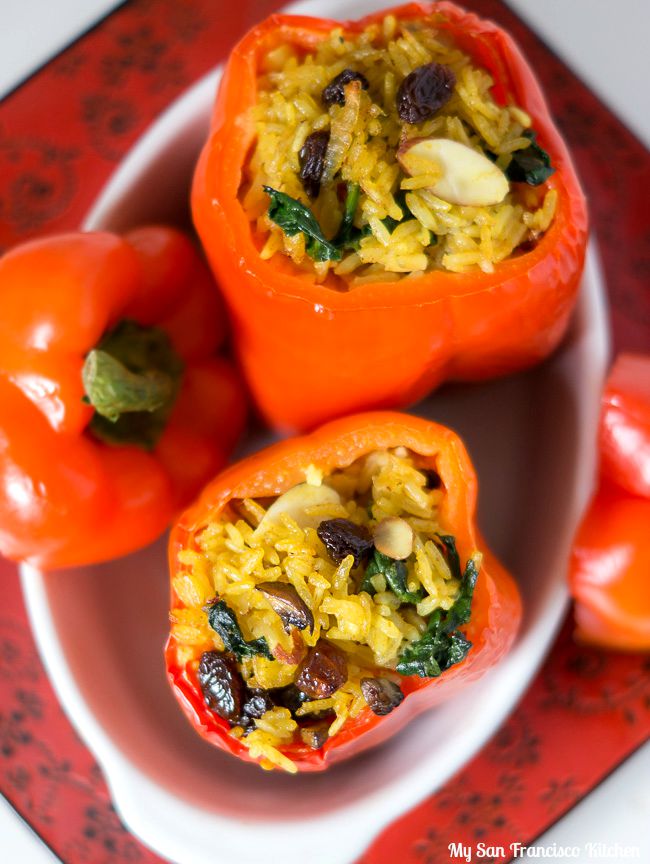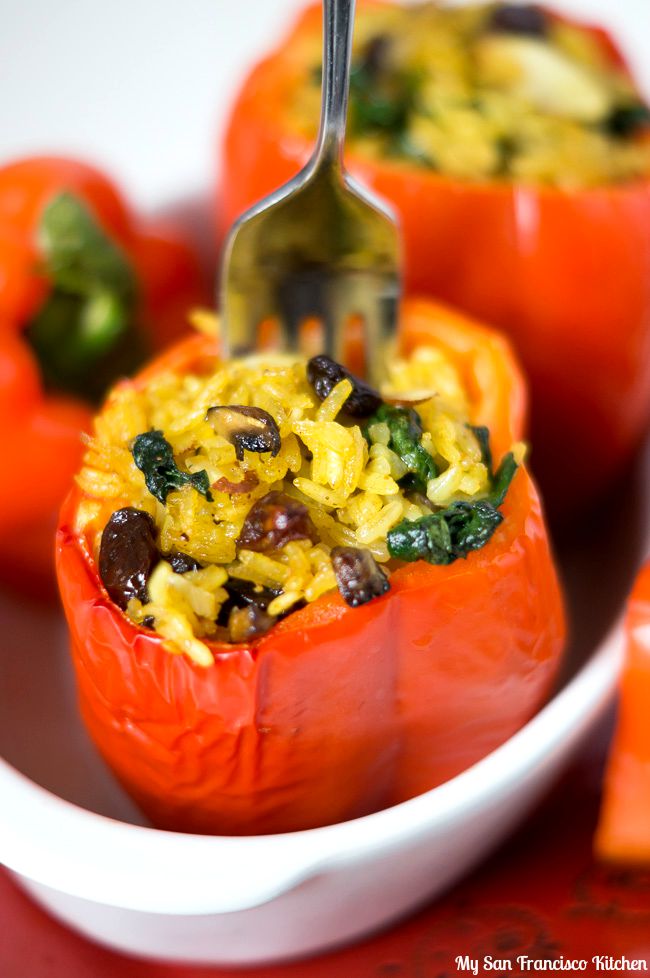 Thai Vegetarian Stuffed Peppers
Ingredients
*Note: this recipe makes enough for 2 people. You can double this recipe to serve 4*
2 red bell peppers
1 tbsp olive oil
2 garlic cloves, chopped
1 shallot, thinly sliced
⅔ cup chopped white mushrooms
1 cup jasmine rice
½ cup coconut milk
1 cup yellow curry sauce
¼ cup filtered water
½ tsp crushed red peppers
1 cup uncooked spinach
⅓ cup raisins
¼ cup sliced almonds
Instructions
Slice the tops of the bell peppers off and scoop out the insides.
Bring a pot of water to boil, then add the peppers. Cook for 4 minutes, then drain the water and set the peppers aside to cool.
Heat the oil in a pot over medium heat and add the garlic, shallots and mushrooms. Cook for about 7 minutes, until mushrooms have browned, stirring occasionally.
Add more oil if needed and add the rice. Stir.
Add the coconut milk, curry sauce, and water and bring to a boil.
Cover and simmer on low heat for 20 minutes, until the rice absorbs all of the liquid.
Add the spinach, raisins and almonds, stir and cover for 5 minutes.
Preheat the oven to 350 degrees F.
Stuff the peppers with the filling and bake in a shallow baking dish covered with foil for 30 minutes.
Serve the peppers with the extra rice filling.
Makes 2 stuffed peppers
Did you make it? I'd love to see! Snap a pic and share via #mysanfranciscokitchen, or tag my social media sites!