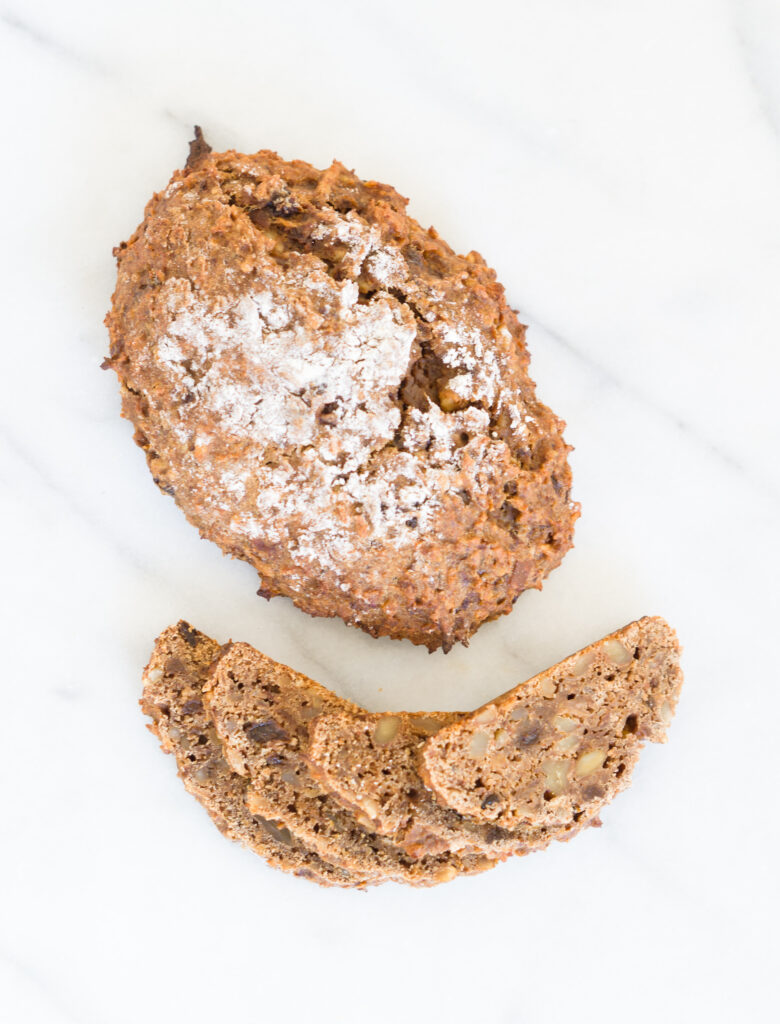 The first time I tried hutzelbrot (German fruit and nut bread) was during the holidays last winter when my mother-in-law made it for us. I am accustomed to having fruit cake during Christmas-time, which is a sweeter, more cake-like version of this fruit and nut bread made in Germany. She gave me her recipe and this holiday season I tried it for the first time by myself. I changed a few things (mostly which fruit and nuts to use) compared to the original recipe. Also, it is all in grams, because recipes are done by weight in Germany (and in my Thermomix® which worked out perfect for this recipe). It turned out so delicious! It made 3 small loaves, and they were all gone after 2 days. I love eating a thin slice of hutzelbrot for breakfast with some homemade jam spread on top.
You can pretty much use any dried fruit and nuts that you like, but I will give you my recommendation. The nuts and fruit are soaked in alcohol (usually rum, but I used kirshwasser this time around that I got in Germany last time I was there and it was delicious!!) for 3 hours. This gives the bread an incredible flavor! I chop everything in my Thermomix® and knead the bread dough in it as well, but if you don't have one you can do it by hand or with a food processor. Just to warn you, hutzelbrot requires a lot of patience – it is an all day affair! There are a lot of rising times… But it will be worth it 😉
Hutzelbrot
Ingredients
Fruit Filling

50g dates

100g dried pears

100g dried figs

150g dried apricots

100g hazelnuts or sliced almonds

100g walnuts

150g raisins

100g dried cherries

Pinch of salt

10 ml rum

1 tsp cinnamon

1/4 tsp ground ginger

125ml hot water

Bread Dough

250g all-purpose flour

1 tsp active dry yeast

125ml warm milk

20g sugar

1/4 tsp salt
Directions
Chop the dried fruit and nuts with a Thermomix® or food processor and transfer to a bowl.
Add the spices and alcohol and stir with a wooden spoon until well mixed.
Cover and let stand for 3 hours.
Add the bread dough ingredients and the fruit and nut mixture to a Thermomix® and knead using the dough kneading setting for 4 minutes (or work by hand for 10 minutes).
Let the dough stand covered for 1 hour.
Form into 3 loaves (the dough will be wet and sticky – use a lot of flour on your hands!). Cover and let stand for 1 hour.
Bake in the oven at 350 degrees F for 10 minutes, then 325 degrees F for 25 minutes.