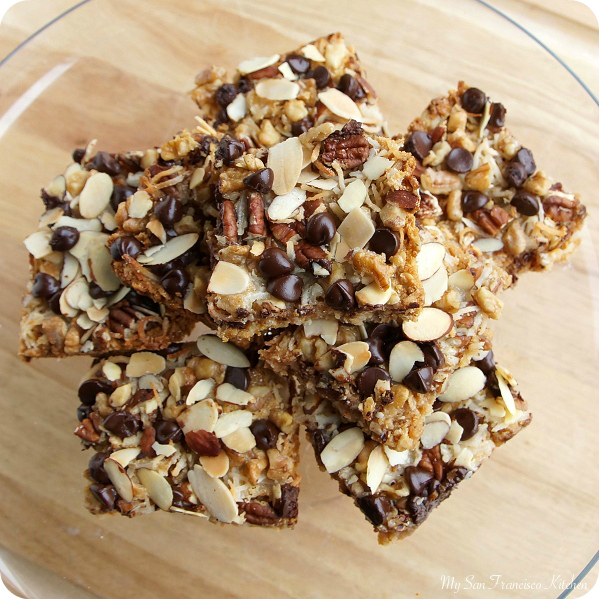 Have you ever made something and realized a few hours later you should have made more? I hate when this happens! I made these nutty coconut bars and my husband and I ate every single one in less than a few hours. He doesn't even like sweets very much, so I was surprised at how much he liked them. I thought they would last at least a few days!! Can you say, addicting? I can't believe how good these are…I mean, not-being-able-to-stop-eating-them good. I actually never used to like coconut, but lately I have been using it in my recipes a lot! The combination of chocolate, coconut, pecans, walnuts, sliced almonds, and graham cracker crumbs made these bars heavenly. I used my KitchenAid hand blender to blend up the graham crackers, which was very easy. Are you making any bars for your holiday baking this year? These are definitely my new favorite, and I plan on making them after the holidays too! Actually, I am making more today to snack on during my finals studying! I have two finals tomorrow, pharmacology & pharmaceutical chemistry. Unfortunately that isn't the end before Christmas break, I still have one more big exam next week, but the end is near!! What kind of baked goods is everyone making for the holidays?

Nutty Coconut Bars
Ingredients
⅓ cup unsalted butter
1½ cups graham cracker crumbs
½ cup oats
1 can condensed milk (395g)
1 cup sweetened shredded coconut
¾ cup semi-sweet chocolate chips
½ cup chopped pecans
½ cup chopped walnuts
½ cup sliced almonds
Instructions
Preheat oven to 350 degrees F.
Use a KitchenAid hand blender or food processor to crush the graham crackers and mix the crumbs with the oats.

Add the graham cracker oat mixture to a 13x9 inch greased pan (you can also line with parchment paper) and drizzle the melted butter over.
Press the crust into the pan firmly, then drizzle the condensed milk over the top.
Sprinkle the shredded coconut over the layer of condensed milk, then top with chocolate chips and nuts.
Bake for 25 minutes and cool before cutting and serving.


Makes 12 large bars, or 24 smaller bars
This post is sponsored by:


Disclaimer: KitchenAid provided me a 5-speed hand blender free of charge. All opinions are honest and 100% mine.