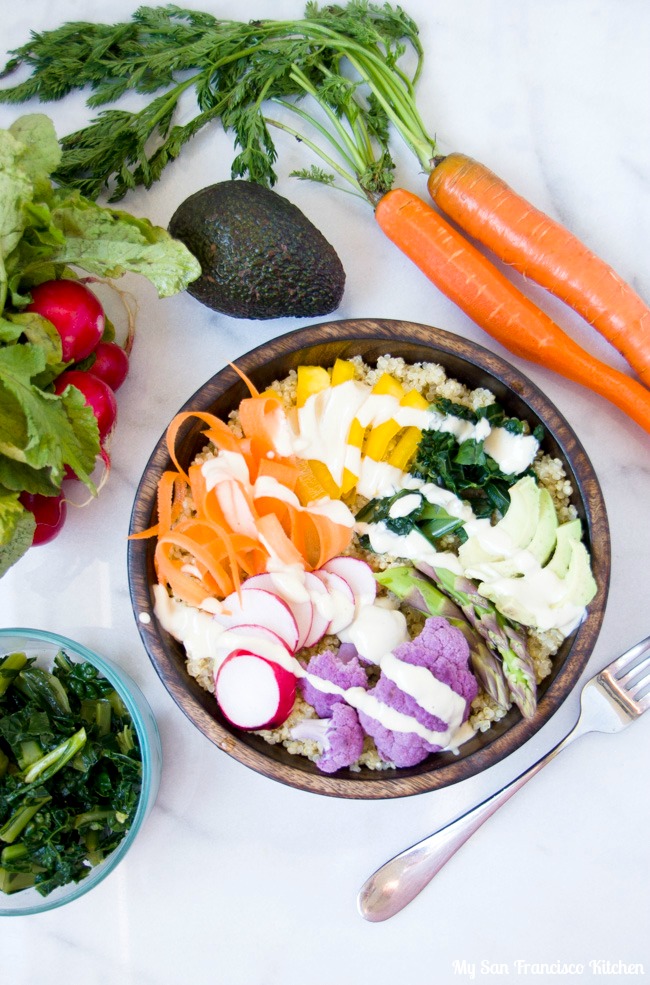 I know I was just on vacation in Florida, but I took another little vacation to see my family in SoCal and decided to leave my laptop at home again. Even though I missed blogging, it was a nice break (again) and I enjoyed every second I got to spend with my family and friends this past week. I'm back in SF and ready to share a new recipe with you. Remember in my last post I wrote that we are trying to eat more vegetables and live a healthier lifestyle…here is my second healthy recipe post going along with our new goals! 
It is called a rainbow Buddha bowl. You have probably seen lots of these bowls all over social media lately, and I too have fallen for the craze. Bowls are a great way to get more vegetables in, and since they are loaded with them, they are very filling too. If you didn't figure it out from the name, Buddha bowls have the shape of a Buddha belly since they are full of vegetables piled up high.
The other day, my husband brought home a lot of fresh vegetables, which created the perfect opportunity to make a new Buddha bowl recipe. In this Buddha bowl, I chose vegetables of different colors to create a rainbow. Radish (red), carrot (orange), bell pepper (yellow), kale and avocado (green), asparagus (blue), and purple cauliflower (violet) arranged over quinoa make up my healthy vegetarian rainbow Buddha bowl. I also made a tahini dressing using lemon, garlic and maple syrup that I just could not get enough of. The tahini dressing is definitely the best part of this Buddha bowl recipe!
I already miss home, but it is also nice to be back in San Francisco (which was 80 degrees today when I got back…what?!). Check back for my next healthy recipe post 🙂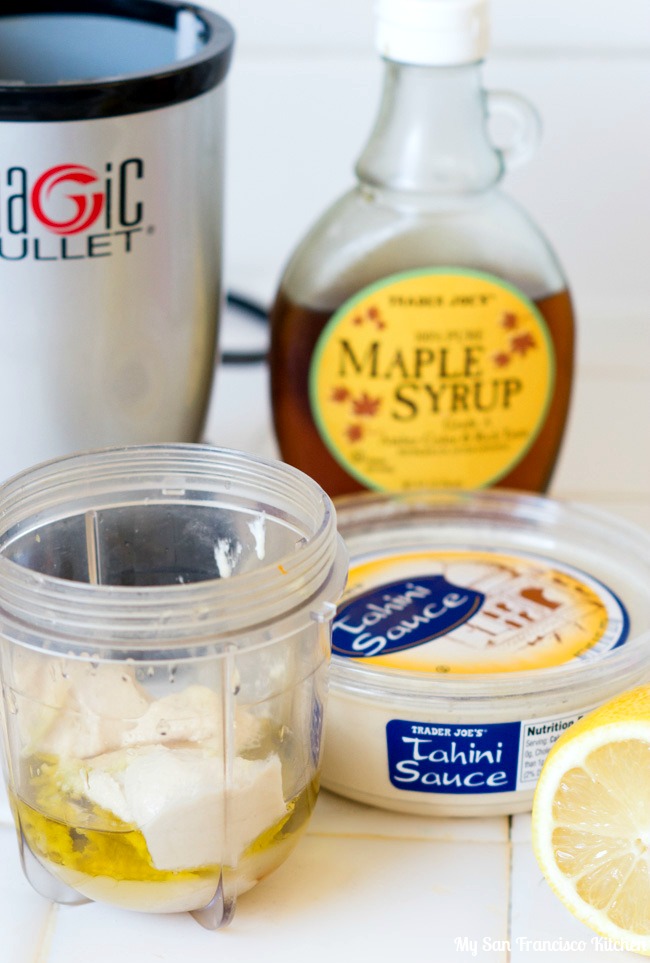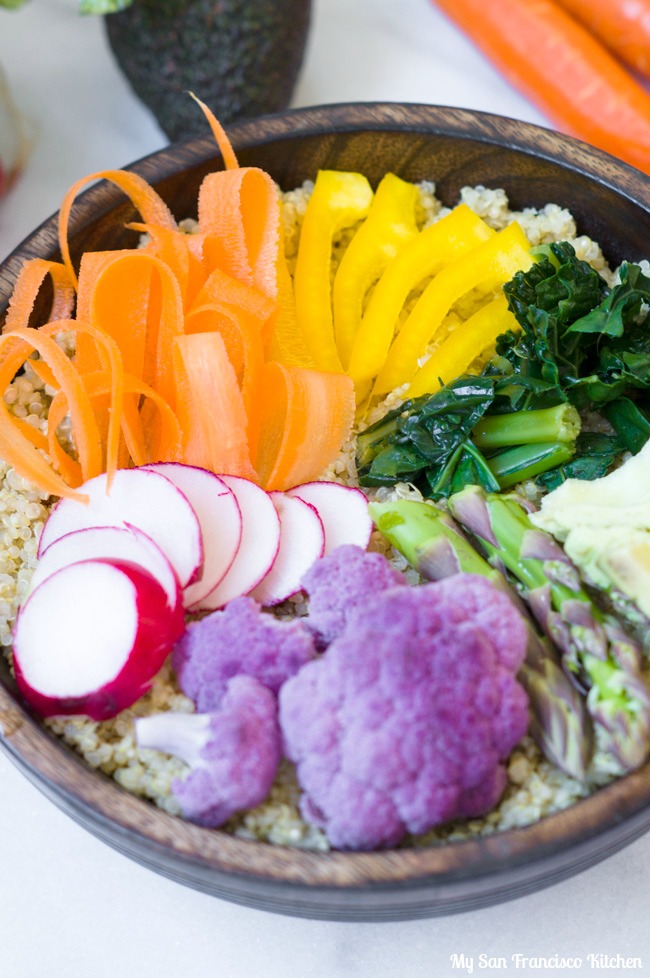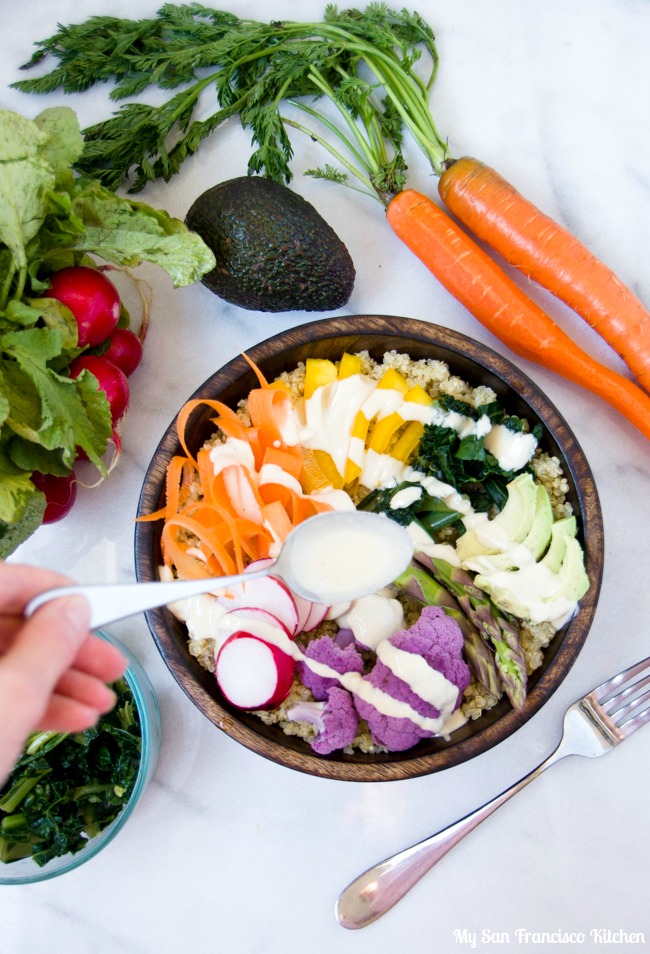 Rainbow Buddha Bowl
Ingredients
Bowl
1 cup uncooked white quinoa
2 cups filtered water
⅓ cup cooked, chopped kale
2 radishes, sliced
1 carrot, peeled into ribbons
½ cup chopped purple cauliflower
1 asparagus spear, chopped
½ avocado, sliced
½ yellow bell pepper, sliced
Dressing
⅓ cup tahini
2 tbsp lemon juice
2 tbsp olive oil
1 clove garlic, minced
1 tbsp maple syrup
Instructions
Add the quinoa to 2 cups of boiling water in a pot and turn to low heat and cover.
Cook for 20 minutes, then uncover, stir and cool. Transfer to a large bowl.
Add the olive oil, garlic, tahini, lemon juice, and maple syrup to a blender or food processor and blend well.
Top the quinoa with the vegetables and drizzle tahini dressing on top.