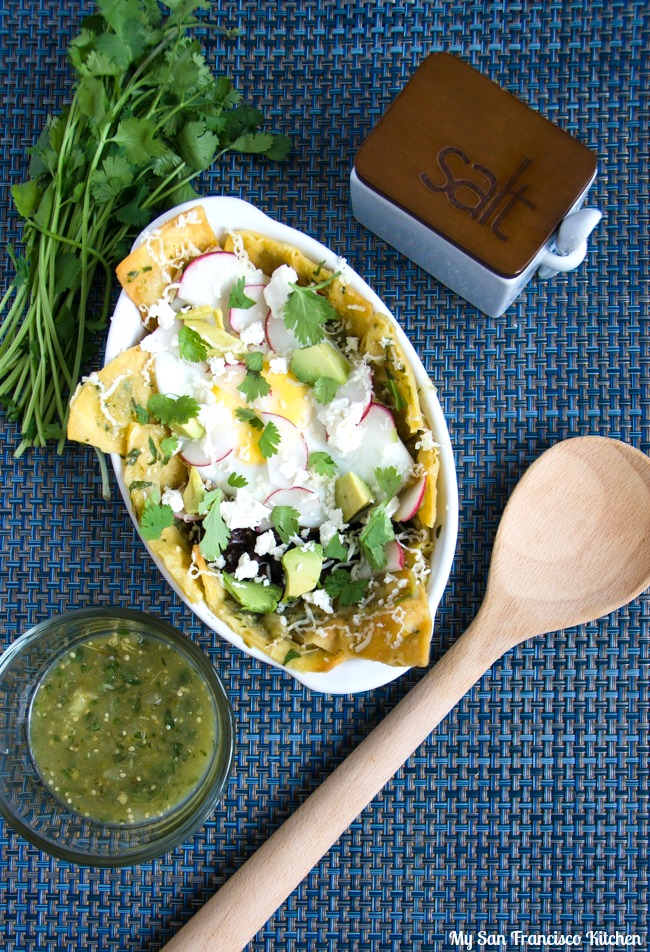 Hi everyone! Sorry for the lack of recipes lately. Vacation is to blame. Summer is here and I have been enjoying my days mostly outside at the pool, hiking or biking. Today I am sharing one of my favorite Mexican dishes with you: chilaquiles with tomatillo salsa (also known as green salsa). You can of course buy tomatillo salsa that is already made from a grocery store to add on top, but I like to make mine at home since it is really easy. Either fresh or canned tomatillos work great in this recipe for the tomatillo salsa. 
If you have never had chilaquiles before, let me describe them to you. The base is made of lightly fried cut-up corn tortillas, which is then topped with salsa, meat and/or vegetables. In this tomatillo chilaquiles recipe, I used black beans, radishes, avocado, egg, feta cheese and cilantro for my toppings. You can get creative with your tomatillo chilaquiles.
What toppings would you add?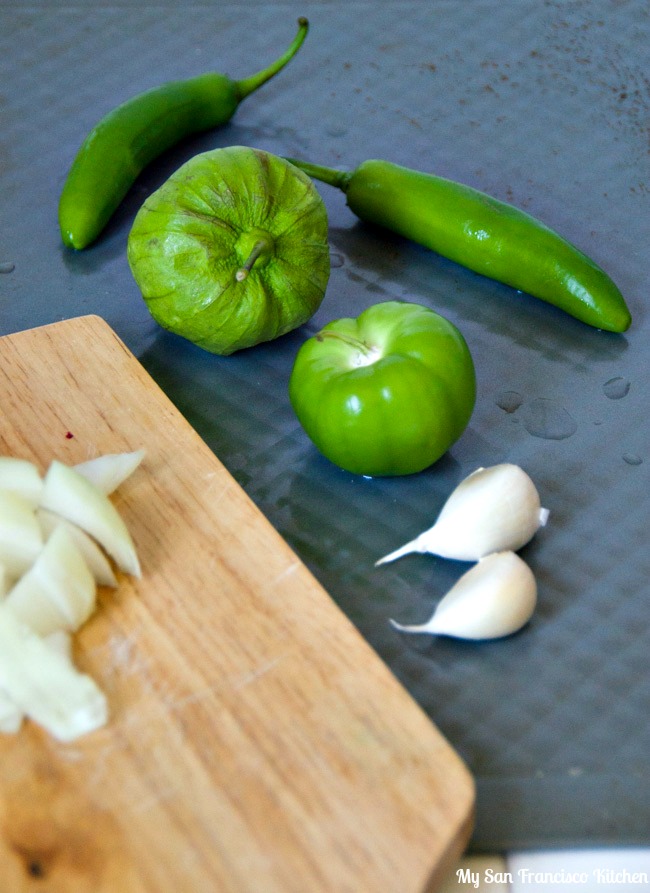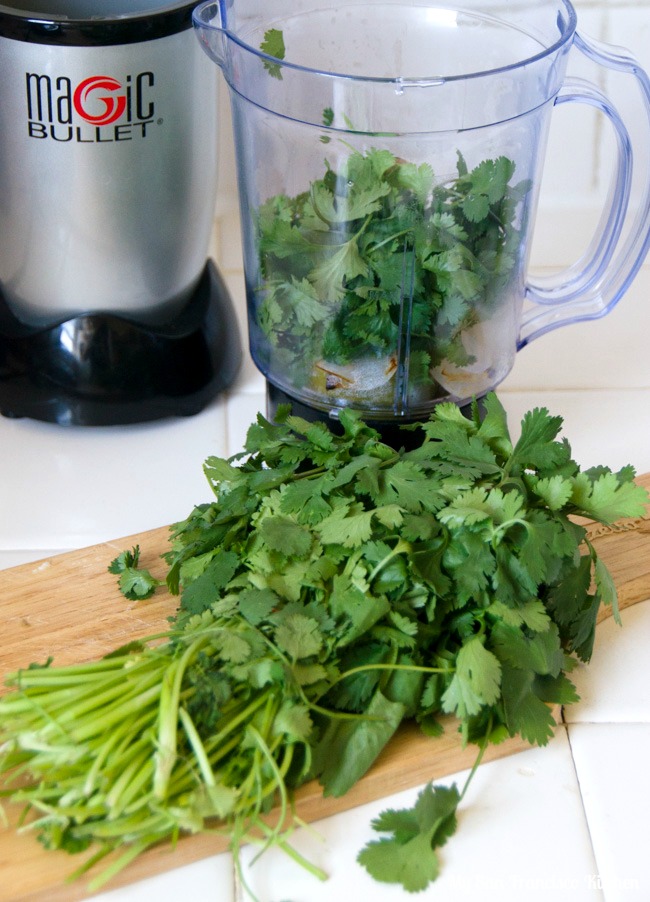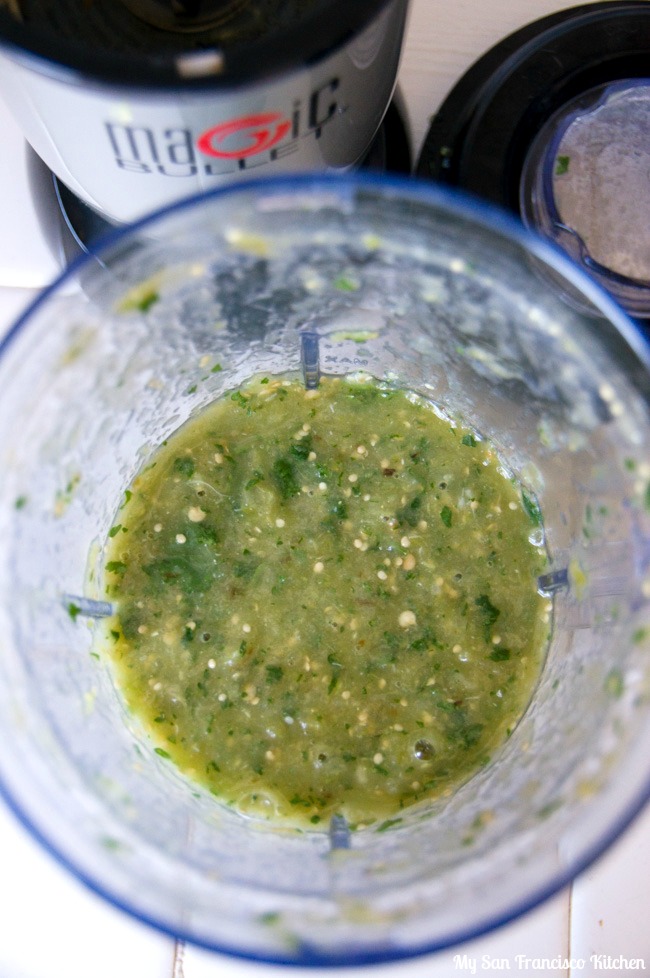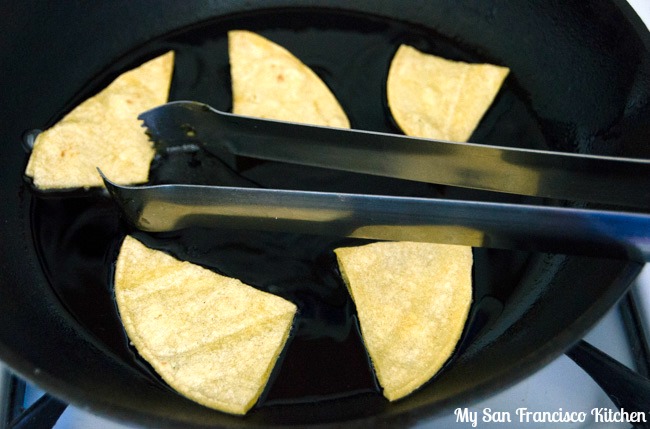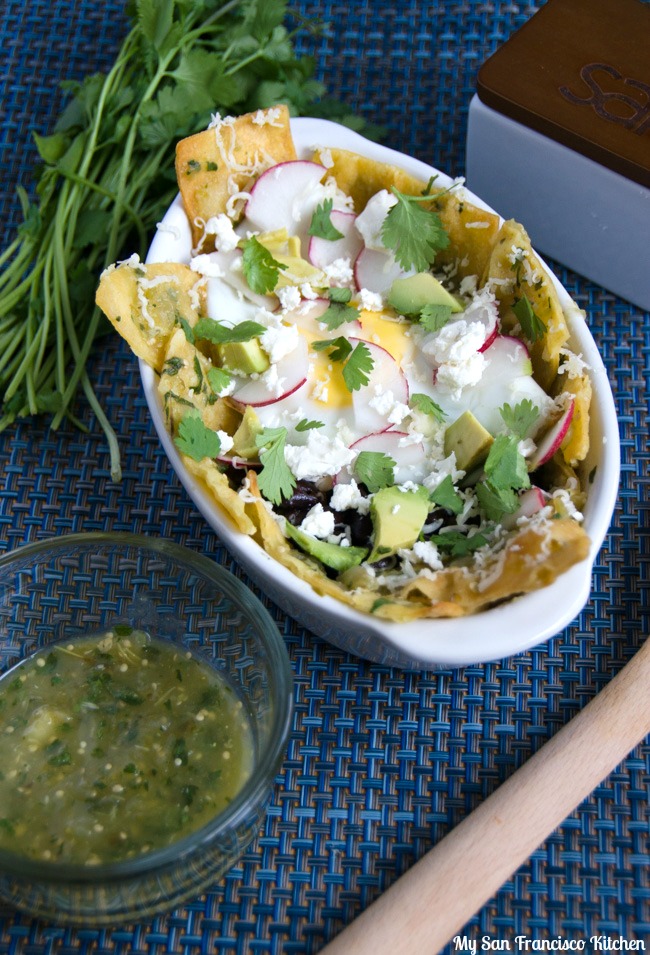 Tomatillo Chilaquiles
Ingredients
8 fresh tomatillos, husks removed
2 garlic cloves
½ onion, chopped
2 serrano chiles
2 tbsp olive oil
⅓ cup fresh cilantro, chopped
¼ cup chicken broth
¼ cup vegetable oil
8 corn tortillas
Black beans, egg, sliced radish, avocado, and feta cheese for topping
Instructions
Preheat the oven to 450 degrees F.
Add the tomatillos, garlic, onion, chilies, and olive oil to a baking tray and mix together well.
Roast in the oven for 15 minutes, then remove and cool.
Add to a blender along with the chicken broth and pulse a few times to desired consistency.
Heat the vegetable oil in a medium skillet and cut the tortillas into 8 pieces each. Fry the tortillas until crisp on each side and drain the excess oil on a paper towel.
Top the fried tortillas with the tomatillo salsa, black beans, avocado, egg, sliced radishes, crumbled feta cheese and cilantro.