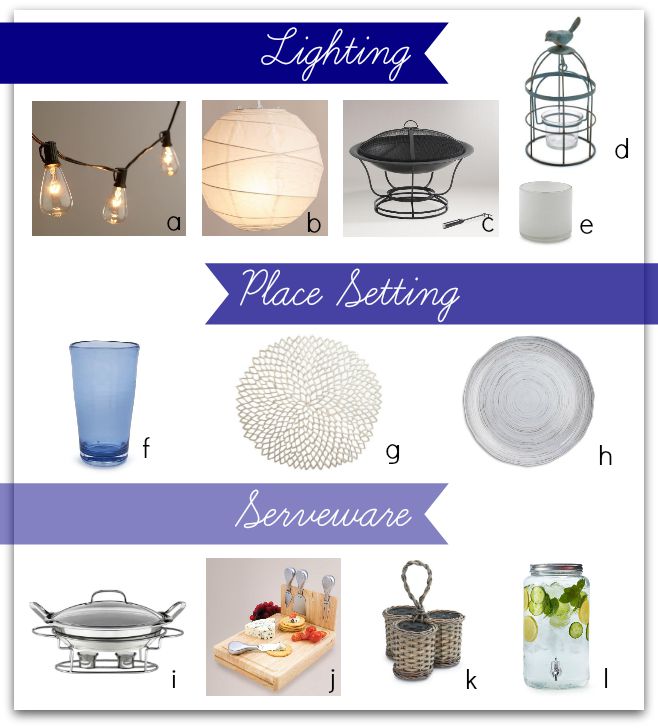 I'm back for another Trendy Kitchen post! This week's topic is outdoor dinner party essentials. As you know, I live in a very small apartment in SF with no backyard. We don't even have a shared outdoor space suitable for an outdoor dinner party! I can only dream about throwing dinner parties, so here is a list of items I would like to have if I were to throw an outdoor dinner party.
Outdoor firepit?! OK maybe I went a little overboard with that one, but wouldn't it be so much fun to have at your party? S'mores, anyone?
When I think about throwing an outdoor dinner party, I divide the set-up planning into three categories: atmosphere, place setting, and serveware. The atmosphere can be easily changed with nice lighting and decor. For your place settings, you want to think about durable outdoor materials. Lastly, for the serveware, you can create a buffet-style party or grab a few fun items for your appetizer table.
Oh, and just so you know, a lot of these items are on sale right now since we are heading into the end of summer!
What are some of your favorite outdoor dinner party items? Snap a pic and share using the hashtag #trendykitchen!
Lighting
Whether it is simple votive candle holders, a centerpiece item, or string lights, lighting will add a nice atmosphere to your outdoor summer dinner party. Here are a few of my favorite picks of the summer for outdoor lighting.
b. Maru Round White Paper Lantern
e. Birdcage Tealight Candle Holder
Place Setting
If you have the space, it is nice to have a set of outdoor plates and cups, mostly to avoid damaging/breaking your everyday dinnerware. Most outdoor dinnerware is made of durable materials fit for dining outdoors. I chose a few trendy items that are BPA-free and perfect for dining outside!
g. Chilewich Gunmetal Pressed Dahlia Placemat
h. Seaside Driftwood Dinner Plate
Serveware
Sometimes it is nice to let the guests serve themselves, which makes a buffet server that keeps warm very handy. You can set the places ahead of time, or stack the plates and silverware at the buffet table and let the guests take them to the table themselves. I also love cheese, and think it is a fun idea to set up a cheese board at the appetizer/snack table with some fruit and crackers. I am also in love with this mason jar dispenser, because I love making infused water with fruits – yum!
i. Cuisinart Classic Entertaining Collection 3 Qt. Round Buffet Server
j. Folding Cheese Board Tool Set
l. Mason Jar Beverage Dispenser
FTC disclosure: Some links above may be affiliate links. If you choose to purchase these products, I will receive some of the profits. I have chosen to feature these products out of my own will, and all opinions on these products are my own. I am not being provided with compensation for featuring them in this post beyond the affiliate profits.