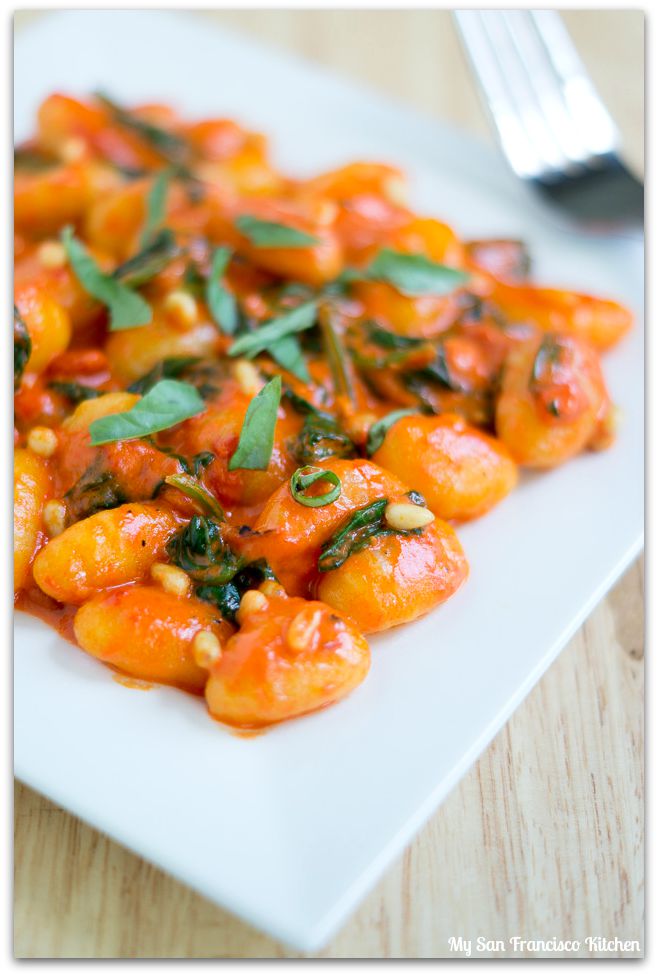 First off, let me save you some embarrassment someday by teaching you the correct pronunciation of "gnocchi" (I learned the hard way). It is pronounced "knoy-kee," not "ga-naw-chi." Got it? Hopefully you will remember this if you ever order it at a restaurant someday 😉
If you are new to gnocchi altogether, let me tell you a little about them. Gnocchi are little thick dumplings usually made of semolina or potato. Although they are considered to be an Italian dish, there are many variations made in different regions. In this recipe, I used potato gnocchi that was pre-made at the grocery store. You can find this in the pasta section. They are done in 3 minutes, which cuts down a lot of time for this recipe. If you are feeling adventurous, you can make your own homemade gnocchi from scratch. I have not attempted this myself, but I know that it is very time consuming (but also very rewarding!). Definitely worth it if you have the time!
Traditionally, gnocchi is served with a melted butter or cream sauce. For this recipe, I tossed gnocchi, spinach and pine nuts in a garlic red roasted pepper sauce. For the sauce, you will need a blender or food processor in order to purée the roasted red peppers. For an additional flavor, I like to top this dish with fresh shredded basil, which I think goes perfectly with the sweet pepper sauce. I love this recipe because it is very filling and satisfying for a vegetarian recipe!
Did you have a good weekend? Mine went by so fast! Today the weather is really gloomy outside…typical San Francisco summer day…so we are getting a slow start! I even slept through my spin class this morning, so when the hubby gets home hopefully I can steal and hour for my workout today. I am only letting myself "skip" one day a week of my usual hour of cardio, and it is only MONDAY so I don't want to take it for the week already. Did you I tell you about the spin class I went to last week? We used weights while on the bike! At first I thought this was a little crazy, but I got such an amazing workout that now I am addicted and wish all of the instructors did it! What a good idea to combine legs and arms at the same time…two birds with one stone 😉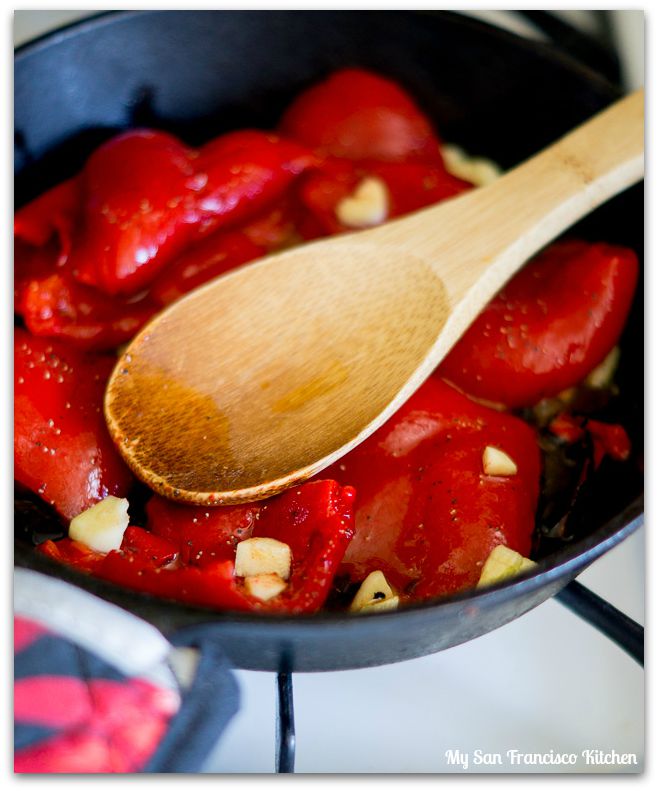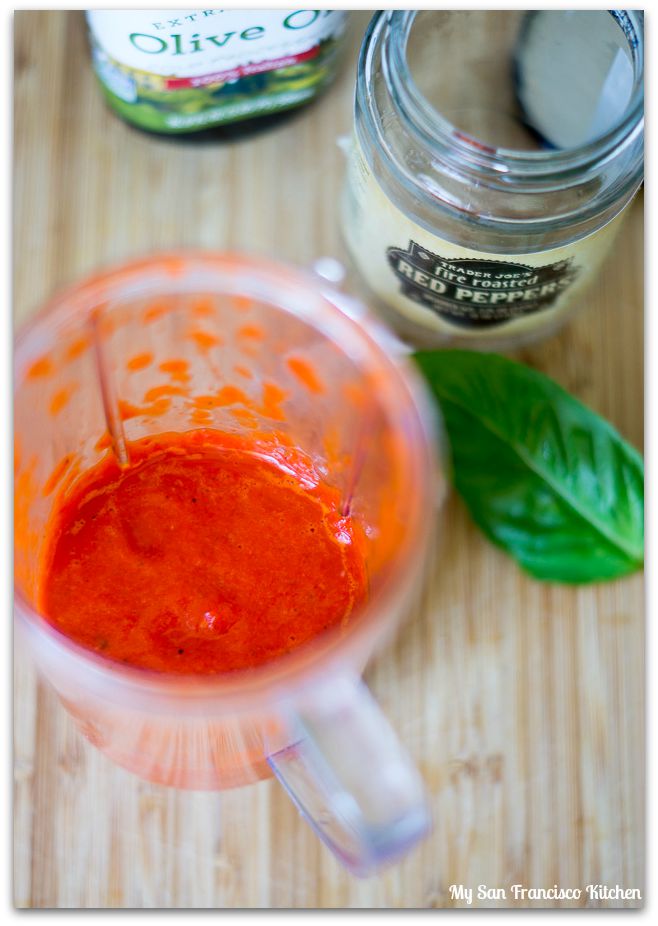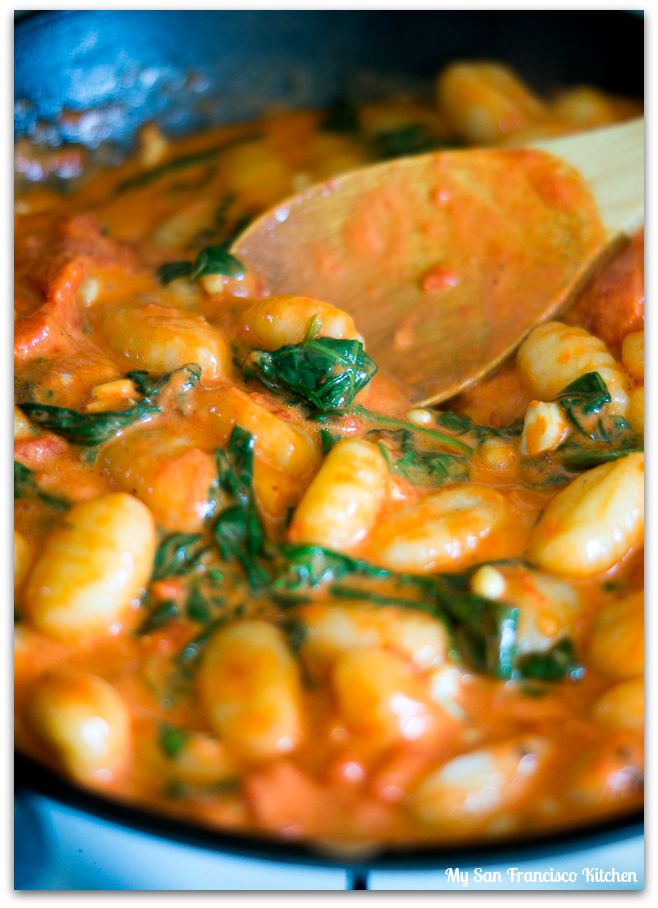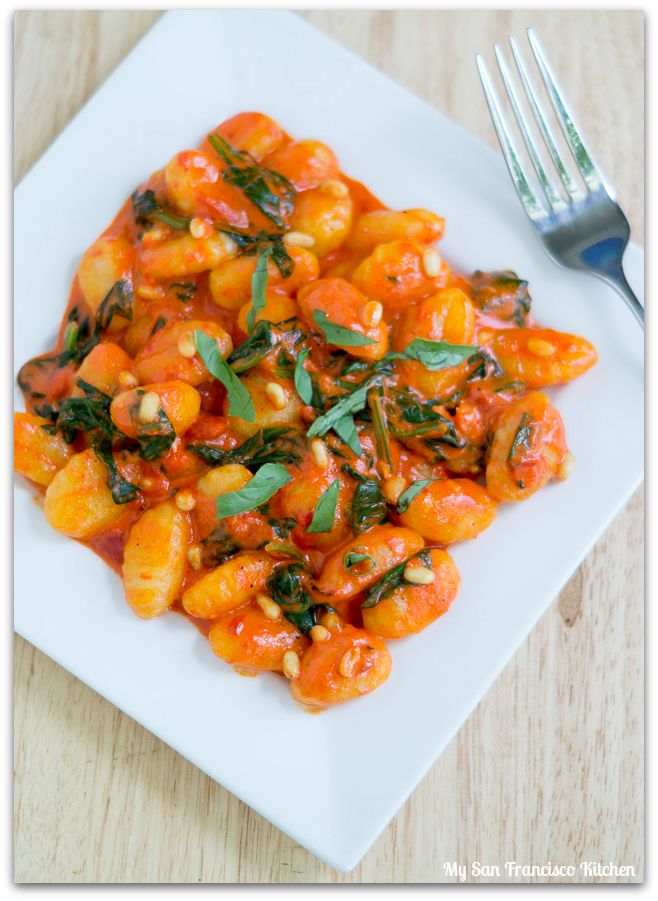 Roasted Red Pepper Gnocchi with Spinach & Pine Nuts
Ingredients
1 package potato gnocchi (about 3 cups dry)
2 tbsp olive oil
2 large cloves garlic, chopped
1 jar roasted red peppers (2 large peppers)
Salt and pepper, to taste
¼ cup heavy cream
2 cups uncooked spinach
¼ cup pine nuts
¼ cup freshly shredded basil, divided
Instructions
Heat the olive oil in a small sauce pan over medium heat and add the garlic. Mix occasionally for 4 minutes, until slightly browned.
Add the red peppers and a little salt and pepper (you can add more later to taste) and stir well. Cook for another 4 minutes, stirring occasionally.
Remove the pepper mixture from heat and allow it to cool to room temperature.
In the mean time, cook the spinach by wilting it in a tablespoon of heated water in a large skillet. Once wilted, turn the heat to low to keep warm.
Bring salted water to boil and cook gnocchi according to package directions (mine said 3 minutes).
Strain the gnocchi well, then transfer to the skillet with the spinach. Add some olive oil if desired and mix well.
Transfer the red pepper mixture to a blender (once cooled to room temperature) and blend well.
Add the roasted red pepper sauce back to the saucepan and heat through. Add the heavy cream and 1 tbsp basil and stir well.
Transfer the sauce to the skillet with the gnocchi and stir and heat through.
Serve warm topped with the rest of the shredded basil.
Serves 2