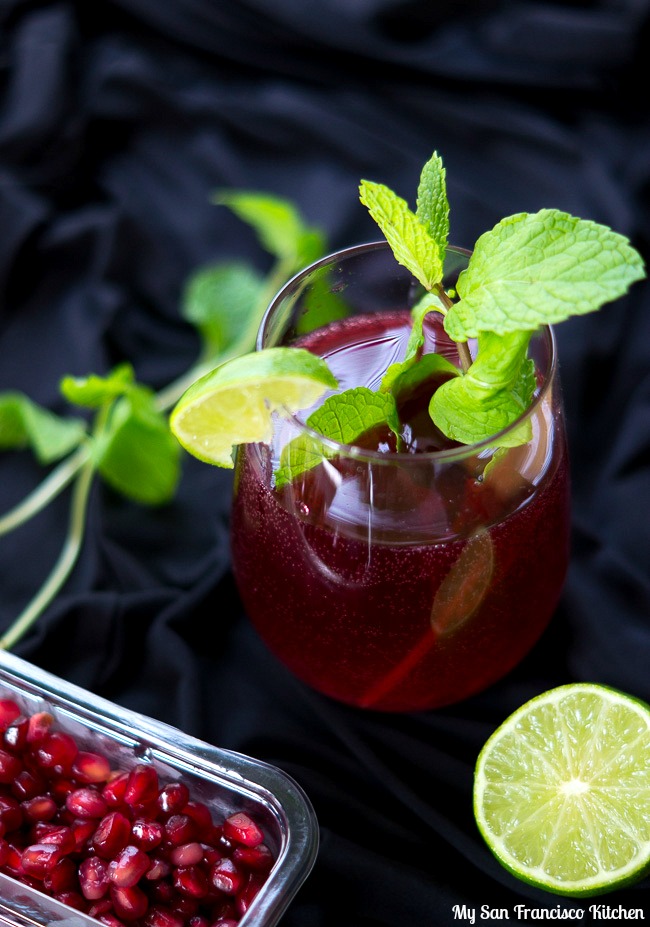 It's 9:45pm and I really should be sleeping because Leila is still not "sleeping through the night," so I am pretty much a zombie most of the time… but when she goes to bed I finally have some me time! I haven't had time to post a new recipe up on my blog for a week, so I will start with an easy one 😉 This pomegranate spritzer is easy to make at home with fresh pomegranate seeds, pomegranate juice, mint, lime and sparkling water. I am obsessed with this flavor combination! 
You can prepare your pomegranate spritzer two ways. One, let all of the ingredients sit in a pitcher for a few hours in the refrigerator and add the sparkling water last. This will allow the flavors to really come alive in this refreshing, bubbly drink. Two, if you are short on time, add the sparkling water, pomegranate juice and lime to a blender and then pour into individual glasses and drop in some slices of lime, fresh pomegranate seeds and mint just before serving.
This pomegranate spritzer recipe is non-alcoholic, but feel free to add your favorite spirit to it!
This week my Mom is visiting, and we are having beautiful weather in San Francisco. Today we went out to lunch at one of our favorite restaurants in the city, and later walked to Fillmore street for some ice cream 🙂 Yes, it was a perfect ice cream day in January! It was so warm I wanted to go to the beach!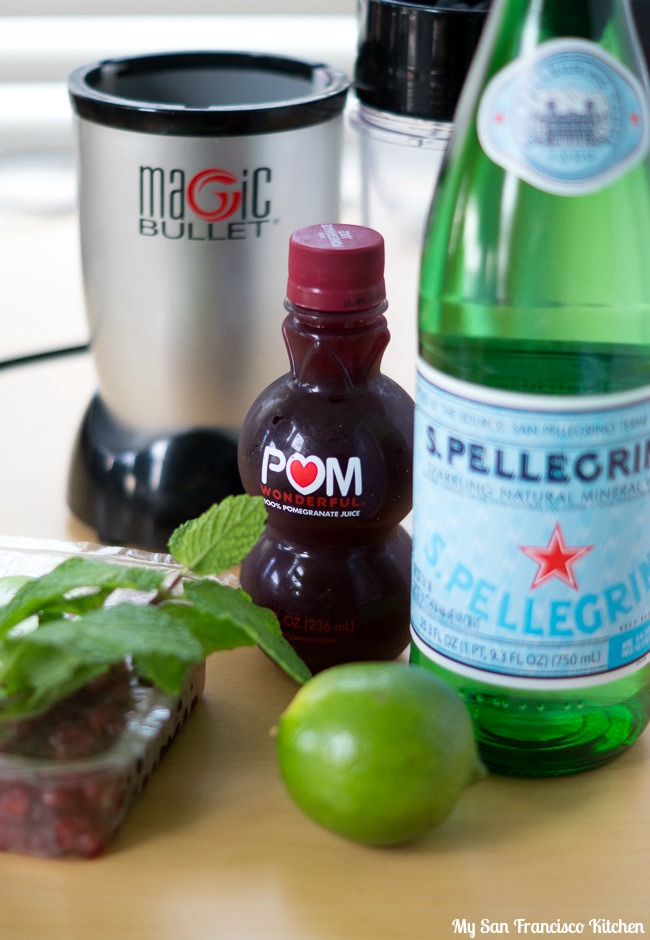 Pomegranate Spritzer
Ingredients
4 cups pomegranate juice
2 cups sparkling water
3 limes, quartered
½ cup fresh pomegranate seeds
Handful of fresh mint leaves
Instructions
Add the pomegranate juice and sparkling water to a blender and pulse to mix.
Divide among 6 glasses and squeeze ¼ lime wedge in each, and drop another ¼ lime wedge in each glass.
Add a few mint leaves and 1-2 tbsp pomegranate seeds to each glass.
Serve chilled.
Makes 6 drinks