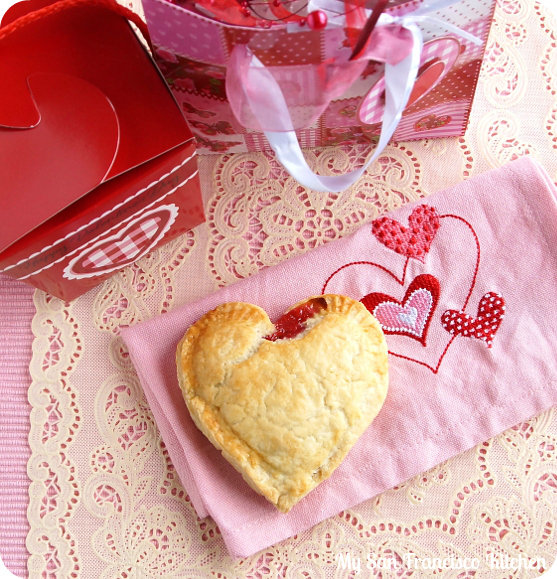 When I went to SoCal a few weeks ago to visit my family, my best friend Shannan gave me this super cute heart-shaped pocket pie mold. This was the perfect gift since Valentine's Day is just around the corner! I tried it out the other day and made these delicious hand pies filled with fresh organic raspberries. It is not only for desserts, as you can also use it to make mini calzones and other pocket pies! These raspberry-filled hand pies have a flaky, buttery crust on the outside and a tart raspberry filling (you can control how sweet you want it by adding more or less sugar before you fill them). I used my flaky pie crust recipe for the crust, which worked great. I love Valentine's Day, because it is another one of the holidays where you get to eat all of the chocolate and baked goods you want.  Everything in moderation, right? These taste great with vanilla ice cream – yum!
This past weekend was so much fun! We went hiking in Marin County along the Coastal Trail, and had crystal clear views of the ocean on our left and San Francisco behind us. What a perfect day! Afterwards we were so hungry and went to a seafood place in the city.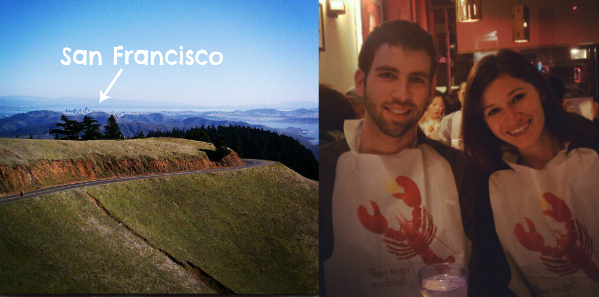 Do you have any plans for Valentine's Day? I tend to shy away from the restaurant crowds and cook a candlelight dinner at home. And of course, dessert is the best course of the meal! I am not sure what I will make this year, but it will definitely involve chocolate…=)

Raspberry Hand Pies
Ingredients
2 pie crusts (see above for my recipe, or you can use store-bought)
6 oz organic fresh raspberries
3 tbsp sugar
2 tbsp water
1 tbsp corn starch
Egg whites or beaten egg for brushing
Flour for rolling
Instructions
Preheat oven to 400 degrees F.
In a small saucepan over low heat, add raspberries and sugar.
Stir in 1 tbsp corn starch into 2 tbsp water until dissolved.
Add cornstarch mixture to the raspberries and bring to a boil. Stir a few times and remove from heat. Raspberries should be soft.
Allow the raspberry mixture to cool. Taste and stir in more sugar if desired.
In the meantime, roll the dough out and cut 2 heart shapes with the back of the mold.
Place one heart on top of each side of the mold, and press down on the filling side.
Spoon a few tablespoons of raspberry sauce into the mold, and close the mold and press firmly.
Transfer to a baking sheet lined with parchment paper.
Repeat until all of the dough is used up.
Brush the tops of the hand pies with either egg white or beaten egg.
Bake the hand pies for 18 minutes, or until golden brown.

Cool before serving.
Makes 6 hand pies
This post is sponsored by: