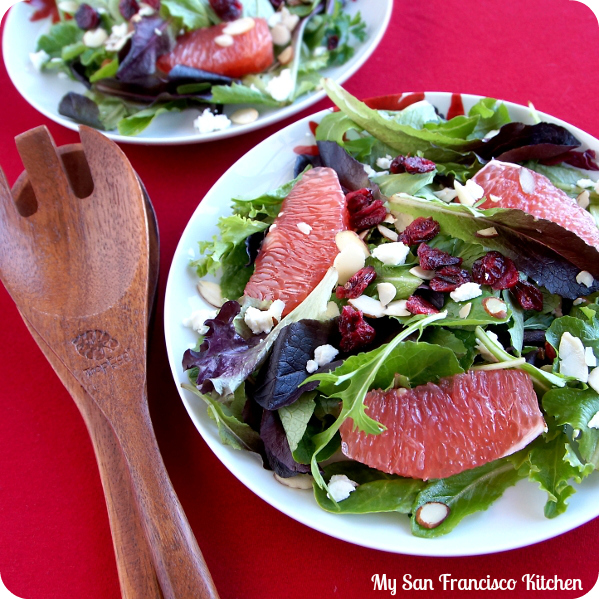 Happy Valentine's Day! Whatever your plans are today, I hope you treat yourself to something nice!! Tonight I plan on cooking a special dinner at home, and serving my favorite dessert that I worked on this afternoon (this is my treat to myself 😉). You will find out soon enough what it is! This mixed herb salad is tossed with freshly cut grapefruit slices, crumbled goat cheese, sliced almonds and dried cranberries. It goes very well with a red wine vinaigrette, pomegranate dressing, raspberry vinaigrette or other light dressing. I think it is the perfect salad for Valentine's Day because of the beautiful pink color the grapefruit slices add to it!
Do you have any special plans for tonight? Some of you already told me you are staying in, like us, and enjoying a nice dinner at home or going out this weekend after the hype dies down. Last night we went to a comedy show in the city, which was a lot of fun! I am so happy tomorrow if Friday, and it is a long weekend for President's Day! What are you doing for the 3-day weekend?

Mixed Herb Grapefruit Salad
Ingredients
4 cups organic mixed herb salad
1 grapefruit
⅓ cup dried cranberries
¼ cup crumbled goat cheese
¼ cup sliced almonds
Red vinegar vinaigrette, or other light dressing
Instructions
Rinse and drain salad, then arrange on two plates.
Carefully slice the grapefruit and place the slices on top of the salad.
Divide the dried cranberries between the two salads.
Sprinkle the goat cheese and sliced almonds over the two salads.
Top with dressing of choice.
Makes 2 salads
This post is sponsored by: