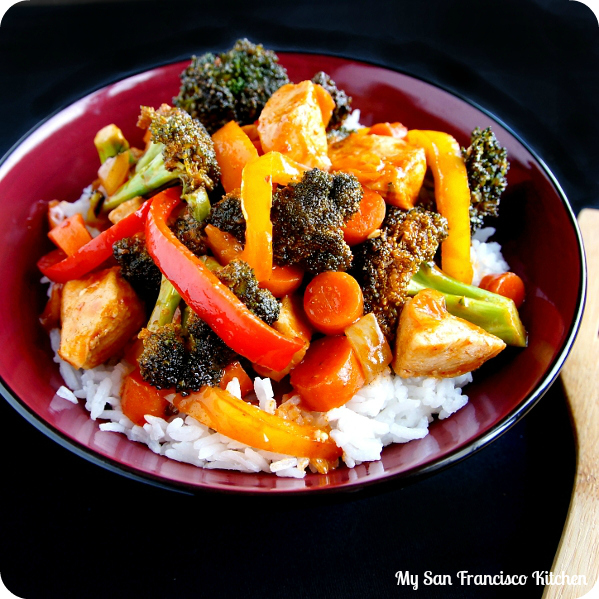 I am SO happy for two reasons: 1) it is Friday and 2) today I took my very last midterm in pharmacy school. Actually, it was my very last midterm ever *crosses fingers*. I came home and wanted to make something quick and easy for lunch, so I made this Kung Pao chicken stir-fry. I love stir-fry dishes because you can use so many different vegetables, and they always seem to just go together! I used Simply Asia Spicy Kung Pao Stir-Fry Sauce for the final touch, and it added just the right amount of spiciness and a great flavor to the veggies and chicken. Simply Asia and Thai Kitchen products are great when you want to serve something up quick, and they taste like restaurant quality. I served the stir-fry over jasmine rice, which goes great with just about any stir-fry dish! You can chop up the vegetables the night before you want to make this stir-fry dish for an even faster lunch or dinner.
What is everyone up to this weekend? I have a little break before I need to do some assignments, so I'm thinking day-trip tomorrow. Not sure where yet…
Next week (Feb 10) is the Chinese New Year, a 15-day celebration. It is really big in San Francisco. Since I moved here, I haven't been to the parade in China Town, but I want to check it out! Do you do anything special for the Chinese New Year? I always enjoy the great FOOD!
Have a wonderful weekend!

Spicy Kung Pao Chicken Stir-Fry
Ingredients
2 tbsp vegetable oil
½ onion, chopped
2 organic carrots, chopped
½ organic red bell pepper, sliced
½ organic orange bell pepper, sliced
½ organic yellow bell pepper, sliced
1 organic head of broccoli, chopped
2 organic, free-range, boneless, skinless chicken breasts, cubed
1 package Simply Asia Kung Pao Stir-Fry Sauce
Instructions
Heat oil in a wok or large skillet over medium-high heat.
Add onions and bell pepper, and sauté for 4 minutes, stirring occasionally.
Add carrots and broccoli, and continue cooking for 5 minutes, or until broccoli turns a dark green color.
Move the vegetables to one side, and add cubed chicken.
Continue cooking for about 7 minutes, or until chicken is cooked through.
Add Kung Pao stir-fry sauce and mix until everything is heated through.
Serve over jasmine rice.
More about Thai Kitchen products:
Thai Kitchen and Simply Asia offer a complete line of Asian ingredients and convenience items, including sauces, curry pastes, rice noodles, fish sauce, coconut milk, noodle bowls, and more. Most items are free of gluten, artificial colors/flavors and MSG – more reason to celebrate a New Year, and new you! Our ingredients and recipes offer simple solutions to spice up any celebration – and what better time to "thai" new dishes than Chinese New Year? The traditional 15-day celebration kicks off February 10, 2013, and is a perfect reason to gather a group of friends and try tasty Asian cuisine.
For entertaining, why not try a Satay Partay – a delicious chicken dish featuring Thai Kitchen's Coconut Milk, Premium Fish Sauce, Red Curry Paste, Lemongrass and Peanut Satay Sauce.
Or, add a little zing to traditional party favorites with Thai Kitchen dipping sauces. Our Spicy Thai Mango dipping sauce puts a fruity twist on traditional spring rolls in this Zing Rolls recipe featuring Thai Kitchen's Red Rice Noodles.
Whether entertaining a crowd or an everyday dinner with the family, Simply Asia Stir-Fry Sauces are the perfect way to create Real Asia, Real Fast at home. Try our mild, flavorful General Tsao Stir-Fry Sauce in Restaurant Style General Tsao Chicken or General Tsao's Meatballs. Fans of ginger will enjoy the flavor our Ginger Teriyaki Stir-Fry Sauce brings to these Ginger Teriyaki Lettuce Wraps. Looking for a little more heat? Serve up these "Kung Wow" chicken wings with our Thai Kitchen Kung Pao Stir-Fry Sauce.
Where to find out more:
Check out Thai Kitchen and explore their amazing Asian cuisine ingredients!
Follow Thai Kitchen on Twitter at @Thai_Kitchen
Follow Simply Asia Food on Twitter at @SimplyAsiaFoods
http://pinterest.com/thaikitchen/
http://pinterest.com/simplyasiafoods/
https://www.facebook.com/EnjoyThaiKitchen?ref=ts&fref=ts
https://www.facebook.com/EnjoySimplyAsia
Disclaimer: This sponsorship is brought to you by Foodie Blogroll who I have partnered with for this promotion.