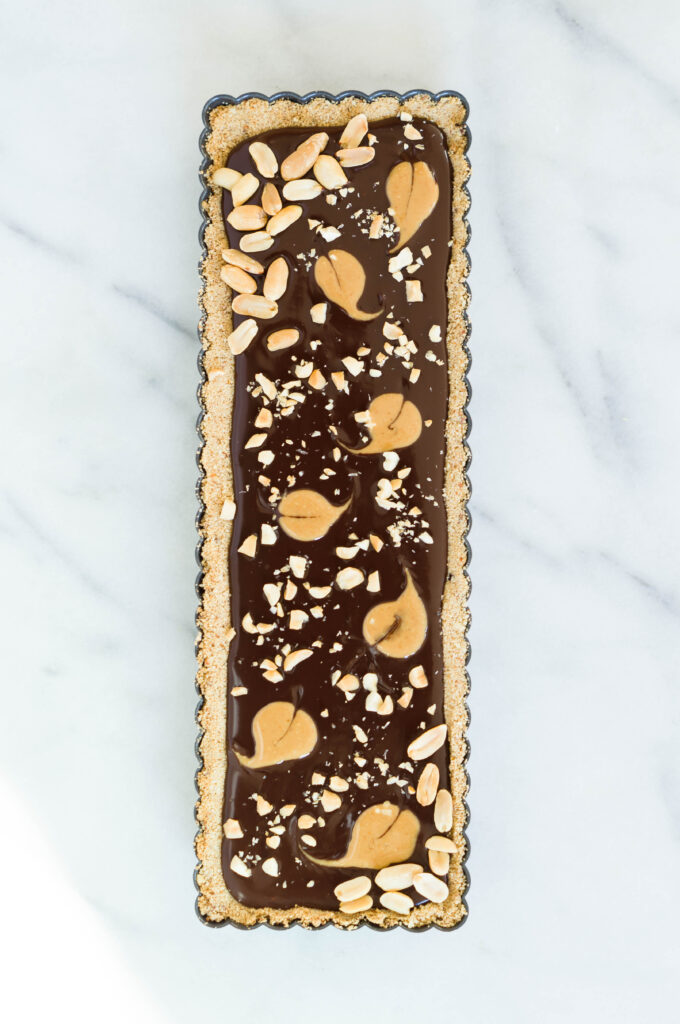 I was invited to participate in a "peanut butter" baking theme on Instagram this weekend, and it took me a really long time to decide what to make! I love peanut butter, and especially peanut butter and chocolate…so I created this vegan chocolate peanut butter tart! The crust is made out of dates, almond and oat flour with some peanut butter to hold it together (yum).
For the chocolate ganache filling, I use coconut cream instead of heavy whipping cream, which gives it a touch of coconut flavor – so delicious! I melt everything in my Thermomix®, which is temperature controlled and perfect for melting chocolate. Swirl some peanut butter on top and sprinkle with peanuts and you are good to go.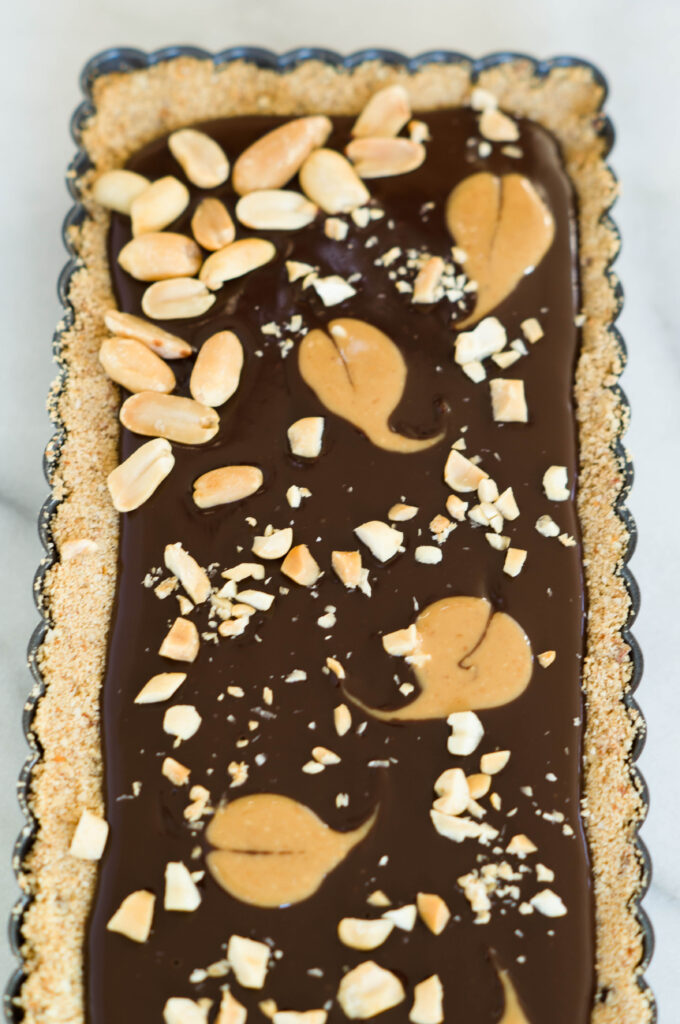 If you want to see more peanut butter bakes, check out the collab that goes live Sunday 01/24 on Instagram under #pbbakescollab
Vegan Chocolate Peanut Butter Tart
Course: Dessert
Difficulty: Medium
Ingredients
Crust

1 cup almond flour

1 cup oats

4 dates

1/4 cup peanut butter

2 tbsp maple syrup

2 tbsp coconut oil

Filling

1 cup semi-sweet chocolate chips

1 cup coconut cream (thick part from top of can)

Topping

Peanut butter

Peanuts
Directions
Add all crust ingredients to a Thermomix® bowl (or stand mixer) and mix on speed 4 for 1 minute.
Press into a greased tart form and bake in the oven at 350 degrees F for 15 minutes.
Remove from the oven and let cool.
Add the chocolate to a Thermomix® bowl (or double boiler) and blend on speed 10 for 8 seconds to chop more fine.
Add the coconut cream and melt at 120 F for 2 minutes while mixing on speed 3.
Pour chocolate ganache into the tart crust.
Swirl creamy peanut butter on top and sprinkle with peanuts.
Chill in the refrigerator at least 1 hour before serving.