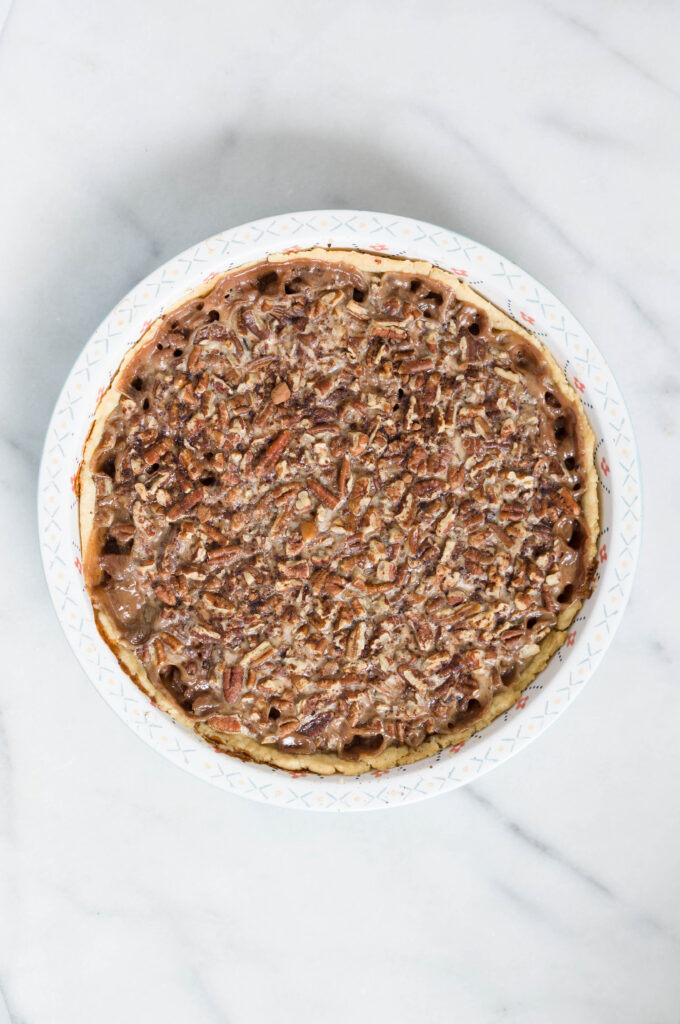 Tomorrow is my birthday, so this week I wanted to make something special to celebrate. I love pecan pie, and wanted to create a vegan version since I have been obsessed with my flaky vegan olive oil pie crust recipe anyway. I have seen some vegan pecan pie recipes that use dates, and I decided to try to make a vegan pecan pie recipe without dates, because I did not want to taste them in this pie recipe (although I love dates!). Since I have been using coconut milk for everything lately, I decided to give it a go and it came out amazing. Something magical happens in the oven with the combination of pecans, chocolate, coconut milk and flax seeds as the binder. You do not need butter or eggs, it still turns out delicious!
I used my Thermomix® to make the crust and filling for this vegan chocolate pecan pie.
Vegan Chocolate Pecan Pie
Course: Chocolate, Dessert, Thermomix, Vegetarian
Ingredients
Crust

1 cup all-purpose flour

1/4 cup olive oil

1/4 cup cold water

1/2 tsp salt

Filling

1 cup chocolate chips

1 9 oz package pecans

1 cup coconut milk

1/4 cup maple syrup

1 tsp vanilla extract

Pinch of salt

2 tbsp ground flax seeds
Directions
Preheat oven to 425 degrees F.
Add the crust ingredients to a Thermomix® mixing bowl and knead for 2 minutes (should be crumbly).
Roll out onto a floured surface into a rough circle and place into a pie dish.
Poke holes in the crust with a fork, then bake for 8 minutes and remove.
Pour the chocolate chips over the warm crust, followed by the pecans, reserving about 1/4 cup pecans for the final topping.
Add the remaining filling ingredients, and blend until smooth.
Pour the filling over the pecans, then top with remaining pecans and press down gently with your hand.
Bake for 35 to 40 minutes until bubbly, then remove to cool.
Chill in the refrigerator for 1 hour before serving (unless you prefer it warm!).