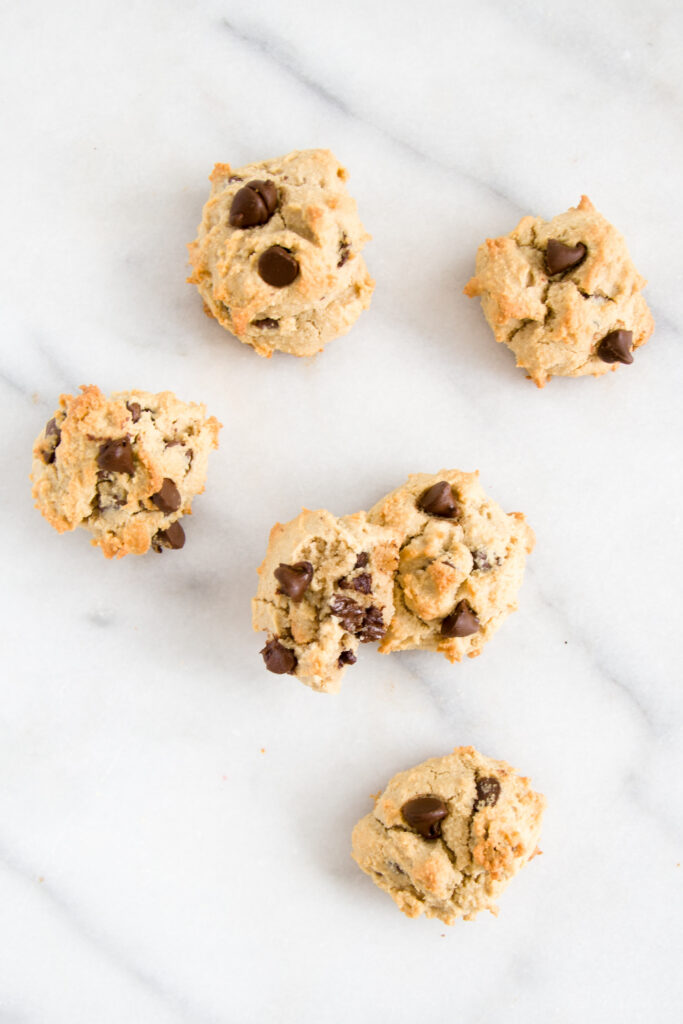 Do you ever get a bad craving for chocolate chip cookies? Happens to me allll of the time. Once a friend of mine mentioned she was baking tahini cookies, and I became very curious. I wondered what would happen if I replaced butter with tahini to make chocolate chip cookies healthier, but still maintain the texture, gooey melted chocolate chips and everything else we love about them. This recipe is it!
These tahini cookies do not have any butter or sugar, and uses coconut flour. They are vegan, gluten-free, and dairy-free so perfect for anyone with food sensitivities or allergies. Yes, a chocolate chip cookie you can actually feel good about eating! I use maple syrup instead of sugar to give it that sweetness.
You can enjoy these tahini cookies as a snack or dessert! They come out of the oven soft and chewy, and remain so if kept in a tin.
Chocolate Chip Tahini Cookies (V, GF, DF)
Ingredients
3/4 cup tahini

6 tbsp maple syrup

1 egg

1/4 cup coconut flour

1/4 tsp vanilla extract

1/4 tsp cinnamon

1/4 tsp salt

1/4 tsp baking soda

1/3 cup chocolate chips
Directions
Preheat oven to 350 degrees F.
Add all ingredients to a Thermomix® mixing bowl (or other mixer) and blend together.
Scoop 1 tbsp of cookie dough in a round shape onto a baking sheet.
Bake for 12-15 minutes, until golden and slightly firm to touch (less baking time will give you a softer cookie).