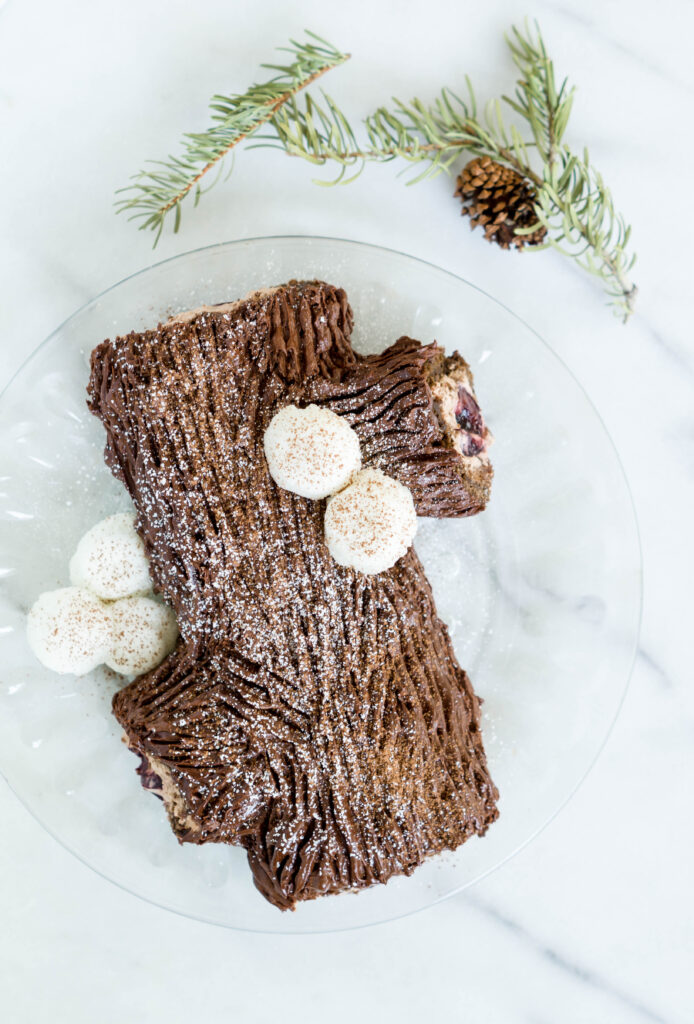 One of the things I look forward to every Christmas is making a bûche de Noël (also known as Yule log cake). It has sort of become a tradition the past few years to make the chocolate sponge cake filled with chocolate cream and decorated like a tree log. This year I even made the meringue mushrooms (ohhh do I have a story about these mushrooms!). I won't lie to you, it takes about a half day to make…Patience is a virtue. It is worth it in the end when you get popped eyes from your friends and family. Your buche de Noel will be the show-stopping centerpiece of your table.
So back to the mushrooms…this was the first time I made them, and it took me 3 attempts. The first time, I didn't whip the egg whites long enough and couldn't get the mushroom "stems" pointy enough (they all collaped and went flat). The second time I burned all of the meringue. Third time was a charm, and they came out perfect! I suggest googling a good recipe and following it exactly, then pipe out quarter sized circles and for the stems pull upwards and create a point (they should be standing 1 inch tall and pointy!). Good luck on those, they are finicky!
The sponge cake is very easy – I make it in my Thermomix®, as well as the whipped cream and ganache frosting. This year I made a Black Forest theme, and added kirschwasser (like a cherry schnapps) and cherries. Sprinkle the top with sieved powdered sugar and/or cocoa powder.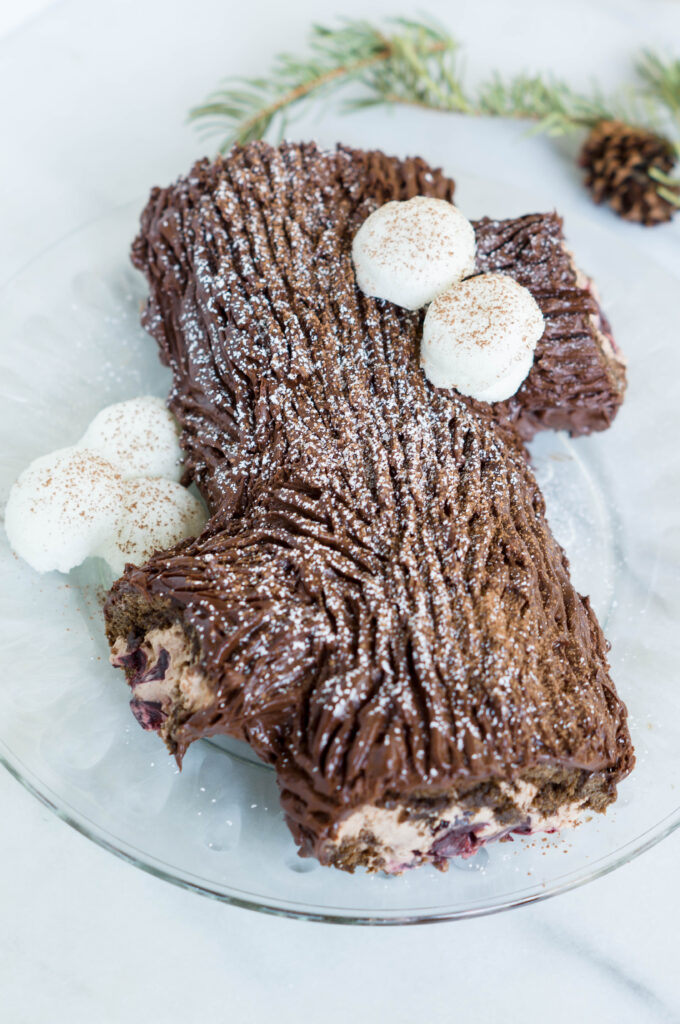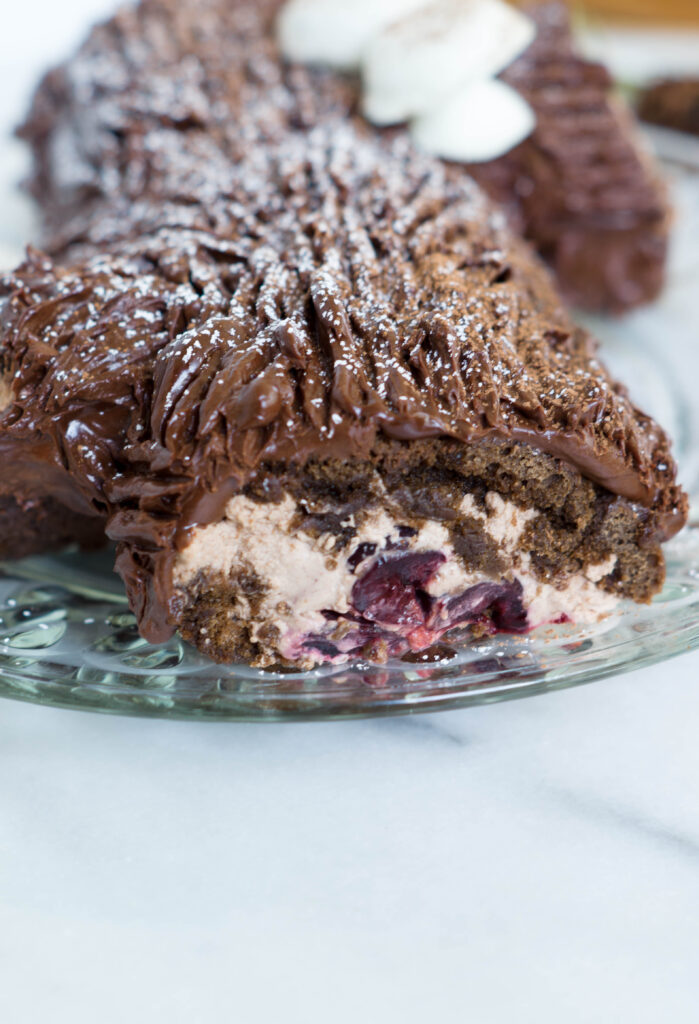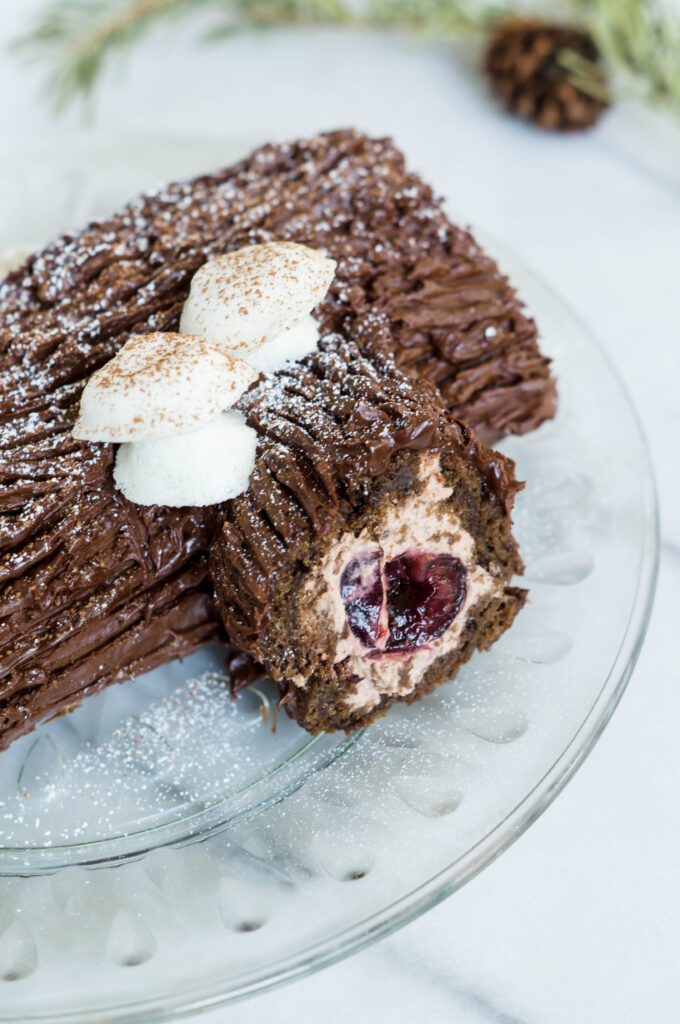 Buche de Noel
Ingredients
Chocolate Sponge Cake

4 eggs

2/3 cup sugar

1 cup flour

3 tbsp cocoa powder

1 tsp baking powder

Pinch of salt

Chocolate Cream Filling

1 cup heavy whipping cream

2 tbsp sugar

2 tbsp cocoa powder

Ganache Frosting

2 cups dark chocolate chips

1 cup heavy whipping cream

Extras

Meringue mushrooms

Powdered sugar

Cherries

Kirschwasser
Directions
Prepare the ganache frosting 3 to 4 hours in advance to allow to set – melt chocolate chips and heavy whipping cream in a Thermomix® or double boiler method and stir. Set aside for 3 to 4 hours or overnight until set (should be firm, not pourable).
Preheat the oven to 350 degrees F.
Whip the eggs in a Thermomix® or stand mixer for 4 minutes, then mix in the remaining spongecake ingredients.
Spread onto a 9×13-inch baking pan lined with parchment paper and bake for 10 minutes.
Flip the cake over onto another piece of parchment paper sprinkled with sugar and place a damp towel on top for 1 minutes.
Peel the top parchment paper off and roll up tight. Let cool 1 hour.
In the meantime, whip the heavy cream and sugar and cocoa powder in a Thermomix® with butterfly whisk attachment or stand mixer with whisk attachment for 3 minutes or until stiff peaks form.
Unroll the cake and peel the remaining parchment paper off.
Pour kirschwasser on top of the cake if using.
Spread the cocoa cream filling onto the cake leaving a 1 cm border, then place cherries cut in half on top.
Roll the cake back up and place seam-side down onto a serving plate.
Cut two 2-inch slices from the ends for the branches and set aside.
If the ganache is not spreadable, whip in a Thermomix® or stand mixer on high and add a bit more cream until frosting texture.
Spread over the cake, then place the branches and spread more ganache on top.
Using a fork, make streaks to make it look like a log.
Sprinkle with sieved powdered sugar or cocoa powder if desired.
Place the meringue mushrooms and sprinkle them with cocoa powder.