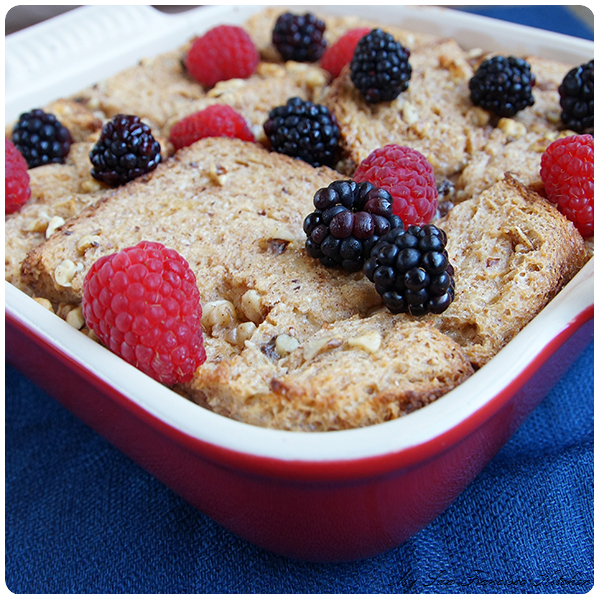 I remember the first time I tried bread pudding – it was on a cruise several years ago,  and I kept going back for more because it was so delicious. Since then, it became my new favorite brunch item! Maybe its the way the individual bread slices merge together while baking, turning into a soft, fluffy "pudding"…or maybe its the combination of spices AND texture that makes this dish so incredible. I haven't had bread pudding in forever, especially now that school is back in full swing and getting really overwhelming (what was the spectrum of tinidazole again?!)….who has time to bake and enjoy a scrumptous Sunday brunch? When I needed to use up some bread (I always seem to buy too much!) I decided it has been too long and baked a whole wheat bread pudding with walnuts and blackberry sauce. I used Nature's Pride Bread's 100% whole wheat bread because it is much healthier than using white bread (gotta have that extra fiber!) and it is the only bread I have found at the grocery store to taste like it is freshly baked from a bakery. It is hard to find a loaf that doesn't have artificial preservatives or high fructose corn syrup, and this brand doesn't. Every slice is 100% natural goodness! Nature's Pride is having a Bread for No Bread contest, and you can win a FREE month of bread! All you have to do is like Nature's Pride on Facebook and they choose a winner every Monday. Did I mention this bread pudding recipe goes great with blackberry sauce? In fact, any fruit topping will do. I love topping my pancakes, french toast, waffles – you name it – with fruit sauces. They are so easy to make and add tons of flavor to your favorite breakfast dish. What is your favorite Fall-themed Nature's Pride Bread recipe?
Half Marathon Training Update: [15 weeks to go]
OK sooo I did something incredibly stupid midweek that unfortunately threw my training off!! I was walking in the dark in my apartment and kicked the vacuum that I had left in the hallway so hard that it almost broke my toe…blood was gushing out and it has hurt for the past 2 days. I tried running yesterday with it taped up, but only made it one block 🙁 So far this week this is what I started out with:
Monday: 2 mile run + Lyon Street stairs (omg so brutal)
Tuesday: 3 mile run
Wednesday: Toe incident…
Hopefully it gets better soon so I can get back on track and build up my runs! Have a great weekend everyone!
XoXo

Whole Wheat Bread Pudding with Walnuts and Blackberry Sauce
Ingredients
6 slices old Nature's Pride 100% whole wheat bread
2 tbsp unsalted butter, melted
4 eggs
2 cups milk
½ cup sugar
1 tsp vanilla extract
1 tsp ground cinnamon
⅛ tsp ground nutmeg
⅓ cup chopped walnuts
For blackberry sauce:
½ cup frozen or fresh blackberries
1 tbsp orange juice
2 tsp cornstarch
¼ cup water
Instructions
Preheat oven to 350 degrees F.
Cut slices of bread in fourths and place in an 8×8 baking dish while drizzling melted butter over each layer.
Sprinkle walnuts on top.
In a medium bowl, beat eggs, milk, sugar, vanilla, cinnamon and nutmeg until well-blended (should be foamy).
Pour egg mixture over bread slices, and bake for 45 minutes, or until a butterknife comes out clean from the center.
In the meantime, add blackberries and 2 tbsp water to a small saucepan and simmer on low heat for 15 mintues, stirring occasionally.
Stir 2 tsp cornstarch into ¼ cup water until dissolved, then add to blackberries and stir well. Bring to a boil, then return to low heat.
This post brought to you by Nature's Pride Bread. All opinions are 100% mine.