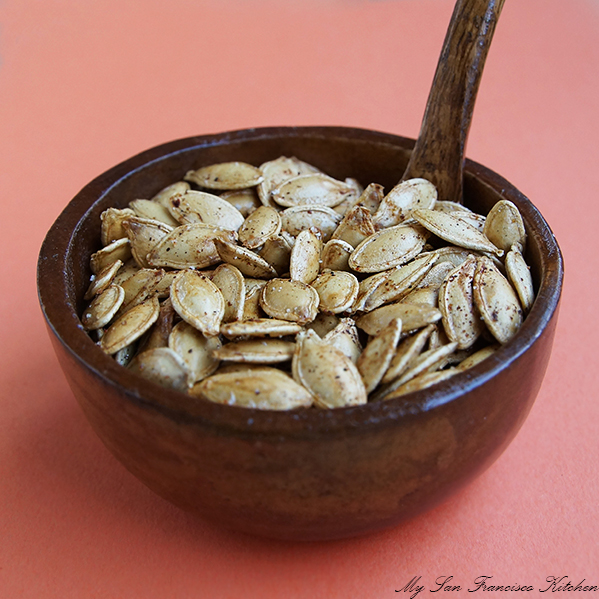 Don't throw those pumpkin seeds away after carving your pumpkins this Halloween! This is a really easy recipe for roasted pumpkin seeds. They are washed, dried, then tossed in olive oil and spices and baked in the oven. There are countless ways to flavor them, but my favorite mix of spices includes garlic salt, cayenne pepper (for that extra kick!), chili powder and paprika. These roasted pumpkin seeds make a great healthy snack and go perfectly as soup and salad toppings.
This weekend was the annual Food Buzz Festival in San Francisco. It started Friday night with a welcome reception, where they had cute little appetizers and delicious cocktails coming around. It was held at the top of the Sir Francis Drake in the Starlight room, which was gorgeous! I have never been up there so it was incredible. On Saturday, Fabi and I went to the Taste Pavilion where many local merchants brought their products for everyone to sample. This was my favorite event I have attended in the city since we moved here by far. I'm talking foodie heaven!! The festival concluded with a gala at the California Academy of Sciences in golden gate park, and I have never been there either so it was amazing to see it lit up at night inside. What a great venue!
Yesterday I continued with my half marathon training and ran 3 miles. Hopefully this week I will get myself used to running 4 again. You can follow my training here.
OK, so tell me, what is your favorite way to season roasted pumpkin seeds??

Roasted Pumpkin Seeds
Ingredients
1 cup pumpkin seeds, washed and dried
1 tsp olive oil
Garlic salt
Cayenne pepper
Chili powder
Paprika
Instructions
Preheat oven to 300 degrees F (I used my toaster oven).
Stir pumpkin seeds in olive oil, then add spices and stir until everything is well mixed.
Makes 1 cup
This post is sponsored by: