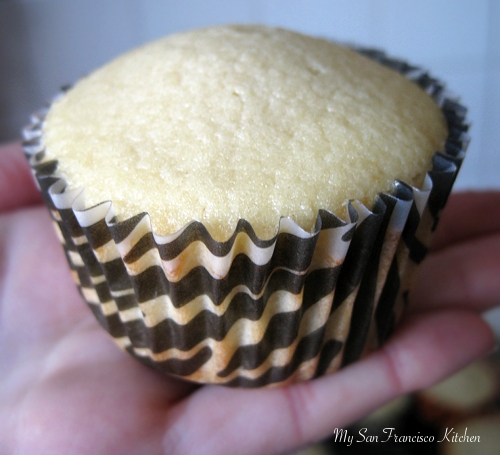 Don't get me wrong-cupcakes made from store-bought cake mix are pretty darn delicious! But almost every boxed cake mix has hydrogenated oils and other unhealthy ingredients to help shelf life, etc. I never thought baking a cupcakes from scratch was possible, until I tried this recipe. I looked through so many recipes online, only to find 4 star or less quality recipes. I truly think this one deserves 5 stars, and I am so excited to share it with you all! I must warn you that if you are looking for store-bought sickeningly sweet cupcakes, this recipe probably won't please you. I think they have just the right amount of sweetness to go with any frosting recipe without making the whole cupcake itself TOO SWEET. The cupcakes also come out really moist (don't you HATE dry cupcakes?!). I am excited to hear what you think 🙂 Try these with my better than store-bought vanilla frosting!

Homemade Vanilla Cupcakes
Ingredients
1 cup softened unsalted butter
2 cups granulated white sugar
4 eggs
2 tbsp vanilla extract
3 cups all-purpose flour
1 tsp baking powder
½ tsp salt
1⅓ cups cold milk
Instructions
Preheat oven to 350 degrees F.
Whisk together flour, salt, and baking powder in a large bowl and set aside.
Cream butter and sugar together in a standalone mixer with paddle attachment (or electric hand mixer).
Add eggs, one at a time until blended.
Add vanilla and beat on medium just until blended, then turn to low speed.
Add flour mixture a little at a time until all of it is blended in. Mixture will be very thick.
Add cold milk and set mixer to "stir" setting, or the very lowest setting possible.
Once you have a homogenous mixture, use a large spoon to scoop batter into a prelined cupcake pan, filling each cup ⅔ full.
Bake about 25 minutes, until toothpick comes out clean.
Remove immediately and place onto a cooling rack to cool before frosting.
Makes 24 cupcakes
This post is sponsored by: