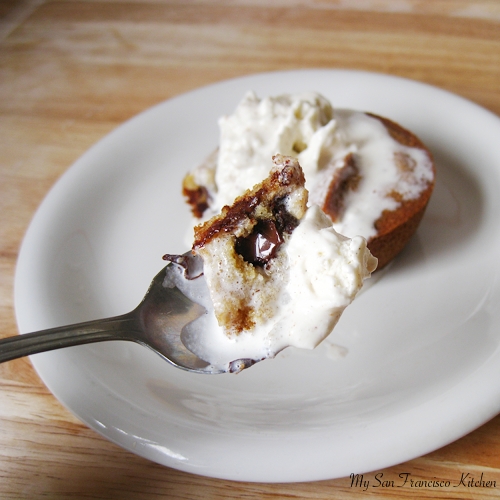 Today I made a batch of chocolate chip cookies for no reason. What does that mean? Wedding anxiety! I am starting to get really excited about this weekend, and thinking of all of the things I have to do still. Whenever I get anxious about something, I need to bake. And yes I ate like 10 bites of dough and yes I know I need to fit into my dress this Saturday and yes I feel so much better now!
I spent this past weekend in Carmel, CA – what a beautiful area, I can't wait to go back there! It was too short. On Friday before we left I made these mini pizookies for dessert. What is a pizookie you ask? Its a warm chocolate chip fresh out of the oven topped with vanilla bean ice cream, created by BJ's Restaurant & Brewhouse. They still have it on their dessert menu, and its my favorite thing to get there. Don't you just love chocolate chip cookies right out of the oven? That's when they are the best! And paired with chilled vanilla bean ice cream…I can die and go to heaven with one bite. This recipe makes six individual pizookies. Enjoy! XoXo

Ingredients
1¼ cups all-purpose flour
¼ tsp salt
½ tsp baking soda
½ cup unsalted butter, softened
½ cup packed brown sugar
¼ cup granulated sugar
1 egg
¾ tsp vanilla extract
1 cup semisweet chocolate chips
Vanilla bean ice cream
Instructions
In a medium-sized bowl, whisk together flour, salt and baking soda.
Cream together butter and sugars in a standalone mixer fitted with paddle attachment.
Add egg and vanilla and mix on low until blended.
Gradually add flour mixture on low speed until blended, then remove bowl from mixer.
Stir in chocolate chips by hand.
Preheat oven to 350 degrees F.
Spoon cookie dough into a greased large muffin pan or ramekins filled halfway to the top. Press the spoon in the middle to make a slight imprint.
Bake for 20-25 minutes. These are thicker, so you may want to check at 15 and 20 minutes by cutting open the center with a knife (you will hide with ice cream anyway!). Some people prefer them to be slightly under-baked. Don't let them get too hard by leaving them in for too long!
Remove from muffin pan, or serve warm with 1-2 scoops of vanilla bean ice cream on top.
This post is sponsored by: