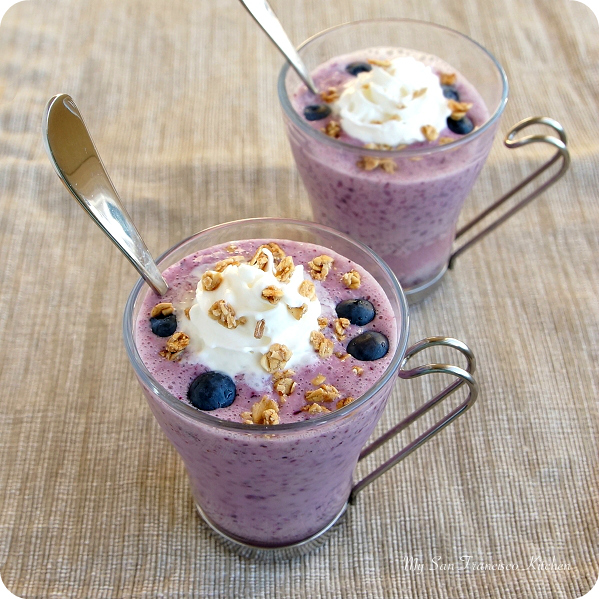 Good morning! I am so happy it is Saturday because I have the entire day off! This morning I made this blueberry breakfast smoothie with fresh organic blueberries. I always mix in some frozen fruit when I make smoothies because I like the texture better. This blueberry smoothie is a great, healthy way to start off your day. Blueberries have numerous positive health effects, and because I don't like eating them, putting them in a smoothie is the best way for me to get them in my diet. I love adding granola and fresh fruit on top and eat part of the smoothie with a spoon, and don't forget the whipped cream! I know it isn't the healthiest tip, but lately I have been putting whipped cream on everything and it always makes it even better.
Last night I got my rotations schedule!! I was so excited because I got what I wanted the most, a rotation in infectious disease. I am taking a class on it this quarter and find it so interesting. I can't believe I am starting rotations in 2 months, and then I am done with school forever (let's hope anyway).
What are your plans for the day? My husband went sailing (he knows a friend who has a friend with a sail boat!) and I am so jealous because it is a beautiful sunny day, but I am excited for him. And I have something even more exciting to do today: study for my pharmacokinetics exam on Monday! Just kidding. I'd much rather be on a sail boat drinking wine and enjoying the sun!
Happy Saturday <3

Blueberry Breakfast Smoothie
Ingredients
½ ripe banana
¼ cup fresh organic blueberries
¼ cup frozen organic blueberries
⅓ cup plain yogurt
¼ cup orange juice
¼ cup milk
Whipped cream and granola for topping
Instructions
Add all ingredients to a blender and blend until everything is mixed well.
Top with whipped cream, granola, and fresh fruit.


Makes 2 small smoothies
This post is sponsored by: