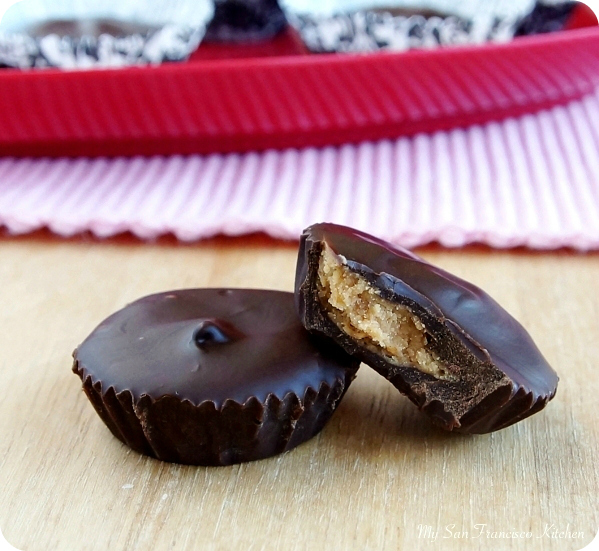 Today is our 6 month wedding anniversary! I thought about making a fancy dinner or celebrating in some way, but I refrained myself because I want our first year anniversary to be special! I really should stop making every month our anniversary, but I can't help being excited each time the 21st comes around. Even though I stopped myself from making anything special today, I made these homemade dark chocolate peanut butter cups the other day for my friend's birthday. These are a great Valentine's Day gift as well, and I will probably be making them again in a few weeks! I used to be so addicted to Reese's Peanut Butter Cups as a kid, but when I hit my teenage years I realized how fattening they were, and when I started studying health sciences I realized how horribly bad they are for you. Although I don't make these too often, I love being able to control how much sugar I add by making peanut butter cups from scratch and the fact that these don't have any corn syrup. I make them with dark chocolate because I personally like dark chocolate better than milk chocolate. If you want the real health effects from dark chocolate, you are going to have to buy real dark chocolate, not the Hershey's kind. I make mine with Trader Joe's dark chocolate candy bars, which probably don't have the highest cocoa content either, but they taste so good! I promise if you try this peanut butter cup recipe, you will never go back to buying them at the store again! They are so easy.

Dark Chocolate Peanut Butter Cups
Ingredients
½ cup natural creamy peanut butter
1 tsp butter, softened
¼ cup confectioners' sugar
200g dark chocolate candy bar pieces (about 2 cups)
¼ tsp salt
Instructions
Melt chocolate in a Little Dipper crockpot, or in a stainless steel bowl set over a small pot filled halfway with boiling water.
In a separate bowl, mix together ¼ cup of the peanut butter, butter, confectioners' sugar and salt with a fork until well-combined and creamy.
Add the other half of the peanut butter (1/4 cup) to the melted chocolate and stir in until well mixed.
Set 12 mini paper muffin cups on a tray.
Add 1 tsp melted chocolate to each mini paper cup, then top with 1 tsp peanut butter.
Add 1 tsp (or more) of chocolate over the peanut butter layer.
Set in the refrigerator for 45 minutes, or until hardened.

Store in an airtight container.
Makes 12 peanut butter cups
This post is sponsored by: