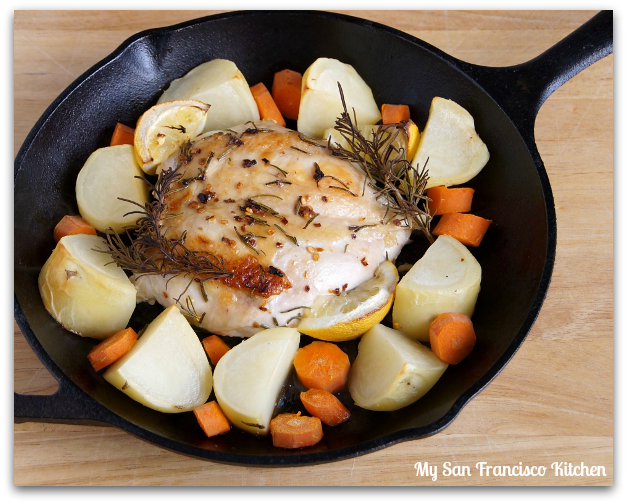 I've decided that Saturday is my favorite day of the week. I get to sleep in, and can still look forward to another entire day off! The weekend is the only time during the week that I can spend hours in my kitchen baking and cooking. I have a special treat for you tomorrow!
Yesterday my preceptor and I were talking about the best way to cook chicken, and he recommended cooking it in a cast iron pan. It sounded so good, and I just had to give it a try. My mom recently gave me fresh rosemary from her garden, and I thought a rosemary garlic lemon chicken baked in a cast iron skillet would be delicious!
This morning I bought an organic skin-on, bone-in chicken breast and seasoned it with fresh rosemary, minced garlic, red pepper flakes, lemon juice, olive oil, salt and pepper.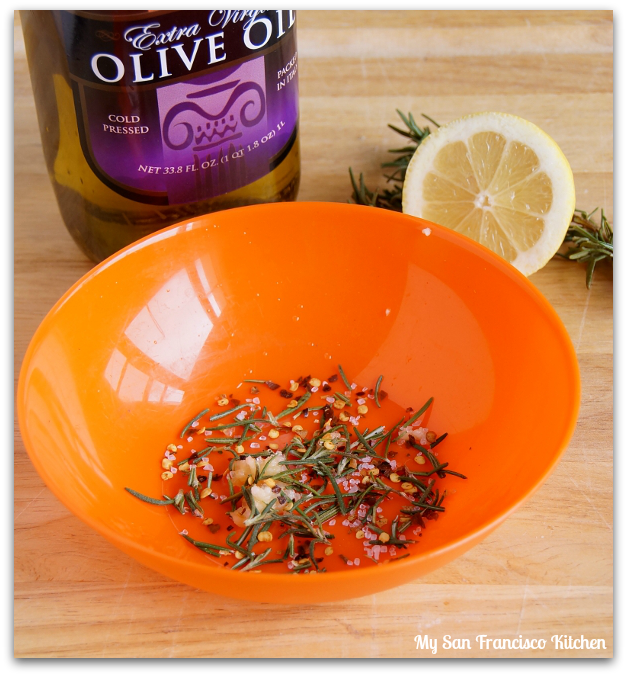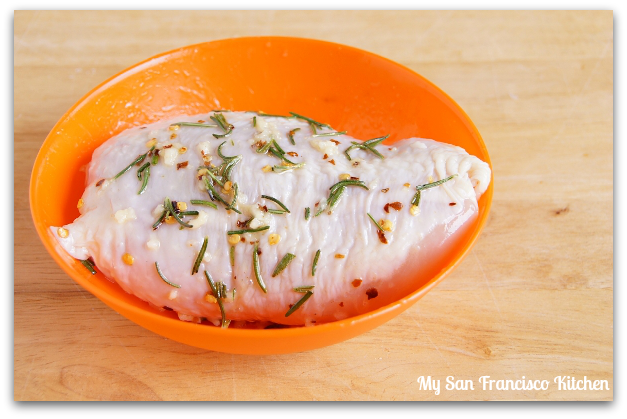 After browning one side in the cast iron pan, just flip the chicken over, add in some veggies, and bake in the oven for 25 minutes.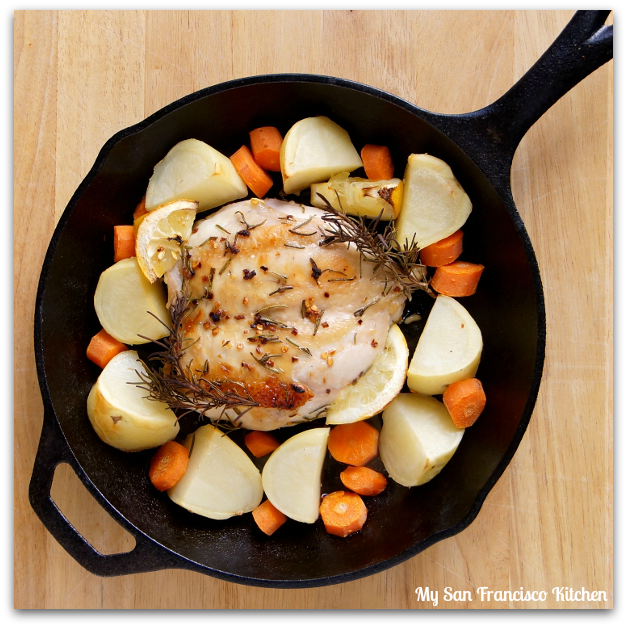 I was surprised at how quick this meal was to make! I also love that marinating beforehand is not needed, since I usually don't have enough time to wait for chicken to finish marinating before cooking it.
Have you ever tried cooking chicken in a cast iron pan? What is your favorite way to prepare it?

Cast Iron Rosemary Chicken
Ingredients
2 organic bone-in, skin-on chicken breasts (~1 lb)
2 tbsp olive oil
2 sprigs fresh rosemary (~1 tbsp chopped) + 1-2 sprigs for garnish
½ lemon
1 clove garlic, minced
⅛ tsp red pepper flakes
¼ tsp sea salt
2 medium russet potatoes
2 carrots, peeled and chopped
¼ tsp pepper
Instructions
Preheat the oven to 450 degrees F.
Bring a pot of water to boil, add potatoes, and boil for 10 minutes.
Drain and set aside to cool.
In a small bowl, combine rosemary, red pepper flakes, garlic, sea salt, olive oil and the juice from the ½ lemon (reserving a little for later) with a fork. Rub all over the chicken breasts.
Heat a cast iron skillet over medium heat.
Peel the potatoes and cut them into wedges. Set aside.
Once hot, add the chicken breast skin-side-down and cook for 5 minutes (until browned).
Flip the chicken and add the carrots and potatoes around it.
Squeeze the remaining juice from the lemon over the chicken and vegetables, and cut the lemon into three slices.
Sprinkle pepper over the chicken and vegetables.
Add the lemon slices and 1-2 rosemary sprigs around the chicken, then place the skillet in the oven and bake for 20-25 minutes (internal temperature should be at least 165 degrees F).
Makes 2 chicken breasts
Recipe adapted from
Skillet Rosemary Chicken
by Food Network.