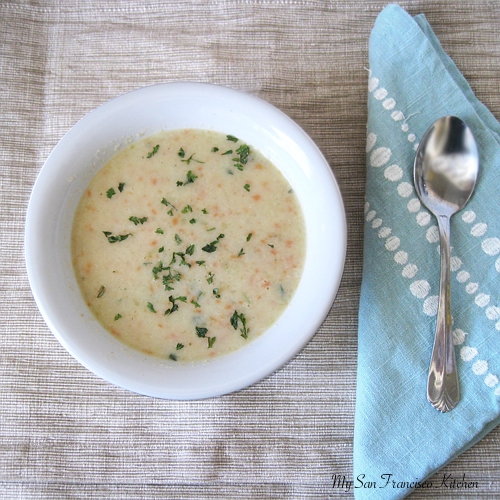 This cauliflower soup is one of my favorite soup recipes, because it is packed with veggies and low in sodium. I love making soups when its cold outside. This recipe makes a lot of servings, so its great to have in the refrigerator for lunch or dinner on those days during the week when you are too busy to cook a full meal. Cauliflower isn't very flavorful by itself, so the carrots, onion, garlic and sour cream add a lot of flavor to this comforting soup. I remember when I first started cooking I had no idea how to cut up a cauliflower, so I added in some photos below that should be helpful to you. Just remember to remove all of the foliage first before chopping away! *I used almost all organic ingredients for this recipe, but I know in some places it is hard to find access to many organic products.

Ingredients
1 head cauliflower, washed and chopped
4 medium carrots, peeled and chopped
4 celery stalks, chopped
½ onion, chopped
1 clove garlic, minced
1 tbsp butter
4 cups chicken broth (or water + 3 tsp chicken bouillon)
2 tbsp parsley
1 tsp pepper
½ cup sour cream
¼ cup milk
Instructions
Melt butter in a large pot over medium heat.
Add celery, onion and garlic and simmer for 7 minutes.
Add chopped carrots and stir.
Add chopped cauliflower and 4 cups of chicken broth (or water + 3 tsp chicken bouillon) and bring to a boil.
Add parsley and pepper, and boil for 15 minutes.
Remove from heat and let cool uncovered 5 minutes.
Transfer ½ to blender, and ½ to a large container (such as a large measuring cup).
Puree both halves of the soup to give it a nice texture, and transfer back to pot.
If needed, reheat over medium heat. Stir in milk and sour cream and serve immediately. Garnish with parsley.
This post is sponsored by: