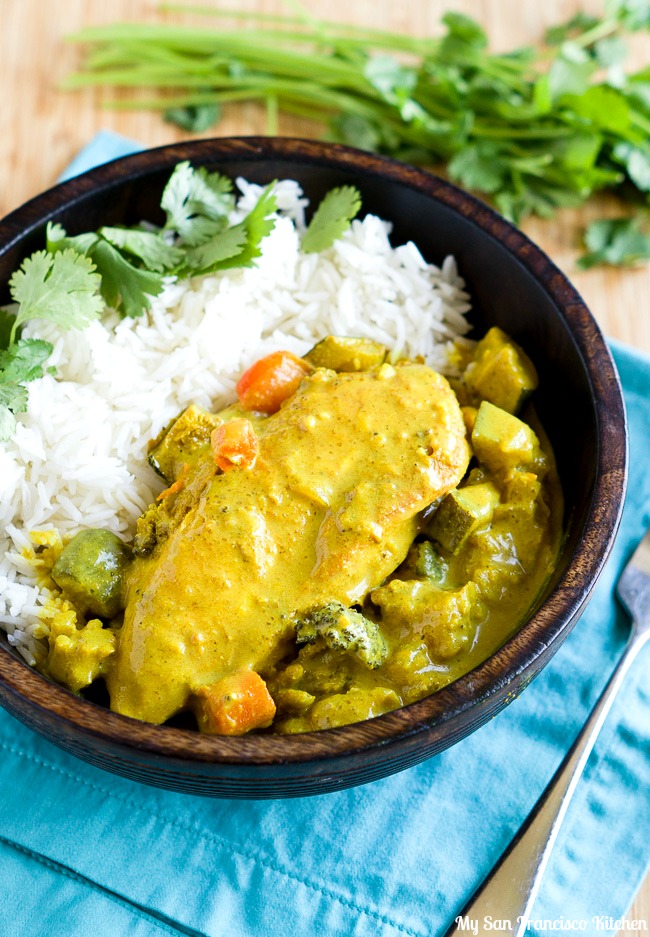 I cannot believe I haven't posted this yellow chicken curry recipe yet. It is one of our favorites, and I make it weekly. My husband and I love curry dishes, and never get tired of this yellow chicken curry recipe. I have perfected it over many years now, and wouldn't change a thing about it. Made with a variety of vegetables, this yellow curry is healthy and comforting. Delicious, healthy, homemade meals are my kind of comfort food. 
Speaking of comfort food, I would like to introduce you to The New Comfort Food. What is the New Comfort Food? Think of it as "out with the old, in with the new." Traditionally, comfort food has gotten a bad rep as being unhealthy. The New Comfort Food is dishes that use mostly local, seasonal ingredients, minimal ingredients, and quick, easy steps that include fast prep time.
One reason this yellow chicken curry recipe is a favorite curry recipe of mine is because it is simple, yet flavorful. I am not a fan of recipes that call for ingredients I will only use once and throw away, or hard to find. I also don't like using already made pastes. A few local and fresh vegetables, Foster Farms Simply Raised Fresh Chicken, and easy-to-find spices are used, and when simmered together the result is magical. Foster Farms Simply Raised Fresh Chicken is locally grown in California and the Pacific Northwest, and never uses antibiotics. The all natural chicken is American Humane Certified and raised without hormones or steroids.
Visit the Foster Farms website to learn more and discover new recipes to try!
This yellow curry recipe is super quick and easy, because after chopping your ingredients and tossing them into the skillet, you just have to put it in the oven and wait for everything to become tender and incredibly flavorful.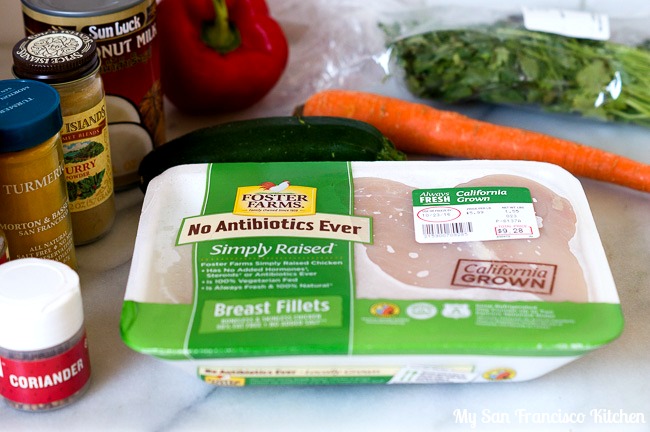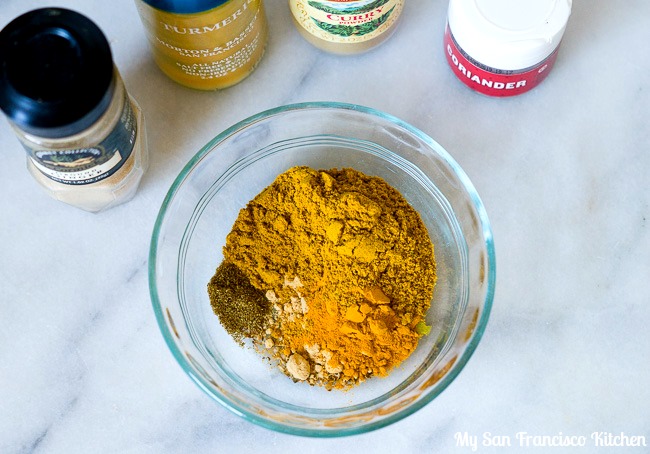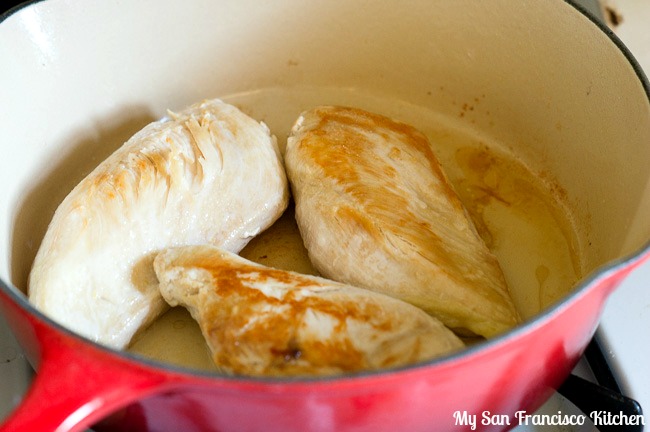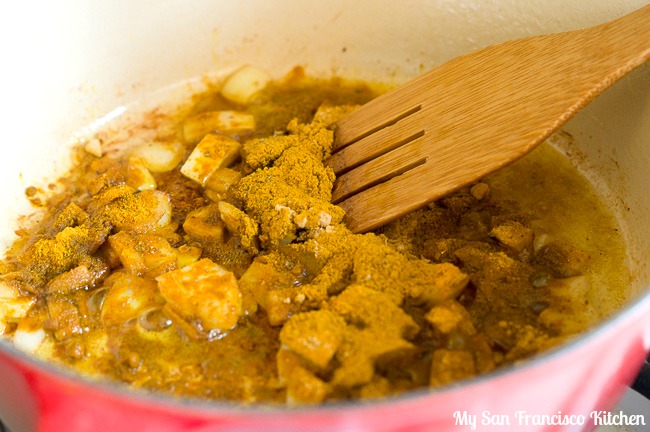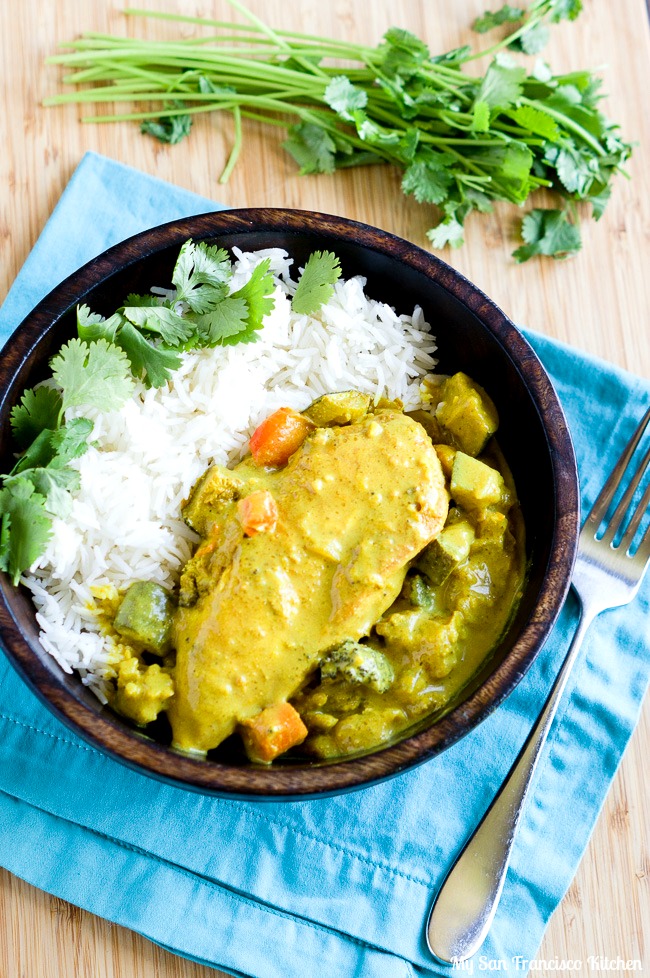 Chicken and Vegetable Yellow Curry
Ingredients
2 boneless, skinless Foster Farms Simply Raised Fresh Chicken Breasts
2 tbsp vegetable oil
2 tsp salt, divided
1 small yellow onion, chopped
1 tbsp minced fresh ginger
6 garlic cloves, minced
2 tbsp curry powder
2 tsp turmeric powder
½ tsp ground coriander
1 can (13.5 oz) coconut milk
½ cup water
2 carrots, peeled and chopped
½ cup broccoli florets
1 red bell pepper, cored and chopped
1 large zucchini, chopped
Fresh cilantro for topping
Instructions
Preheat the oven to 375 degrees F.
Heat the oil in a large, oven-proof skillet.
Cover the chicken breasts with 1 tsp salt and then brown the chicken on each side (about 2 minutes per side) in the skillet, then remove and set aside.
Add the onion to the skillet and cook until translucent, about 7 minutes.
Stir in the spices, 1 tsp remaining salt, garlic and ginger and cook for 2 minutes.
Add the chicken and pour the coconut milk and water over the top.
Bring the skillet to a boil, then cover and bake in the oven for 40 minutes.
Serve over rice and top with fresh cilantro.
Serves 2