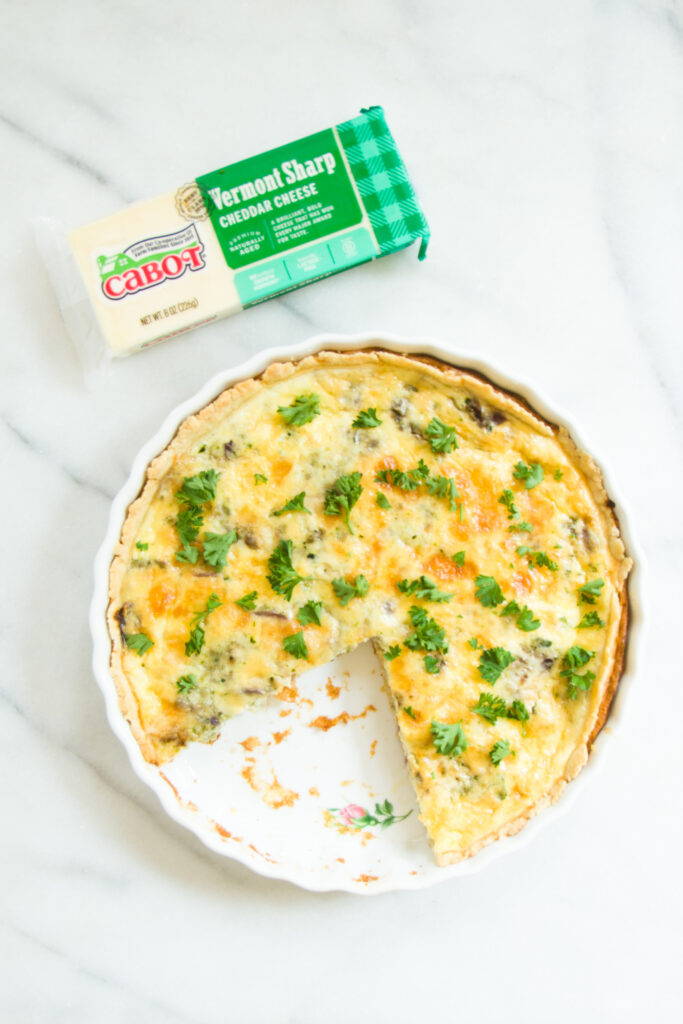 I received free samples of Cabot Cheese mentioned in this post. By posting this recipe I am entering a recipe contest sponsored by Cabot Cheese and am eligible to win prizes associated with the contest. I was not compensated for my time.
I could eat quiche for breakfast, lunch or dinner. My entire family loves quiche, and I am always looking for new variations to make for them. Cabot Cheese sent me some cheddar cheese, and since one of my favorite combinations is eggs and cheddar cheese, I thought it would be fun to create a new family favorite recipe. Quiche is a great "budget" family meal, because the ingredients are inexpensive and it feeds the whole family. In this quiche recipe, I use sharp cheddar, red onion and zucchini. My 5 year old loves quiche, so I always try to sneak vegetables in, and she eats it all!
I make all of the steps of my quiches, from the crust to grating the cheese to making the filling, in my Thermomix® mixing bowl, then bake them in the oven. The Thermomix® precooks the onion and zucchini by sautéing them inside of the mixing bowl, making it very flavorful when it bakes into the quiche.
I was surprised to learn that Cabot is a cooperative owned by 800 farm families throughout New England and New York and 100% of the profits go back to the farmers. All Cabot cheddars are 100% naturally aged, lactose free, and gluten-free. In addition to a full line of cheeses, Cabot makes Greek yogurt, sour cream, cottage cheese, butter and whey protein. The Vermont Sharp Cheddar Cheese goes perfectly in this quiche recipe!
What are some of your favorite family-friendly meals?
Cheddar Zucchini Quiche
Course: Main
Ingredients
Crust

1 cup all-purpose flour

1/4 cup olive oil

1/4 cup water

1/4 tsp salt

Filling

4 oz Cabot Vermont Sharp Cheddar Cheese

1 zucchini

1/2 red onion, peeled

1 tbsp olive oil

3 eggs

1 cup milk

1/4 tsp nutmeg

1/4 tsp salt

1/4 tsp pepper
Directions
Preheat oven to 425 degrees F.
Add flour, water, olive oil and salt to a Thermomix® mixing bowl (or other mixer) and blend well using the kneading function for 1 minute.
Roll out dough on a floured surface into a circle and transfer to a pie dish.
Poke holes in the crust with a fork and bake for 10 minutes, then remove from the oven.
Add the cheese broken up into a few pieces into the Thermomix® mixing bowl and grate by turning it to speed 6 for 3 seconds. Transfer to a bowl and set aside.
Add the zucchini and red onion to the Thermomix® mixing bowl and chop on speed 4 for 4 seconds.
Add the olive oil and sauté at varoma setting for 4 minutes. Transfer to the crust.
Add the nutmeg, salt, pepper, eggs, milk and most of the cheese (you can save a bit for topping if you wish) and blend on speed 4 for 10 seconds.
Pour the egg mixture over the vegetables and top with remaining cheese.
Bake in the oven at 425 F for 10 minutes, then lower the heat to 325 degrees F and bake for 30 minutes.
Disclaimer: I am a Thermomix® consultant and sell them as an independent business. "THERMOMIX," "VORWERK," "COOKKEY," and "COOKIDOO" are a registered trademark of VORWERK (or its affiliates). VORWERK does not support, authorize or endorse this site.