Tomorrow is the first day of fall, and I couldn't wait to make this vegan caramel sauce to celebrate! It is seriously the best vegan caramel sauce I've ever had, and I did not miss "the real thing" at all. It is so incredibly easy to make with only 3 ingredients required: maple syrup, almond butter and coconut oil! When I think of fall, pumpkins, apples and caramel sauce come to mind. You gotta have the caramel sauce! This version is vegan-friendly, and healthier ("real" caramel sauce is made with heavy whipping cream).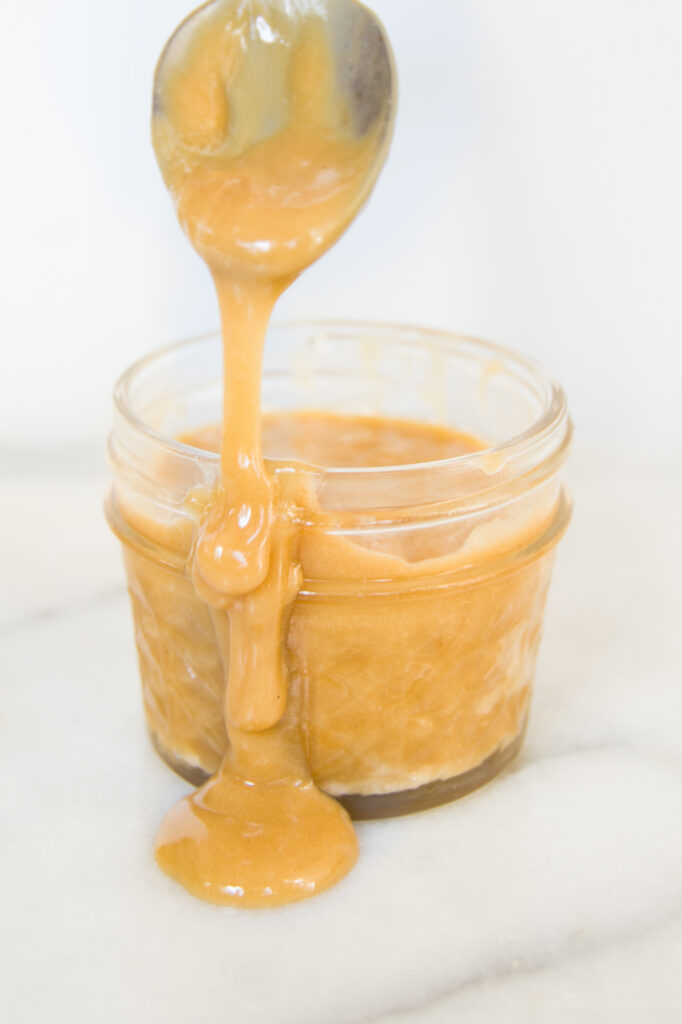 I make my vegan caramel sauce in the Thermomix, because it is easy for me to warm up the maple syrup and coconut oil then whip in the almond butter using the magical butterfly whisk. It comes out so gooey, sticky, sweet and everything you need caramel sauce to be. I used it on a freshly baked apple crisp and it was amazzinng.
What would you drizzle this vegan caramel sauce on???
NOTE: to make salted caramel sauce, just add some sea salt!
Watch this reel I made on my Instagram (@thecookingrx) for step-by-step instructions.
The Best Vegan Caramel Sauce
Course: Dessert
Ingredients
2 tbsp maple syrup

2 tbsp coconut oil

1 tbsp almond butter
Directions
Heat the maple syrup and coconut oil in the Thermomix mixing bowl at 120 F for 1 minute, or until coconut oil is melted.
Add the butterfly whisk attachment and the almond butter, then whip on speed 3.5 for 1 minute.
Store in the refrigerator for up to 1 week.
Disclaimer: I am a Thermomix® consultant and sell them as an independent business. "THERMOMIX," "VORWERK," "COOKKEY," and "COOKIDOO" are a registered trademark of VORWERK (or its affiliates). VORWERK does not support, authorize or endorse this site.