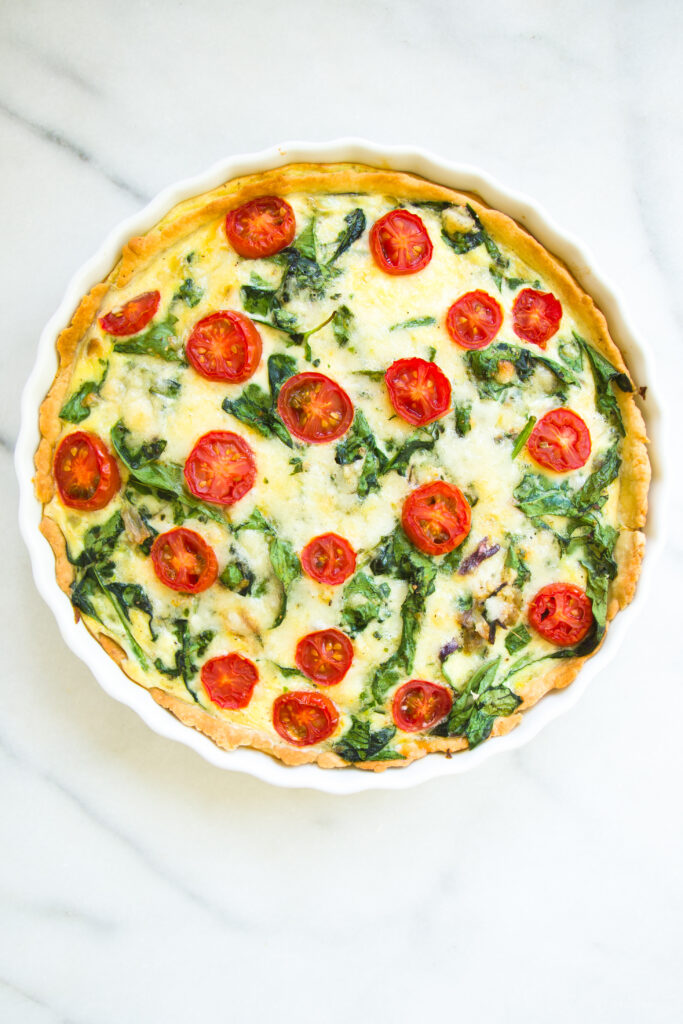 I can eat quiche for any meal, any time, hot or cold. My favorite thing about this summer-inspired quiche is the crust. It is made with olive oil instead of butter, and has a distinct flavor that I just love. I make the crust and filling in my Thermomix®, since it kneads the dough super quick, pre-cooks the veggies and whips up the egg filling in a jiffy.
You definitely want to bake the crust for about 10 minutes before filling it to avoid having an under-baked, mushy crust! You can experiment with different vegetables for this quiche, but the cooking time may vary depending on how many watery veggies you are adding to it. I use goat cheese for this recipe, but you can also use cheddar or gruyere.
Tomato Spinach Quiche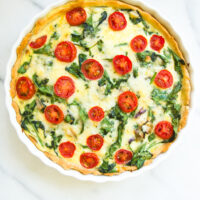 Crust
1 cup all-purpose flour
1/4 cup olive oil
1/4 cup water
1/4 tsp salt
Filling
1/2 cup cherry tomatoes, sliced in half
1 cup fresh spinach leaves
1/4 cup finely chopped red onion (can chop in your Thermomix®)
1 tbsp olive oil
1 5 oz log goat cheese
4 eggs
2 cups whole milk
1/4 tsp nutmeg
1/4 tsp salt
1/4 tsp pepper
Preheat oven to 425 degrees F.

Add the crust ingredients to a Thermomix® and set to knead function for 2 minutes.

Press dough into a quiche pan and poke holes everywhere using a fork.

Bake in the oven for 10 minutes, then remove.

In the meantime, add the olive oil and vegetables to a Thermomix® and saute on Varoma setting for 4 minutes.

Transfer the vegetables to the quiche crust.

Add the milk, eggs, half of the goat cheese and spices to the Thermomix® mixing bowl and blend on speed 4 for 10 seconds.

Pour the egg mixture over the vegetables and sprinkle with remaining goat cheese.

Bake in the oven at 425 degrees F for 10 minutes, then lower the heat to 325 degrees F and bake for additional 20-30 minutes (done when slightly browned on top).
Disclaimer: I am a Thermomix® consultant and sell them as an independent business. "THERMOMIX," "VORWERK," "COOKKEY," and "COOKIDOO" are a registered trademark of VORWERK (or its affiliates). VORWERK does not support, authorize or endorse this site.