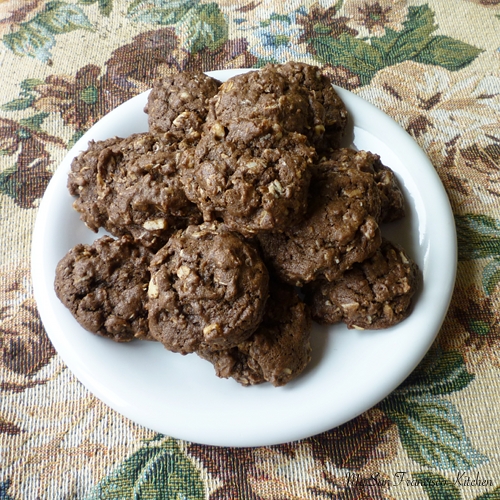 Happy Belated Easter! I hope everyone had a wonderful day yesterday. I sadly did not get to spend Easter with my family this year because the drive to LA from SF is a bit too far for one weekend 🙁
I made these chocolate oatmeal cookies with walnuts for my meeting tonight (any excuse to bake cookies, right?!). I always wanted to try chocolate oatmeal cookies, and I decided to leave out chocolate chips because I thought they would be too rich. I love the combination of walnuts and chocolate, mmmmm <3

Chocolate Walnut Oatmeal Cookies
Ingredients
½ cup butter
1 cup all-purpose flour
3 tbsp unsweetened cocoa powder
1 tsp baking powder
½ tsp baking soda
¼ tsp salt
½ teaspoon ground cinnamon
½ cup brown sugar
¼ cup white sugar
1 egg
1 tsp vanilla extract
1 cup rolled oats
½ cup walnut pieces
Instructions
Preheat oven to 350 degrees F.
In a small bowl, whisk together the flour, cocoa, baking powder, baking soda, salt and cinnamon.
In a large bowl, cream together butter, brown sugar and white sugar on medium speed.
Beat in the egg and vanilla.
Add dry ingredients a little at a time on low speed.
Mix in the oats and walnuts with a spoon.
Drop onto cookie sheets using a cookie scooper or teaspoon.
Bake for 10 minutes.
Transfer and cool on baking sheet for 5 minutes.
Makes 24 cookies
This post is sponsored by: