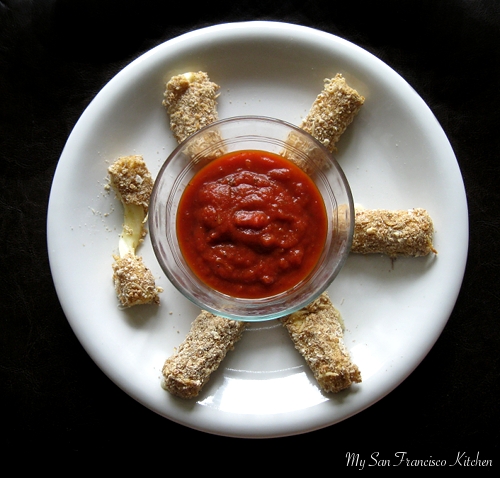 I am not a morning person. I have told myself hundreds of nights that the next morning I was going to wake up at 6am and go for a peaceful morning run to start the day right. It SOUNDS great, but when the alarm goes off at 6 I never fail to reset it in my sleepy state to 7:30am for the extra 1.5 hours of precious sleep. I can count on one hand how many times I ACTUALLY followed through, and I am starting to think I will never change! This morning was cold and cloudy in San Francisco, and it is supposed to rain all week. This rainy weather is making me so lazy & is perfect weather for experimenting in the kitchen. This afternoon for a pre-lunch snack I made these baked mozzarella cheese sticks. I made them with low-fat mozzarella string cheese and felt so much less guilty than I do after eating 10 of these guys at a restaurant.
My family LOVES cheese sticks. Ever since I can remember, we have always been getting them as an appetizer when we go out to eat. If we couldn't agree on the appetizer, my brother would always manage to get his way and get them IN ADDITION to whatever else we got haha. We have had them ever year for New Year's Eve and sometimes random nights when we just felt like it (those were the best!). Can't get enough, they are just soo good! I love this recipe because it offers a healthy alternative to the fried cheese sticks you find at restaurants or the freezer section in the grocery store.
I have to warn you, this recipe is probably not for the inpatient…there are some things that can go wrong, but knowing ahead of time should help. 1) Make sure the cheese sticks are frozen at least 1 hour…I freeze mine over night. This will avoid the cheese completely melting EVERYWHERE in the oven and making a huge mess. If you work slow, you may want to keep the baking tray in the freezer while you prepare the cheese sticks. 2) You MUST dip the cheese sticks 2 to 3 times in the flour -> egg -> breadcrumb cycle, or you won't get enough breading to stick. 3) Watch carefully, a perfect cheese stick can decide to melt all over the place in the matter of minutes…they only need 5-10 minutes to bake to crispy deliciousness.

Baked Mozzarella Cheese Sticks
Ingredients
5 low-fat mozzarella cheese sticks
1 egg
½ cup flour
1 cup bread crumbs (Italian or plain)
2 tbsp fresh grated Parmesan cheese
Salt and pepper to taste
Instructions
Freeze cheese sticks in packaging at least 1 hour until solid frozen.
Preheat oven to 400 degrees F.
Saw a line in the middle with a knife and break in half.
Beat 1 egg in a small bowl.
Pour flour on a small plate, and bread crumbs with Parmesan cheese and seasonings mixed together on a separate plate.
Roll in flour, then dip in egg and drain excess egg back into bowl by shaking gently.
Roll in bread crumbs.
REPEAT 2-3 times in that order.
Place on a parchment paper on a baking sheet.
Bake for 5 to 10 minutes, watching carefully. Cheese will melt everywhere if left in too long.
Serve with cold marinara sauce.
Makes 10 cheese sticks
This post is sponsored by: