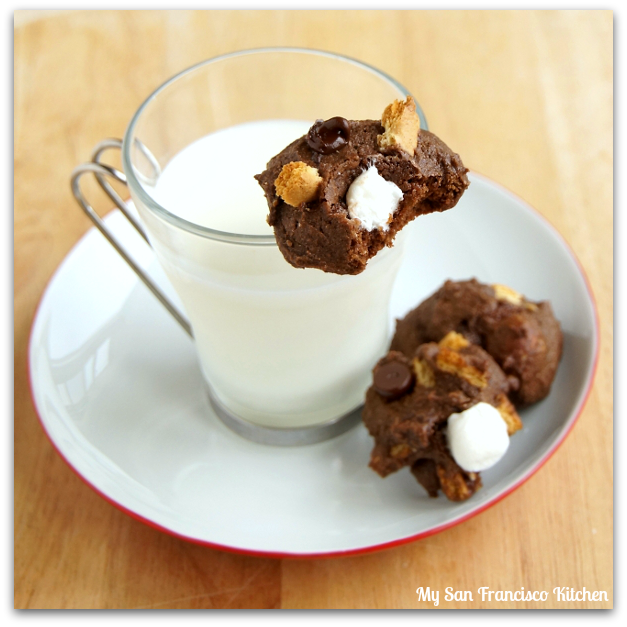 What happens when you crave s'mores and chocolate cookies at the same time? S'mookies happen. Yes, I am totally coining this term! Soft, fudgy, chocolate cookies bursting with gooey chocolate chips, crispy graham cracker pieces and marshmallows = s'mookies. Just as a disclaimer before you go on reading, there is absolutely nothing healthy about these cookies. This just so happens to be one of those dessert attacks I get every once in a while and bake something majorly fattening and bad for you, but oh-so-good!
I made these for the first time, so it was sort of an experiment. Unfortunately, the marshmallows melted in the oven when the cookies were baking, so that fluffiness factor was pretty much non-existent when they were done :/ Solution: about two minutes before taking them out of the oven, pop a few marshmallows on top, pressing them in the cookies. This would be very tedious for a large batch, but I don't know a better way to do it.
By the way, did you know that s'mores are an American thing? Well, according to Wikipedia, it is a Canadian thing too. My German husband never heard of them before seeing them for the first time when we were in Tahoe last year sitting by a campfire. I was shocked!! How can any child grow up without s'mores?! OK confession time: in college I kept a box of graham crackers, a bag of marshmallows and chocolate around at all times in case I had a s'more attack. The microwave is actually a fairly decent substitute for a campfire.
OK, here is a question for my non-American, non-Canadian friends out there: did you eat s'mores growing up?
Oh, and since Google Reader is on its way out, I just got Bloglovin! Follow my blog with Bloglovin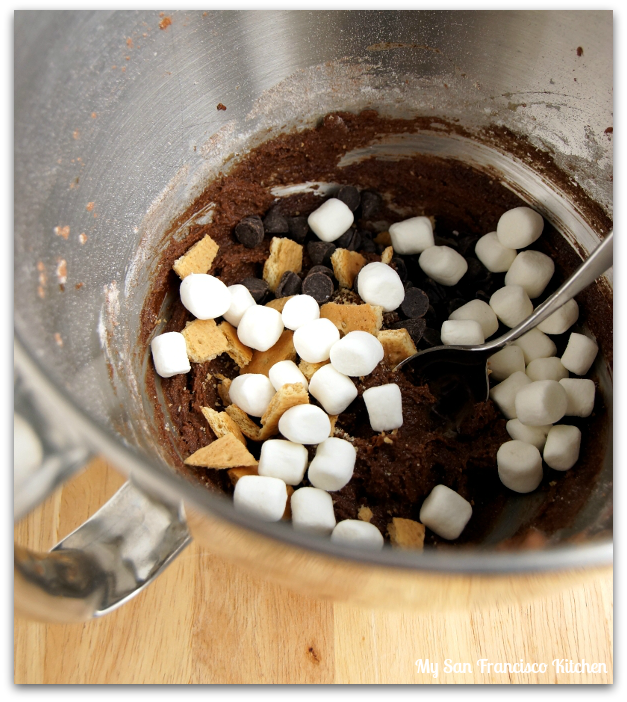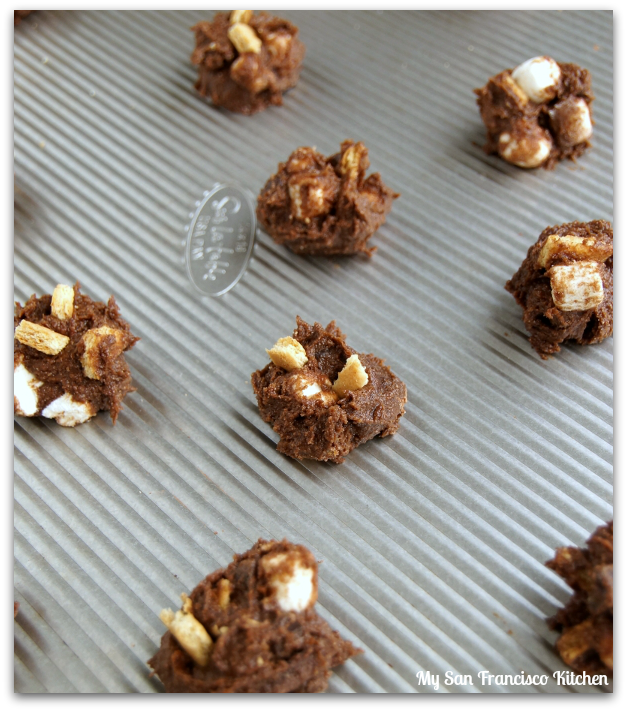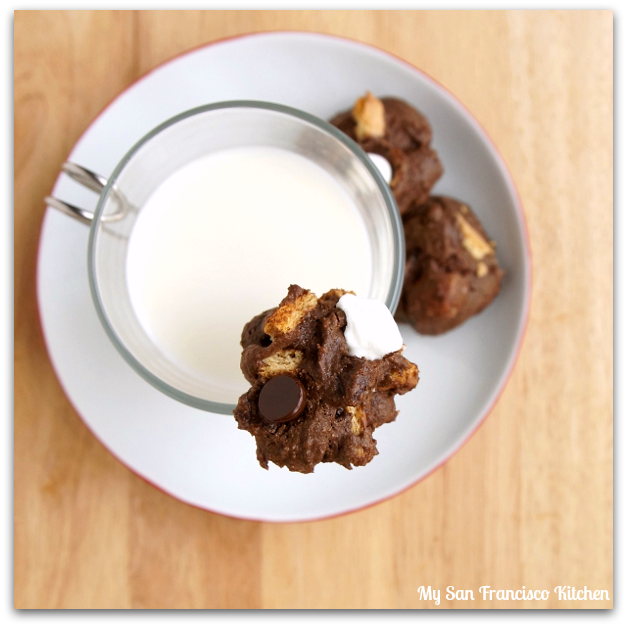 Chocolate S'more Cookies
Ingredients
½ cup butter (1 stick, room temperature)
½ cup white sugar
1 egg
1 tsp vanilla
1 cup all-purpose flour
⅓ cup unsweetened cocoa powder
¼ tsp baking soda
¼ tsp salt
1 cup semi-sweet chocolate chips
1 cup chopped graham cracker pieces
1 cup miniature marshmallows, divided
Instructions
Preheat oven to 350° F (175° C).
In a mixing bowl, beat room temperature butter, sugar, eggs, and vanilla until creamed together.
In a separate bowl, mix flour, cocoa, baking soda, and salt with a fork.
Add flour/cocoa/baking soda/salt mixture a little at a time into butter/sugar/eggs/vanilla mixture by beating at low speed until well blended.
Mix in chocolate chips, graham cracker pieces and ½ cup mini marshmallows by hand.
If oven is still preheating, let chill in refrigerator for a few minutes (I find this helps the cookies keep their shape).
Using a teaspoon, drop batter onto cookie sheets, leaving an inch around each cookie drop. You can stick in chocolate chips and graham cracker pieces onto the tops to make them "prettier."
Place into oven and bake for 6 minutes, then quickly press the other ½ cup marshmallows into the tops of the cookies.
Bake for another 2-3 minutes, then remove from the oven.
Let cool 2 minutes before transferring to a cooling rack.
Makes 24 cookies