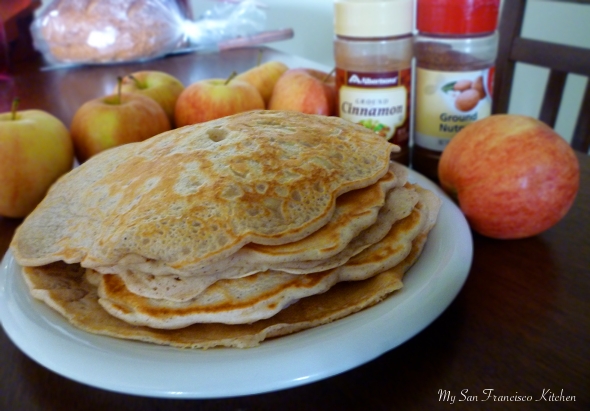 I love eating sweet things for breakfast-french toast, waffles, pancakes… While I prefer to add chocolate chips, some days I feel like getting a start on my daily servings of fruit and I will either add fruit as a topping (strawberries on waffles…MMM) or chop some up into the pancakes. What I love most about this cinnamon apple pancake recipe are the hints of cinnamon and nutmeg spices. I haven't tried these with whole wheat flour, but next time I make them I think I will try it!

Ingredients
1¼ cups all-purpose flour
1 tsp baking powder
1 tbsp granulated sugar
½ tsp ground cinnamon
¼ tsp nutmeg
pinch of salt
1 egg
¼ cup butter, melted
1 cup milk
¼ tsp vanilla
1 cup chopped apple
2 tbsp water
Instructions
In a large bowl, whisk together dry flour, baking soda, sugar, salt and spices.
Stir in milk, egg, melted butter, vanilla, water, and chopped apple (it is up to you to leave the peels, I usually take them off for a smoother texture).
Heat a medium-sized skillet over medium heat and grease with butter or cooking spray.
Pour about ¼ cup of batter into skillet and cook until holes appear in the batter. Check the bottom for burning from time to time.
Flip and cook for about 45 seconds or until golden brown.
Garnish with confectioners' sugar and syrup.
Makes 4 pancakes