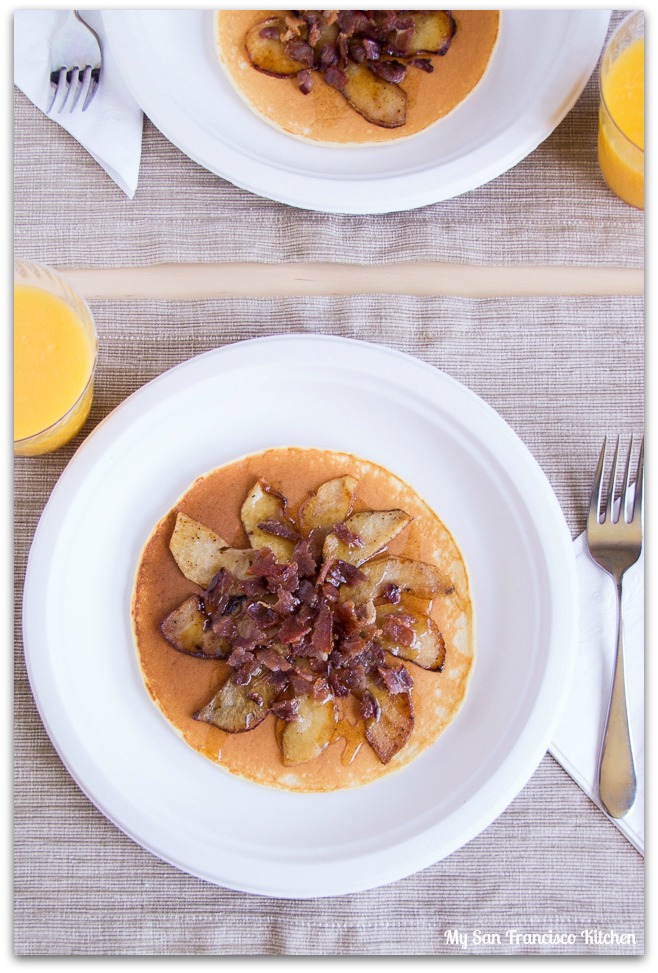 I could eat pancakes for breakfast every day.
Remember how I told you I had a bazillion photos to shoot last week? This is probably my favorite – bacon and apple pancakes. I shot these photos for Chinet® (see the recipe on their website here), and afterwards scarfed these delicious pancakes down all by myself. Whoever said bacon tastes good with everything was right…the combinaton of bacon with carmelized apples is incredible! So far since living in San Francisco, I have tried bacon sprinkled on donuts from Dynamo, bacon cupcakes, and chocolate covered bacon. I guess bacon and apple pancakes make the most sense, since people usually eat bacon with pancakes anyway!
This week we have been showing family around San Francisco. It is always fun playing a tourist and going to all of the fun spots in the city that we usually don't have time for, especially on week days when it isn't so crowded. Yesterday we rode our bikes across the Golden Gate Bridge, and went to two really good restaurants – one in the Marina District called Pacific Catch, and the other on Union St. called Leopold's. Oh yeah, and in Sausalito (our destination over the bridge) I ate a huge amount of Kauai Pie ice cream at Lappert's.
Even though we did a lot of biking, I ate more than I burned off for sure! Oh well 🙂
What are the best pancakes you have ever had?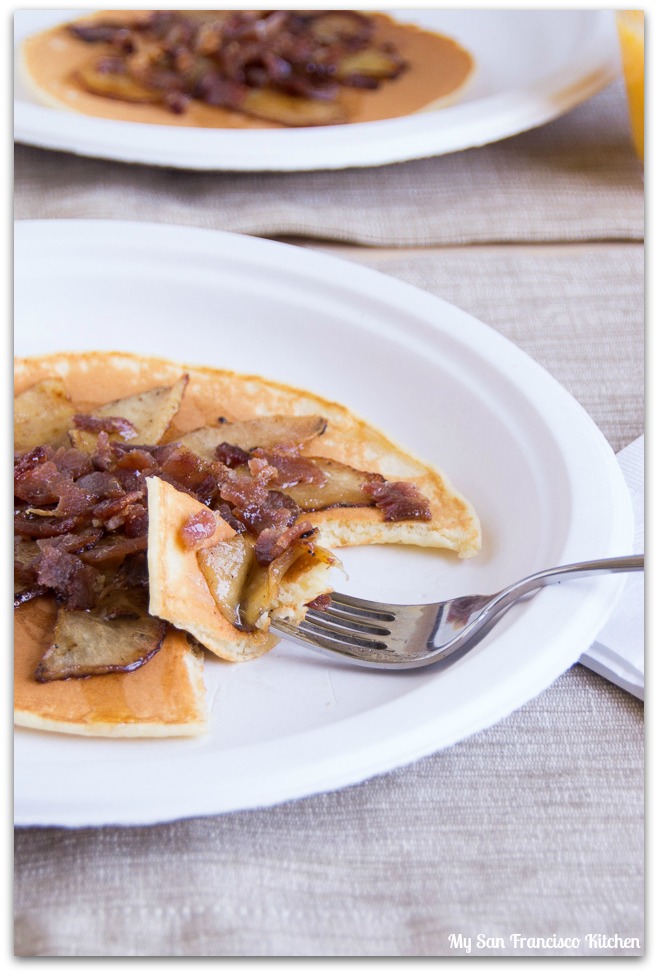 Bacon and Apple Pancakes
Ingredients
1 cup white flour
¼ tsp baking powder
½ tsp salt
1 cup milk
1 egg
1 tsp butter
1 tsp oil
10 rashers of bacon, sliced into thin strips
3 crisp apples, thinly sliced
Maple syrup (as needed)
Instructions
Mix the flour, baking powder, salt and a little of the milk to a smooth paste.
Gradually add the remaining milk while whisking.
Add the egg, beating the mixture well. For a lighter texture, leave to rest for a few hours or overnight.
Melt the butter and oil in a large frying pan and wait until it sizzles.
Pour in enough of the mixture to cover the entire surface of the pan (spread the mixture evenly by tilting the pan).
Bake until bubbles appear on the surface and turn over. Pancakes should be pale gold on both sides. Set aside.
Fry bacon in the pan until crisp and/or cooked.
Remove to a paper towel to drain.
Now add the sliced apples to the bacon fat and caramelize. Drain on paper towels.
Serve pancakes open-faced on the plate, top with apples and bacon and drizzle some maple syrup on top.
Recipe by
Chinet®