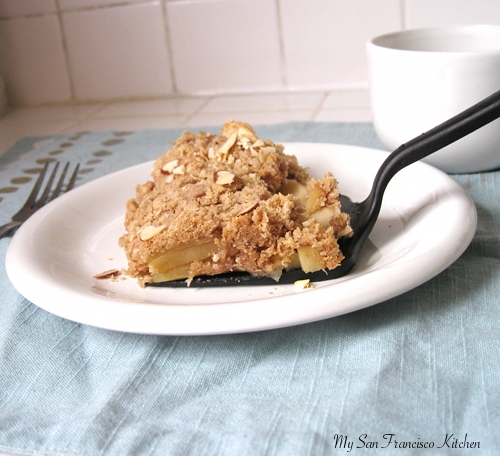 Who doesn't love the smell of apple crisp baking in the oven? Whenever I buy too much fruit I try to think of ways to use it before it goes bad. I bought way too many apples this week, so I used some up in the delicious, organic apple crisp dessert. I always try to cut down the sugar as much as I can, especially because I use Gala apples which are already sweet. If you use tart apples like the green ones you may want to keep the amount of sugar the same or increase it a little.
Tonight I went on a run and when I came home I was too lazy to cook dinner for myself so I made a gourmet Trader Joe's frozen pizza for dinner…I know…Now you know I must be tired since I almost never turn down cooking on any given day. Three more weeks until spring break and no more worrying about school for a bit. What's your favorite fruit dessert?? XoXo

Ingredients
4 large gala apples
⅓ cup butter
½ cup flour
½ cup quick oats
⅓ cup packed brown sugar
1 tsp cinnamon
¾ tsp nutmeg
2 tbsp slice almonds
Instructions
Wash and peel apples, then set aside.
Preheat oven to 375 degrees F.
Blend sugar, flour, butter, and spices together with a fork or pastry blender until crumbly.
Mix in oats until well blended. Set aside.
Thinly slice apples and layer in an 8x8 glass baking dish.
Top with crumbly crust mixture, and sprinkle sliced almonds over the top.
Bake for 25-30 minutes, or until top is golden brown.
Let cool 5 minutes before serving warm.
Serve with a scoop of vanilla ice cream.
Make your life easier with an apple peeler!
This post is sponsored by: