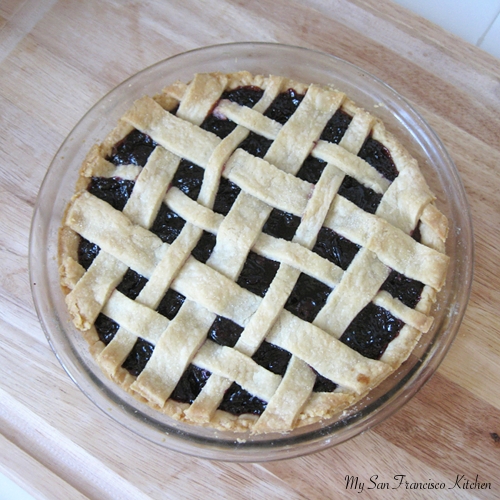 To me, there is almost nothing better than a freshly baked homemade pie – crust and all! You have already heard my rant on store-bought pie crusts, but if you are short on time I will forgive you if you must use them… =) When I started making my own homemade pie crust, it seemed like such a daunting task, but now its like nothing! Yesterday I went to Trader Joes to buy some bread, and I saw these wonderful organic cherries, so of course the first thing that popped into my mind was cherry pie. So I came home and baked a cherry pie with Fabi's mom. It was the first time I have made a lattice pie crust since home economics class in elementary school! I think that was the first pie I ever baked by myself. I had to look up how the easiest way to do it on the internet again, but I'm glad I did because it came out better than I expected…not perfect, but decent. The hardest part was pitting all of the cherries…yes, I sliced and pitted each and every single cherry! I don't own a cherry pitter, but I assume it would be must faster doing it this way. It still only took me about 20 minutes to do it by hand. The pie turned out delicious! The crust was perfectly flaky, and they cherries tasted so yummy. I had to restrain myself from eating the entire pie at once :X Serve with vanilla ice cream or whipped cream topping.

Ingredients
2 pie crusts (see my recipe for flaky pie crust)
4 cups fresh organic cherries, halved
1 cup granulated sugar
4 tbsp cornstarch
¼ tsp vanilla extract
Granulated sugar for topping
Instructions
Wash, stem, half and pit fresh cherries until you have 4 cups.
Add to a small saucepan over medium heat and cover.
Once cherries start to boil, alternate stirring and covering until you have substantial amount of cherry juice. This should take about 7 minutes.
Turn cherries to low heat.
In a separate bowl, whisk together sugar and cornstarch, then add to cherries and stir well over medium heat until mixture thickens.
Remove from heat and stir in vanilla. Allow mixture to cool 10-15 minutes uncovered.
Add filling to pre-baked pie crust (see my pie crust recipe).
Preheat oven to 375 degrees F.
To make a lattice pie crust top, start with 5 strips across and fold every other one back, starting with the top strip (there should be 3 folded halfway back).
Lay another strip down the center of the pie and fold the 3 strips back over it.
Now fold the middle 2 strips back over the new one, and lay a new strip down vertically (next to the last one you placed). Fold the strips back over.
Fold the same 3 strips back from the very beginning, and repeat on both sides of the pie until you have 5 strips vertical. See photos for more clarification.
Bake in the oven for 50 minutes, watching to make sure top crust doesn't brown too much. Halfway, remove from oven and sprinkle granulated sugar over the top for garnish and place back in the oven.
Allow to cool for 30minutes to 1 hour before serving.
Serve warm.
This post is sponsored by: