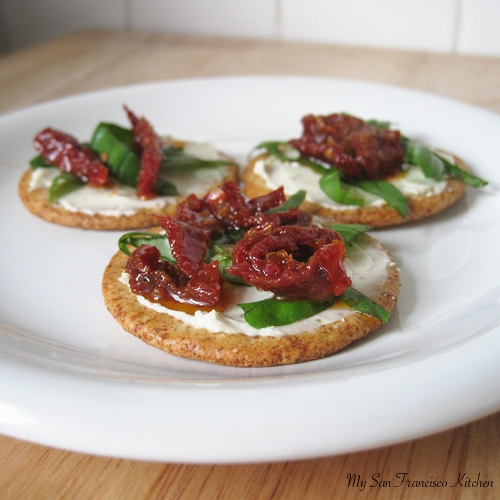 Have you ever baked something and it came out completely wrong and had to redo it over again? The other day I got up early to bake my friend a lemon cake for his birthday, and I left it in the oven a tad too long and it came out a giant cookie…yup, and hard as a rock! Not so great as a birthday cake! Good thing Betty Crocker was there to save the day 😉 But how frustrating. At least these sun-dried tomato and basil crackers are pretty hard to mess up! All you need is your favorite cheese spread (just plain cream cheese works great!) with sun-dried tomatoes in a little olive oil and basil & you have a pretty appetizer tray. I LOVE sun-dried tomatoes, so I am always looking for new ways to eat them.
Tonight Fabi & I finished our last dance class for the wedding…woo-hoo! Just hope I don't trip in my 4 inch heels during our first dance. Have a great Wednesday loves. XoXo

Sun-Dried Tomato and Basil Crackers
Ingredients
10 wheat crackers
10 tsp cream cheese (or other cheese spread)
30 sun-dried tomatoes
1 tbsp olive oil
10 fresh basil leaves
Salt and pepper to taste
Instructions
In a small bowl, mix sun-dried tomatoes with olive oil and salt and pepper to taste (if they do not already come in seasoned oil).
Wash and slice basil leaves in 3 pieces each.
Spread 1 tsp cheese spread over each cracker, and top with basil and tomatoes.
This post is sponsored by: