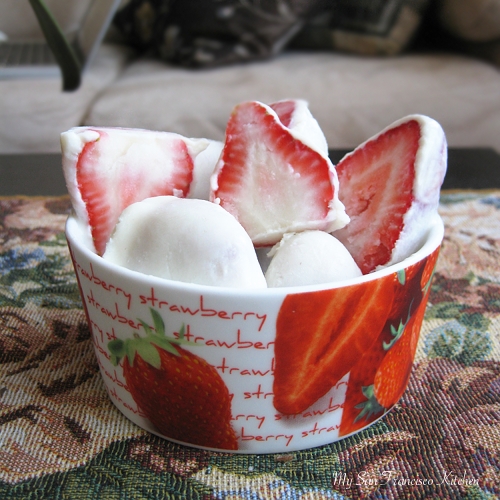 FREEEDDOMMM! Today is officially my first day of summer vacation. After a long week of final exams, my bike getting stolen, and almost losing my website (backup your files!!), I am ready for some relaxation in the sun. I made these frozen vanilla yogurt-covered organic strawberries the other day in celebration of the beginning of summer. Strawberries are one of my favorite fruits. They are a refreshing and healthy snack! Some tips: the double coat is a must, and don't freeze them too long unless you want to bite into a rock. These might not make the best dessert or appetizer for a dinner party, since once out of the freezer they tend to get a little messy. Toothpicks should be very helpful. What are your plans for the summer?? XoXo

Frozen Vanilla-Yogurt Covered Organic Strawberries
Ingredients
Fresh organic strawberries
Vanilla yogurt
Wax paper
Instructions
Wash and slice heads off of the desired amount of strawberries.
Dip into vanilla yogurt and place flat-side down onto a small baking tray that will fit in your freezer lined with wax paper.
Insert toothpicks if desired.
Freeze for 30 minutes, then remove from the freezer and dip again for a second coat.
Freeze for about 1 hour. You can test with your finger to see how hard they are-remember not to freeze too long since they might be too hard to eat that way.
Remove from freezer and enjoy!
This post is sponsored by: