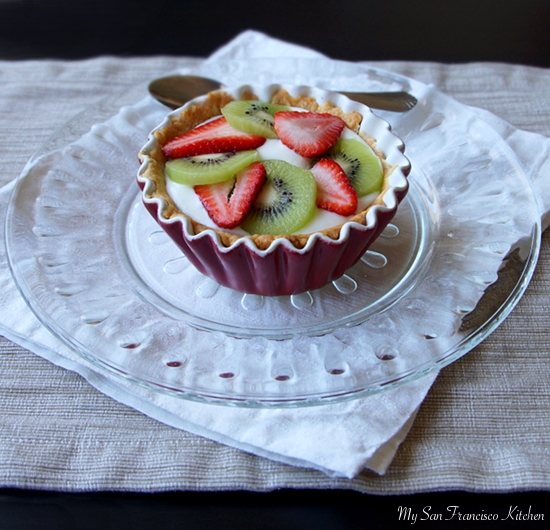 Today has just been one of those days where life is sort of…put on hold. You know what I mean? I have 2 huge baskets of laundry to do, more wedding gift boxes to unpack and squeeze somewhere in that teeny tiny kitchen, a huge stack of bills, etc. to file on my desk… but all I felt like doing today was baking. And so I did. All day. The result: these mini strawberry kiwi tarts. Fabi and I devoured them. I love these mini fruit tarts because you can fill them with either vanilla yogurt or French crème pâtissière (click for my recipe), and top them with your favorite fresh fruit! I felt a little guilty for practically not doing anything productive today, but then I remembered I have a little over one more month of freedom [until pharmacy school starts again] AND that this is my last free summer, probably ever.For the rest of my life. I think I will just enjoy avoiding real life for a little bit longer. Am I happy I quit my job and have absolutely nothing to do all day, everyday until September 27? Hell yes =)
You can probably use storebought pie crusts, but I make my own. Here is my homemade flaky pie crust recipe. If you use my homemade crust recipe, bake the mini pie crusts for about 15 minutes until they start to brown. And don't forget to poke holes in the bottom with a fork! You can use ramekins, possibly even large muffin pans, but I found these adorable baby pie dishes … I think at Crate & Barrel … a few years ago, and this is my favorite recipe to use them with. You could probably find some cheaper ones on Amazon or Ebay.

Mini Strawberry Kiwi Tarts
Ingredients
2 pie crusts
3 cups fresh sliced organic strawberries
2 kiwis, peeled and sliced
3 cups vanilla yogurt or french pastry cream (see my recipe above)
Instructions
Roll pie crust dough and press into tart molds (you can use a large muffin pan, ramekins, or other small baking dish if you do not have tart molds).
Bake at 425 degrees F for 15 minutes, or until top is slightly browned.
Carefully remove from oven and allow to cool for 30 minutes.
Once cool, fill each mini tart with ½ cup yogurt or pastry cream.
Top each mini tart with sliced kiwi and strawberries.
This post is sponsored by: