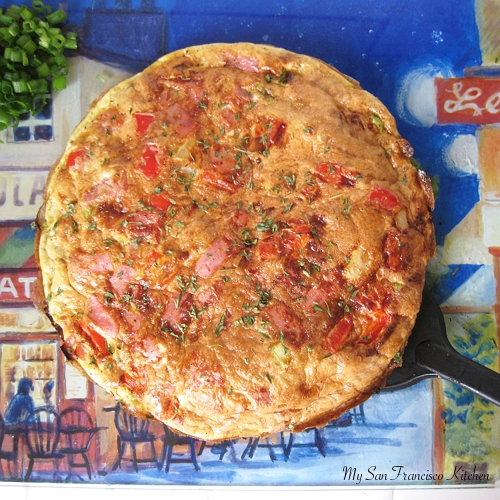 Happy Father's Day, to my daddy & to all of you dads out there! Although I couldn't be with him today (I get to see him this weekend), I made this Italian frittata with him in mind =) It has red bell pepper, ham, green onion, & Parmesan cheese – yum yum yum! This morning Fabi and I went on quite the adventure: to the Oakland flea market to look for his stolen road bike! We looked yesterday at some other flea markets in the bay area, but no dice. Today we were pretty pessimistic about finding it, but BAM there it was being sold by a couple of men at the flea market. We are so thankful to the person who responded to our craigslist post for the tip that he saw it there last weekend. This experience has really shown me both the good and bad in people, and how prayers do get answered. I had to leave the apartment pretty early this morning, so when I got home I was starving and used up what I had in my refrigerator for this delicious frittata. I love how it is so similar to a quiche, but without the fattening crust! What is your favorite kind of frittata?

Ingredients
6 eggs
¾ cup grated fresh Parmesan cheese
½ tbsp butter
½ red bell pepper, diced
2 tbsp finely chopped yellow onion
½ cup chopped green onion
1 cup chopped ham
½ tsp pepper
Pinch of salt
Parsley & fresh chives for garnish
Instructions
Wash and chop all vegetables and ham.
Heat butter over medium high heat in a medium non-stick, oven-proof skillet (I wanted to try my cast iron pan, but was worried it would stick too much!).
Add ham and vegetables and stir occasionally until browned, about 6 minutes.
Beat eggs together with pepper, salt, and Parmesan cheese.
Preheat oven to broil setting.
Add egg mixture to the skillet and stir vegetables and ham to make an even mixture.
Heat over medium heat until the top begins to firm, about 5 minutes.
Transfer to the top rack of the oven and broil about 2 minutes, or until top is slightly browned (watch to make sure the top doesn't burn).
Remove from oven and use a spatula to transfer frittata to a cutting board (should come out very easily).
Use a pizza cutter to cut 6-8 slices, then garnish with chopped fresh chives and parsley.
This post is sponsored by: