Happy Birthday to Me!
I know I swore off sweets for the New Year (or at least baking them), but I figured my birthday could be one exception 😉 My Mom got me a beautiful cookie press for Christmas, and I was dying to use it. It is so much fun! These German Spritzgebäck cookies (known more commonly in the US as "spritz cookies") are really easy to make with a good cookie press. They are traditionally made during the Christmas season in Germany, but you can enjoy them year-round of course.
What I love most about spritz cookies is that you can make many different designs! My German friend and I tried to make Spritzgebäck with a pastry bag for Christmas, and failed 🙁 The press is definitely worth the investment. I used her family recipe with my cookie press and they turned out so delicious. Special thanks to her for the great recipe!
This is a basic spritz cookie recipe. You can dip them in chocolate, fill them with jam, or sprinkle sugar or nuts on top. Decorate these Spritzgebäck how you like! Even though you can dress them up really nice, sometimes I just prefer them plain and simple.
For my birthday, I made these spritz cookies with the flower design. Aren't they pretty?! These lightly sweetened, buttery spritz cookies go best with coffee or tea.
For my birthday, Fabi and I have a lot of work to do. I have a photography assignment to shoot and he has a lot of meetings starting very early in the day. We decided to have a birthday brunch another day to celebrate. Every year we usually go out to a nice dinner, but this year I wanted to do something a little different 😉 I just love brunch, so I can't wait!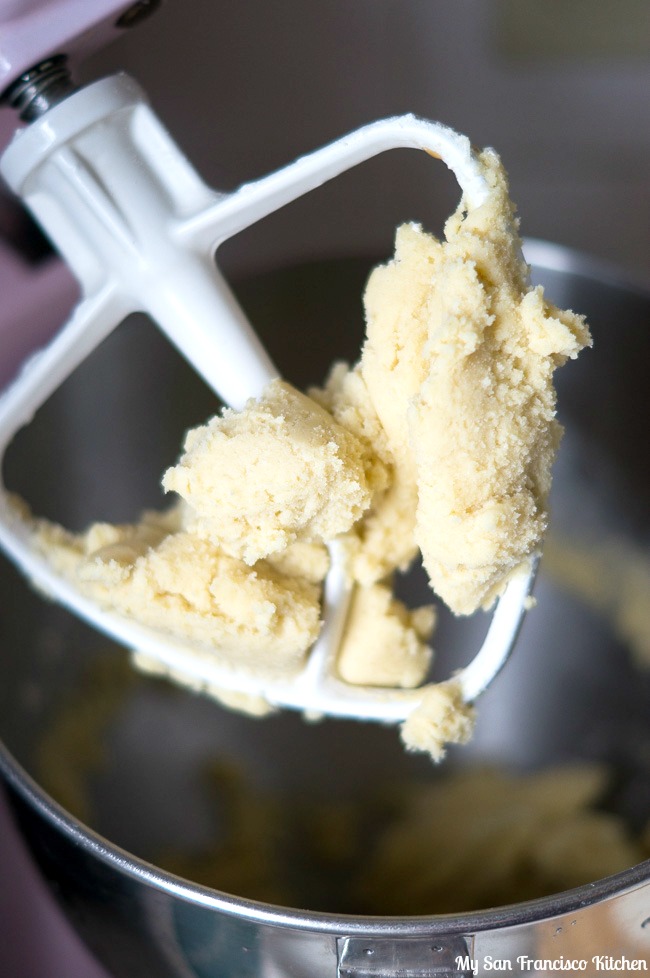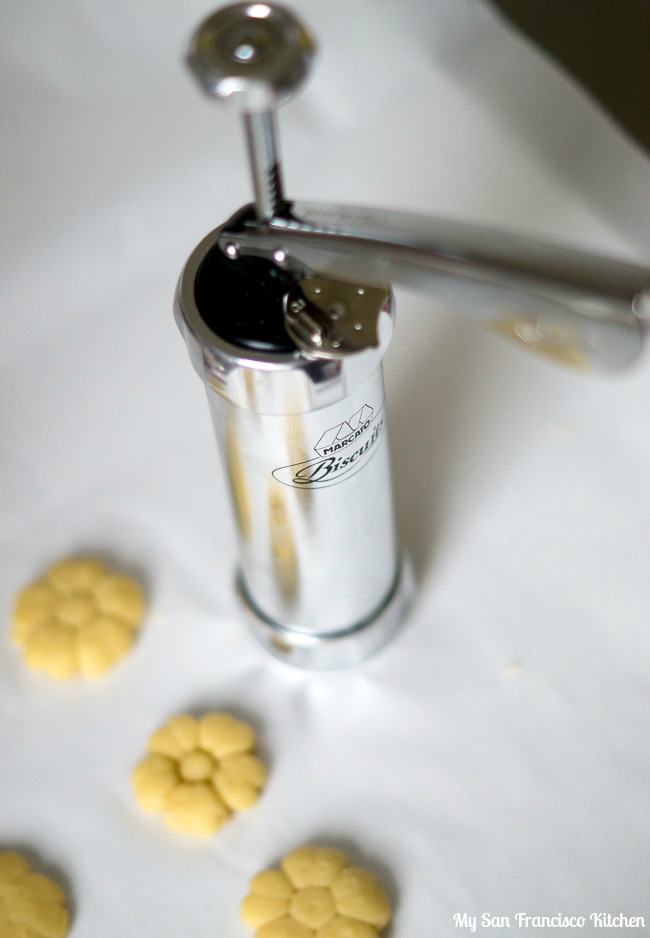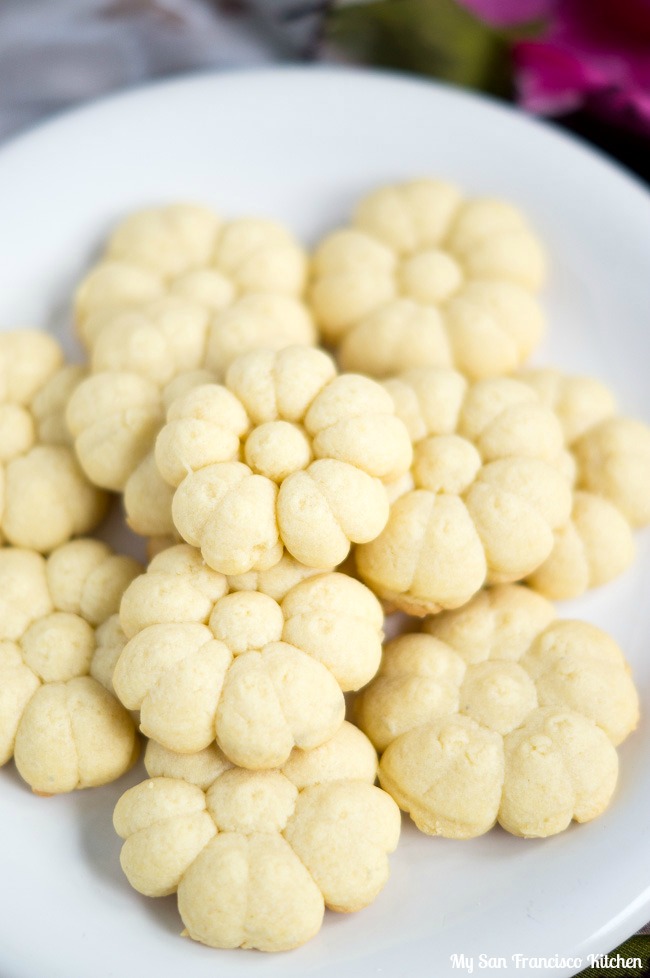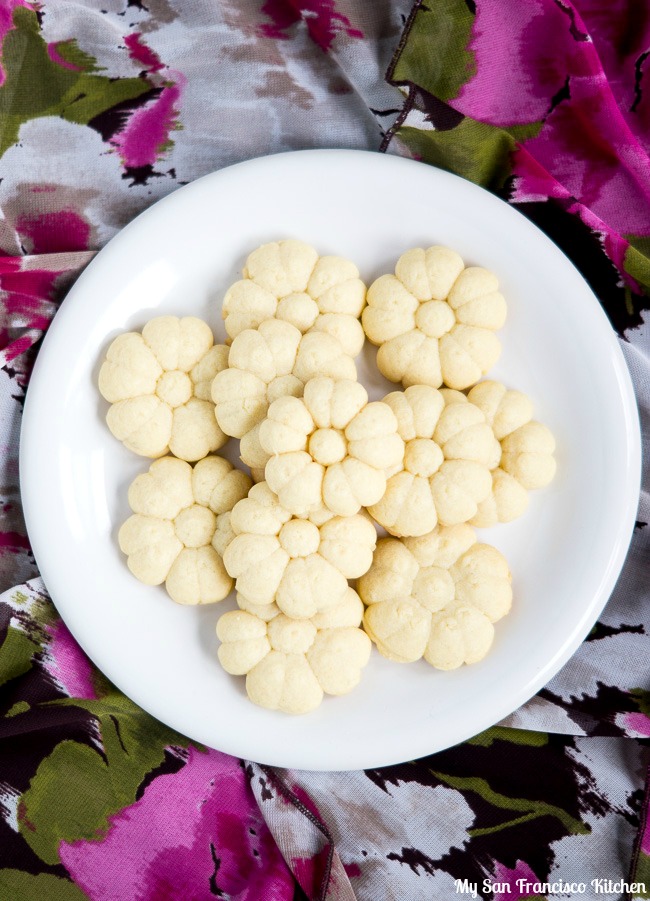 German Spritz Cookies (Spritzgebäck)
Ingredients
1 stick (1/2 cup) unsalted butter, room temperature
¼ cup granulated sugar
1 egg yolk
1 tsp vanilla extract
½ tsp grated lemon peel
1 cup all-purpose flour (plus about ¼ cup for kneading)
½ tsp baking powder
Instructions
Preheat oven to 375 degrees F.
In a stand mixer, cream together the butter and sugar.
Add the egg yolk, vanilla and lemon peel and continue mixing on low speed.
Combine the 1 cup of flour and the baking powder in a bowl.
Slowly add the flour and baking powder mixture until well blended.
Use the remaining ¼ cup flour to knead the dough with your hands, until combined.
Fill the cookie press with some of the dough and press out the cookies on a chilled, greased cookie sheet. If the shapes are not defined, chill the dough for 15 minutes and try again.
Bake the cookies for 10-12 minutes.
Makes 18 cookies