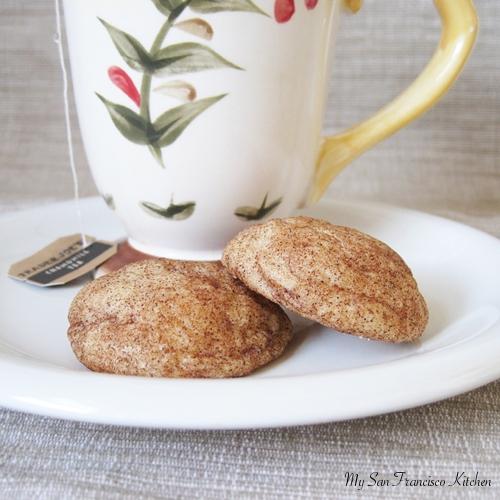 I quit! Yes, after months of complaining, I finally quit my intern job at the pharmacy. There is a quote I have been thinking about the past couple of months: The foolish man seeks happiness in the distance; The wise grows it under his feet. –James Oppenheim. The problem is, this is usually much easier said than done. I finally realized that nobody is going to change things for me, and I had to remove the things bringing me down (aka my job!). OK, so it is a little bittersweet, because the people who I worked with are amazing and I will truly miss them. However, I will NOT miss some of those not-so-nice customers! Ahhh the sweet feeling of freedom…I can't wait for my summer off-1 more month!
Sorry, done ranting. Now for the good part: I made these soft snickerdoodle cookies as a celebration treat. Everyone who knows me knows I am obsessed with all things chocolate, but sometimes I like to switch it up and make something with spice or fruit or nuts, etc. These cookies come out of the oven nice and soft and stay that way. They are a great pairing with a hot cup of your favorite tea. I hope you enjoy this easy recipe! XoXo

Ingredients
½ cup unsalted butter, softened
½ cup and 2 tbsp sugar
1 large egg
1½ cups flour
1 tsp cream of tartar
½ tsp baking soda
⅛ tsp salt
1½ tbsp sugar (for rolling)
1½ tsp cinnamon (for rolling)
Instructions
Preheat oven to 350°F.
Cream together butter and sugar in a standalone mixer with paddle attachment until well blended.
Add egg.
Combine flour, cream of tartar, baking soda and salt in a separate bowl.
Gradually add dry mixture to butter mixture and mix on low speed until just blended.
Chill dough and 2 ungreased cookie sheets for about 10-15 minutes.
Meanwhile, mix the remaining sugar and cinnamon in a small bowl with a fork.
Use a cookie dough scooper or teaspoon to scoop 1 inch balls of dough and roll in cinnamon and sugar mixture.
Coat by gently rolling balls of dough in the sugar mixture.
Place on cookie sheets and bake 10 minutes.
Immediately transfer to a wire cooling rack.
Makes 20 cookies
This post is sponsored by: