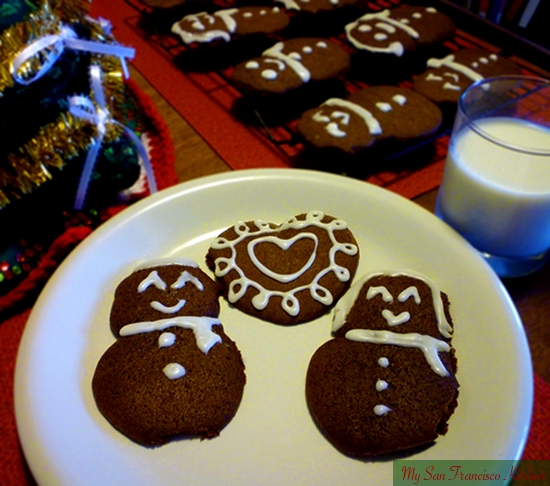 Have you ever seen one of those movies/tv shows where a bunch of women are fighting over the last turkey for Thanksgiving dinner at the grocery store? Well, that was me yesterday at Safeway when I went grocery shopping…except the fight was over butter! Note to self: next year, stock up on unsalted butter BEFORE December! It was madness. The entire stock of unsalted butter (including 6 different brands) was cleared out, except for one last ridiculously priced package of organic unsalted butter. Now, I usually DO buy organic fruits and veggies, but when it comes to butter I am not so picky and always buy the cheapest one. However, I was completely out of butter, and wasn't about to make a special trip to Trader Joe's for butter! As I was looking to make sure there was no other option (there wasn't :(), two other women came up and start looking for the exact same thing. As they were talking out loud about how "Safeway was out of everything, and now the unsalted butter," I grabbed the last package of the organic unsalted butter and hurried away, feeling accomplished. Well, it didn't turn out to be as dramatic as on TV (phew!), and I ended up with some butter to make these guys: gingerbread snowmen cookies. This recipe is adapted from Mrs. Fields' Cookie Book. I only make them at Christmas time, and look forward to them every year with a big glass of milk. They are low in calories and sugar compared to other holiday treats. I made this one for Fabi, it says "I love you" in German (I know the decoration is horrible, it was my "tester" cookie ;)).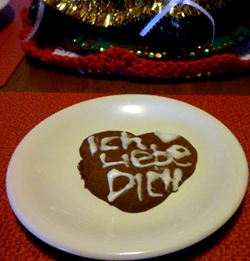 It isn't as pretty as the real German gingerbread hearts, called Lebkuchenherzen. This is the one Fabi bought for me in Germany almost 2 years ago and I still have it: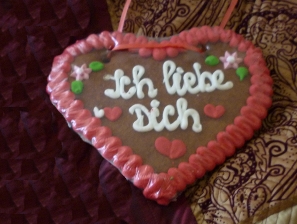 Gingerbread Snowmen Cookies
Ingredients
1¾ cups all-purpose flour
¼ tsp baking soda
pinch of salt
½ tsp ground cinnamon
1 tsp ground ginger
¼ tsp all spice (or ground cloves)
½ cup unsalted butter, softened
⅓ cup packed brown sugar
¼ cup unsulfured molasses
1 egg
Icing
⅔ cup confectioners' sugar
1 tsp milk
Instructions
Preheat oven to 325 ºF.
Mix flour, baking soda, salt and spices in a medium bowl with a whisk or fork.
In a large bowl, cream butter and brown sugar with a standalone or electric mixer.
Add molasses and egg and mix on medium speed.
Add flour a little at a time on low speed.
Once just blended, flour hands and form dough into a ball (may need spatula for help).
Wrap ball in floured wax paper and refrigerate for 1 hour.
On a floured surface, roll half of the dough with a floured rolling pin, keeping the other half in the fridge until ready to use.
Cut into snowmen with floured cookie cutter and use a spatula to transfer to a baking sheet, ½ inch apart.
Bake 9-11 minutes (surface should feel firm, but not hard).
Cool on baking sheet for 1 minute before transferring to a cooling rack.
While waiting for cookies to cool, mix icing with a whisk to get a smooth, but not runny, consistency.
Decorate cookies once cool.
Makes 15 large cookies.