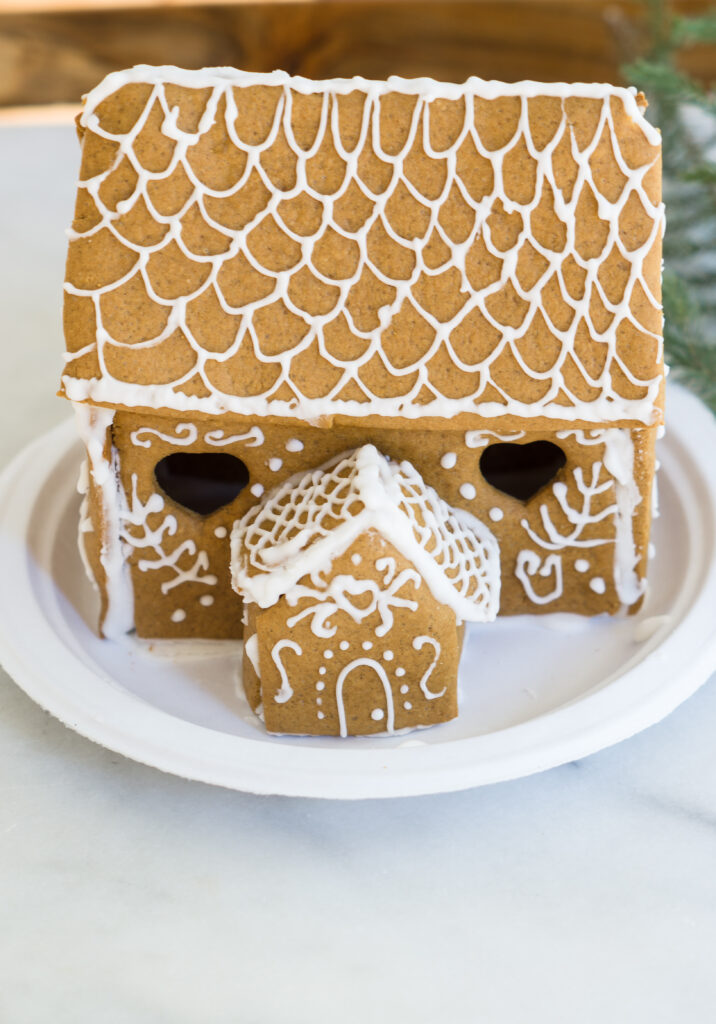 My daughter and I had the most fun time making our gingerbread houses from scratch earlier this week. I used to buy the kits at the store, but they always tasted pretty awful and had a ton of preservatives in them. It is actually really easy to make your own gingerbread house from scratch! I won't be posting a recipe here, because you probably have your own gingerbread cookie recipe (just use that), and there are many 5-star recipes on other food sites. I personally use the Thermomix® gingerbread cookie recipe because it turns out perfect every time and I love using my Thermomix® to make cookies! I also have another gingerbread cookie recipe that has been used in my family for years.
Here is how to make a gingerbread house from scratch…
1) Prepare the gingerbread cookie dough. Usually you will need to chill this in the fridge for 1 to 2 hours.
2) Roll out the dough to about 1/34 inch thick (you do not want it too thin or it will become brittle and break easily) and use a sewing measuring tape or ruler to cut out the dimensions with a knife.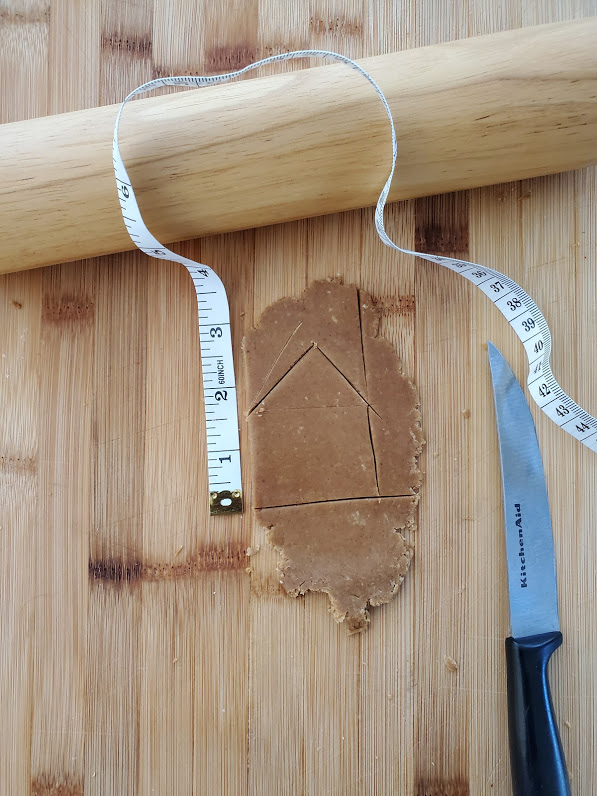 Here are the dimensions you will need for your gingerbread house:
(2) 3×5-inch rectanges for front and back of the house
(2) 3×5.5-inch rectanges for the roof
(2) 3-inch wide x 3-inch to roof line, 5.5-inches from bottom to point at top of the roof triangle for the sides of the gingerbread house
(4) 1.5×1-inch rectangles and (1) piece 2-inch wide at base x 1.5-inch to roof line, 2.5-inches from bottom to point at top of roof triangle (see photos) for the doorway
3) Use a cookie cutter to cut out windows on the front, back and sides of the house, then bake the pieces in the oven per the recipe, checking often to make sure they do not become too hard and over-baked.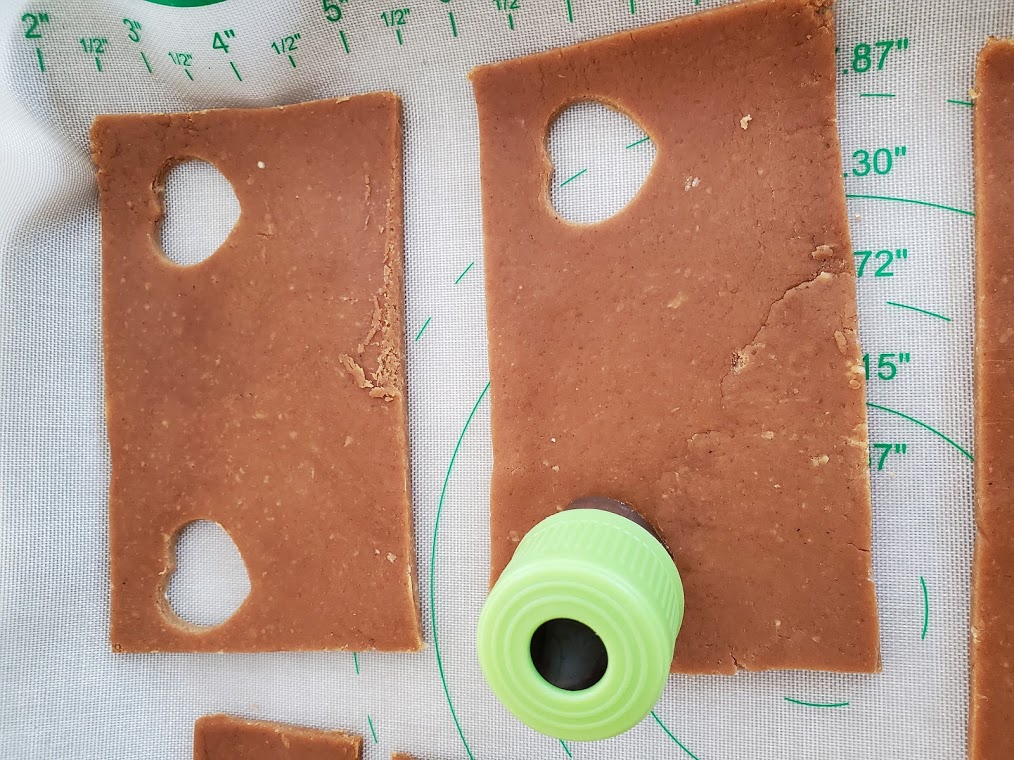 4) Prepare the royal icing (Thermomix® has a great recipe!!)
5) Cool the pieces on a wire cooling rack for about 1 hour, then you can start putting them together! I find the easiest way is to use a lot of icing to stick the front and back rectangles to a paper plate or some sort of base, then attach the sides and stick it in the fridge for 15 minutes BEFORE trying to put the roof on. When adding the roof, I used my daughters legos in a slanted stack to hold the pieces up until the frosting dried in the fridge (also took about 10 to 15 minutes).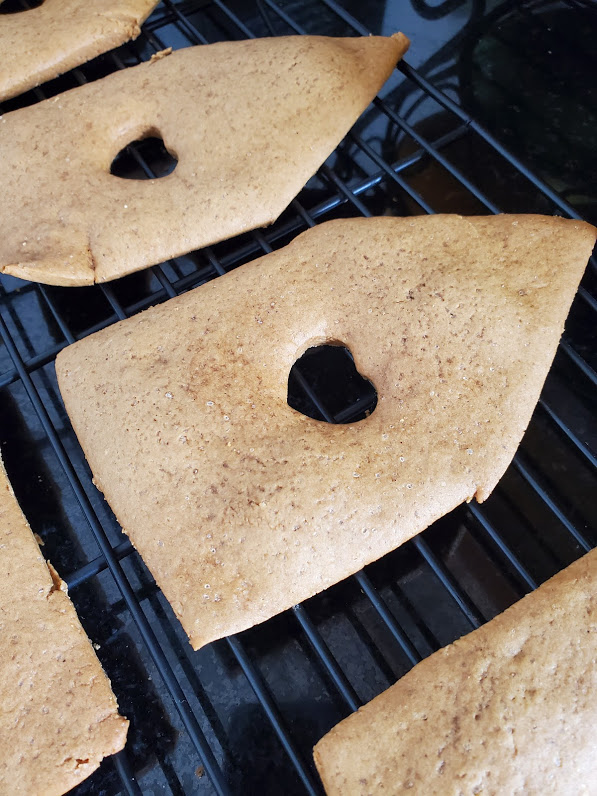 6) Once the frosting sets (about 15 min in the fridge) you can decorate! Get creative with your gingerbread house and use M&Ms, sprinkles, pretzels, chocolates, gum drops…anything you like!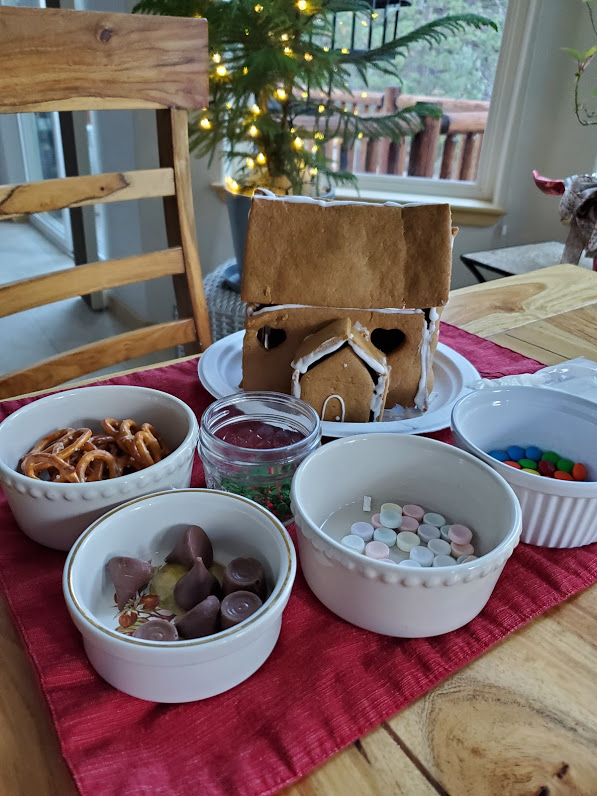 My daughter said mine was boring compared to hers…can you tell which one is hers and which one is mine? 🙂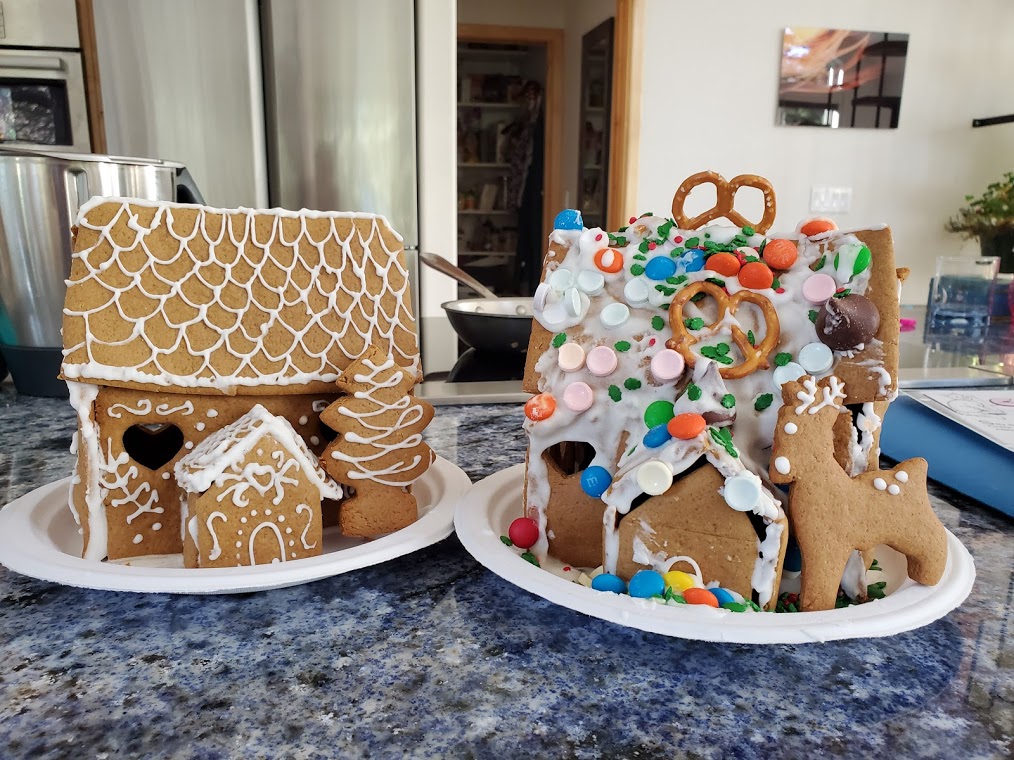 Have fun making your gingerbread houses!