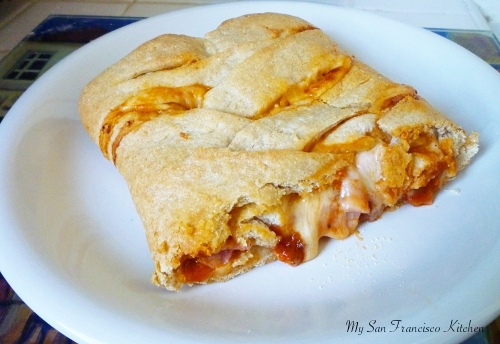 A change from the traditional way to make calzones, this braided ham and cheese calzone recipe is easier than you think. I really like the way it looks when it comes out of the oven. I add 1 cup of whole wheat flour to my dough to give it more fiber, but you can use all white if you wish. Tip: Prepare dough ahead of time and refrigerate until you are ready to make the calzone to save time.

Braided Ham and Cheese Calzone
Ingredients
Dough
1 package active dry yeast (7g/2 tsp)
1 cup hot water
2 tbsp olive oil
1 tsp granulated sugar
1 tsp salt
1½ cups all-purpose flour
1 cup whole wheat flour
Filling
1 cup pizza sauce
1¼ cups mozzarella cheese
1 cup chopped ham
1 cup chopped red bell pepper
1 tsp dried oregano
1 tsp dried basil
¼ cup fresh grated Parmesan cheese
Topping
2 tbsp cornmeal
1 tbsp butter, melted
1 clove garlic, minced
Instructions
Dough
In a large bowl, pour hot water over yeast and let sit for 7 minutes.
Add salt, sugar, and olive oil and stir.
Add flour, 1 cup at a time, and stir in well with a fork.
Gather dough with floured hands, and knead for 10 minutes on a lightly floured surface.
Place ball of dough back into bowl and cover with a towel. Let stand for 45 minutes in a warm place to rise.
After 45 minutes, punch the middle of the dough. Cover and let rise another 30 minutes.
Calzone
Preheat oven to 350 ºF.
Roll dough into 16x10 inch rectangle on a flour surface.
Sprinkle cornmeal in the center of a greased baking sheet.
Transfer dough carefully over to baking sheet.
Quickly shake a few drops of olive oil over dough and smear a thin coat with hands or brush.
Spoon pizza sauce down the center of the dough (lengthwise) and sparing about 2-3 inches of dough on both ends. Season with basil and oregano if desired.
Add bell pepper and ham, then top with cheeses.
On each side of the filling about 1½ inches out, cut diagonal strips with a pizza cutter about 1 inch apart (or desired thickness).
Fold two ends over first, then braid the strips by laying each over the other as you go down. Use some water to keep them in place and seal together.
Melt butter in a small bowl and add minced garlic.
Brush butter over the entire calzone.
Bake for 30-35 minutes at 350 ºF.
Let stand for 10 minutes before serving.